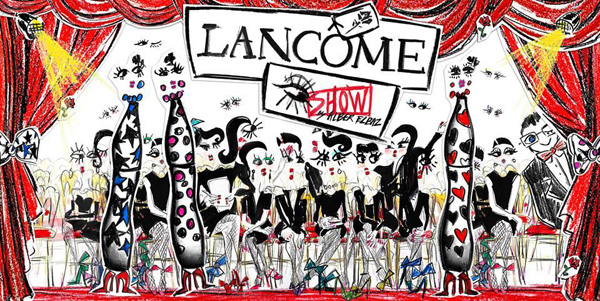 Finally, the Alber Elbaz collection for Lancome hits Australian shores! Man, I was wondering when we'd get this. I've been seeing this on American and British beauty blogs for months! I'm glad to be able to attend the launch of the collection in Melbourne and finally see what it looks like. In case you're wondering, Alber Elbaz is the creative director for French fashion label, Lanvin.
Hypnose on the catwalk for Alber Elbaz. Four unique outfits for four legends of Lancome makeup. Alber Elbaz lends his unmistakable style to four worldwide best-selling Lancome mascaras and the new Hypnose eye palettes. He has thus imagined an irresistable limited edition collection: pure fashion down to the tiniest detail. "The real theme running through the collection is the eyes," Mr Elbaz explains, "and rounded forms. The bottles are so fabulously rounded that they were my inspiration. I wanted to create rounded shapes with a hint of humour."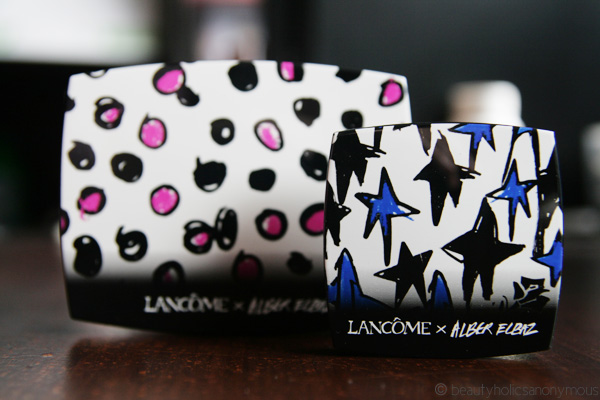 To capture Mr Elbaz' theme and inspiration on emphasis on the eyes, I've decided to do a little FOTD look based on a couple of Alber Elbaz for Lancome Hypnose eyeshadow palettes that I was kindly gifted during the event. I don't think I've ever done a heavier eye makeup! Yeah I'm boring like that.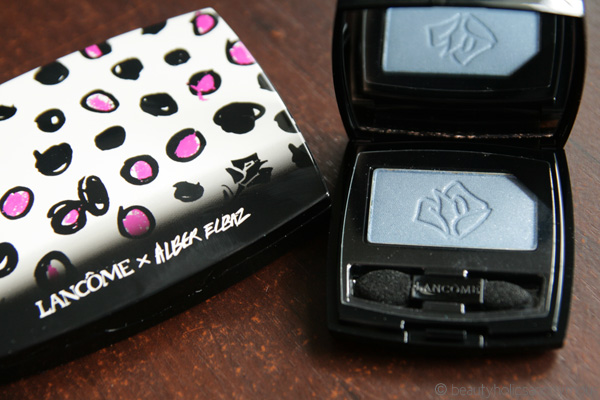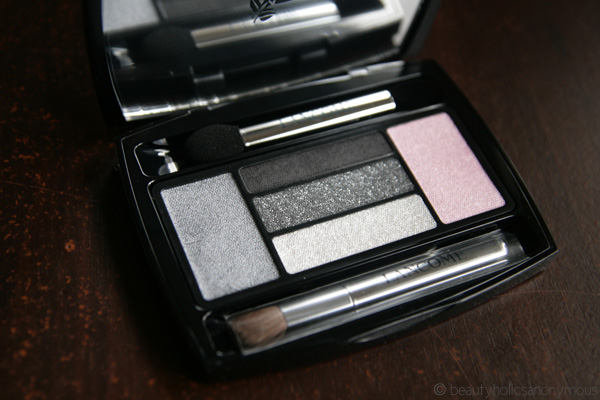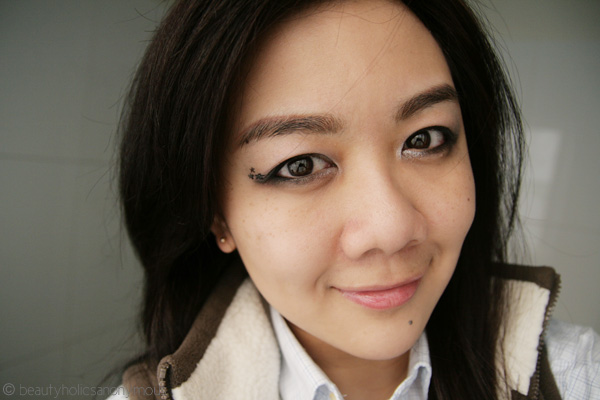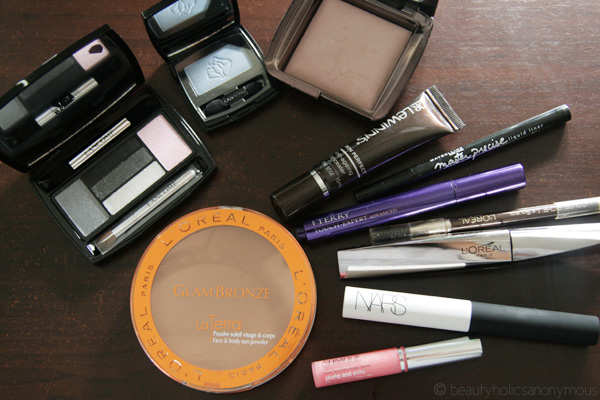 Face: Maybelline Instant Age Rewind The Lifter foundation* (not pictured), Hourglass Ambient Lighting Powder in Mood Light, Dr Lewinns Skin Perfect Anti-Ageing Concealer, By Terry Touch-Expert Advanced Multi-Corrective Concealer Brush, L'Oreal Glam Bronze La Terra Face & Body Sun Powder*
Eyes: NARS Pro-Prime Smudge Proof Eyeshadow Base, Lancome x Alber Elbaz Hypnose Drama Eyes 5 Color Palette Smoky Eyes DR5, Hypnose Star Eyes Sparkling Color in S205, Maybelline Master Precise Liquid Liner, L'Oreal Lash Architect 4D mascara*, L'Oreal Color Riche le Sourcil Eyebrow Pencil in Deep Brown*
Lips: Clinique Full Potential Lips lipgloss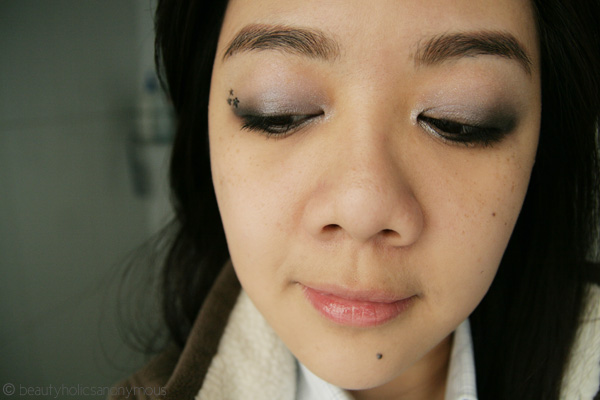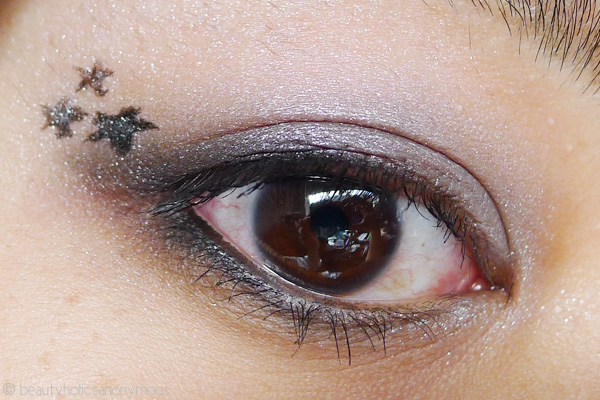 Quick walkthrough of the eye makeup:
1. Using the 5-colour eyeshadow palette, I applied #1 on 2/3 of the eyelids starting from the outer corners (leaving 1/3 from the inner corners of the eyes empty).
2. Next, I used the blue from the single eyeshadow on the remaining 1/3 of the eyelids, blending the colours where they meet.
3. Then I used the very dark #2 from the eyeshadow palette and lined the eyes, creating a long wing at the outer corners. I also lined the lower lashline to 3/4 of the way before hitting the inner corners.
4. Blend, blend and blend like there's no tomorrow.
5. Next I applied a bit of the glitter from #4 on the inner corners of the eyes.
6. For the rest of the eyelids up to the brow bone, I used the pink #5.
7. Just for fun, since the Alber Elbaz for Lancome makeup draws a lot of attention on eyes and stars, I drew 3 stars on the outer corners of my right eye with a liquid eyeliner.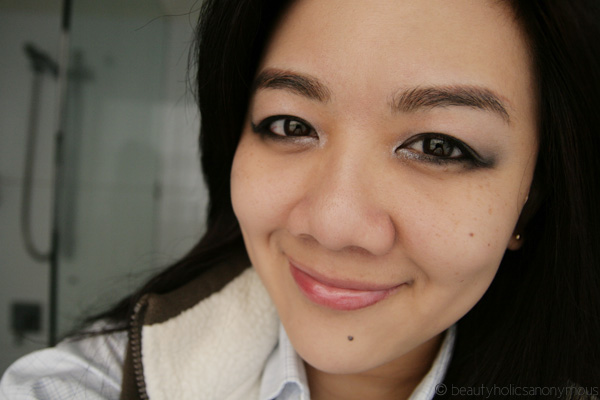 There's a lot of glitter in the eyeshadow palette. You have to be very careful with the application because eyeshadow fallout will happen. You can either do your eye makeup first before your base (any eyeshadow fallout can be easily cleaned off) or gently hold a piece of tissue against your cheek just below the eyes when doing your eye makeup. It's just easier to do the former.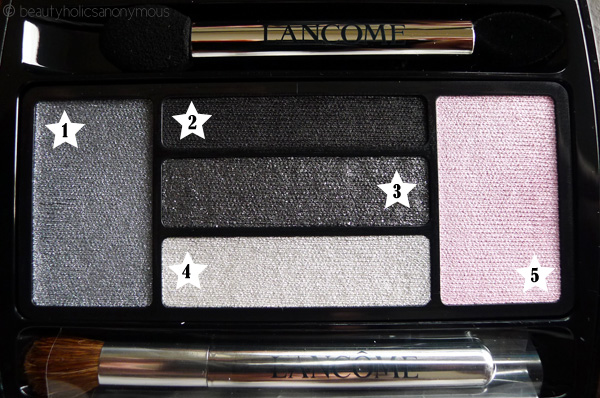 Lancome x Alber Elbaz Hypnose Drama Eyes 5 Color Palette Smoky Eyes DR5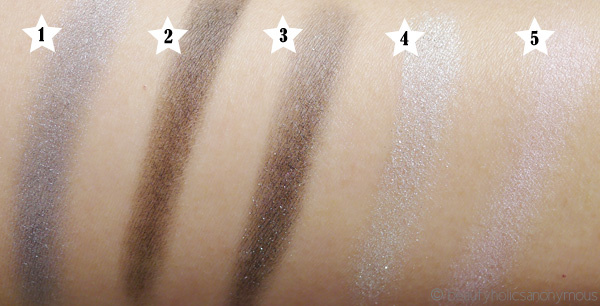 Unfortunately, a lot of the dark eyeshadow went into my eyes than actually falling out which was a real pain. I reckon it's more of my lack of eyeshadow application skills than the eyeshadows themselves because in terms of quality, they're pretty good. My favourite combination is when I used the grey #1, pink #5 from the 5-colour eyeshadow palette and the blue from the single eyeshadow, excluding all that black eyeliner. The grey #1 and pink #2 shades are very shimmery though so it's not very work-friendly (unless your workplace is okay with glittery eyes). But for the evenings, it's a beautiful colour combo.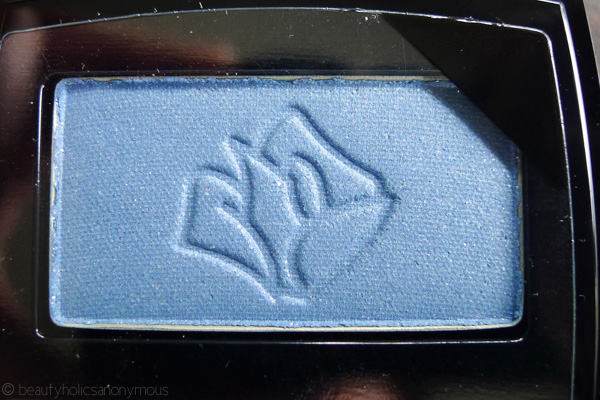 Ombre Hypnose Star Eyes Sparkling Color in S205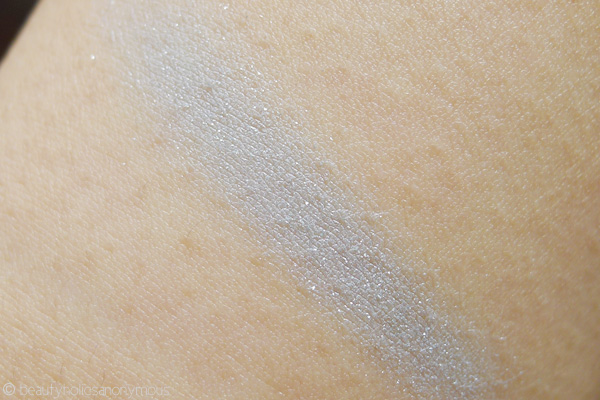 I did a very intense smokey eye look for this post which I probably won't wear out during the day with all that black on my eyes. My alternative would be to use a liquid eyeliner for a very slick and clean, just-slightly-winged look instead of this. Oh, and minus the stars :P. Still, I had a lot of fun creating this look and I hope you like it too.
Talking about the eyeshadows alone, they are pretty good. Other than the very glittery silver which I'm not a fan of, the rest of the eyeshadows are smooth and easy to apply. They're good quality eyeshadows without feeling gritty or powdery to the touch.
To be honest, I did find the eyeshadow quint expensive for the amount of eyeshadows offered (RRP AU$85.00). The two big eyeshadows on the side are perfectly-sized but the three colours in the middle are too small. If I were to compare its price to Dior's quint eyeshadow palette, you get more bang for your buck with the latter. The single eyeshadow retails at AU$42.00 each. Again, a tad small for it to be priced that high. It could be due to the fact that this is a limited edition designer collaboration that the prices are higher than normal. Still, I'd have preferred to have more eyeshadows per palette for these prices.
Just before I go, here are a couple of behind-the-scenes shots. Just in case you think my desk is always so neat, look at how incredibly messy it was when I was applying all this makeup on!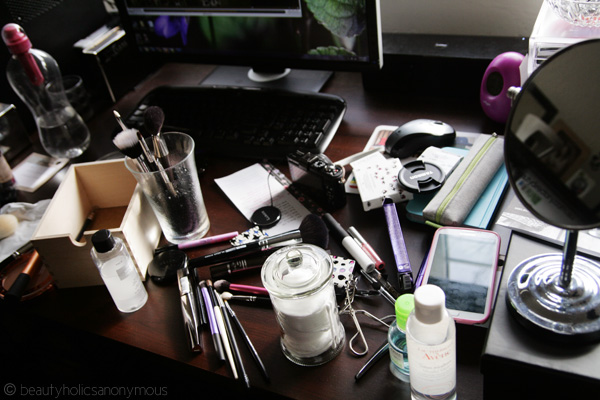 Have you tried out anything from the Alber Elbaz for Lancome collection? What are your thoughts on the packing? Yay or nay?
Note: The Alber Elbaz for Lancome Hypnose eyeshadows were given to me in a goody bag. The rest of the products marked with * were provided for editorial consideration.