One of my favourite websites to read is What's In My Handbag. If you don't know about that website, I highly recommend you go check it out now. It's bag content voyeurism on steroids :P.
I haven't done a What's In My Bag post in a while now so I thought oh why not. It's one of those topics that I recommend bloggers do when they've run out of blogging juice because really, it's such a popular and highly-enjoyed topic to write about. So if you're having a blogger's block, do a What's In My Bag! Oh and send me the link because I want to see what's in your bag too. 😛
Right, back to my bag. I thought I'd follow What's In My Handbag and style my items like they do i.e. random stuff strewn all over the desk. 😉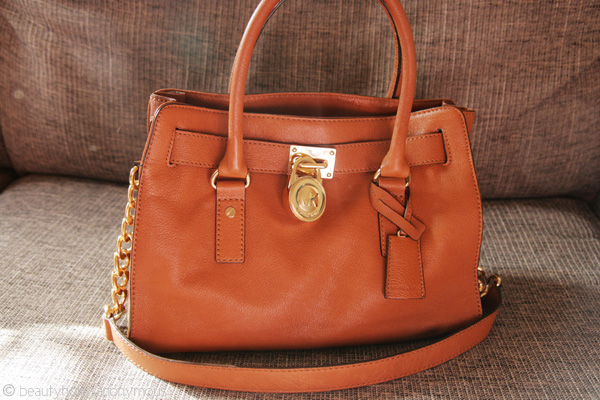 The bag is a recent acquisition from Neiman Marcus and it's the MICHAEL Michael Kors Hamilton satchel. I've seen the larger Hamilton satchels around but I wasn't keen on them because they were too big for my liking. When I first saw the smaller version on Net-a-porter, it was instant love. I mulled over getting it for months and finally, I couldn't take it anymore, bit the bullet and bought it. I had some shipping issues with Net-a-porter so I got it from Neiman Marcus instead, which turned out to be cheaper in the end.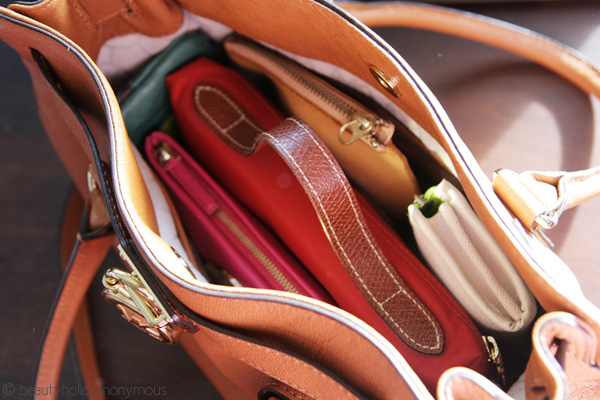 As you can see, I have a lot of pouches in my bag. I like to compartmentalise my things so everything has its own container/pouch. You've already seen what's in my makeup bag, so I won't repeat its contents. The makeup bag is by Longchamp and was a birthday gift. Here's everything else: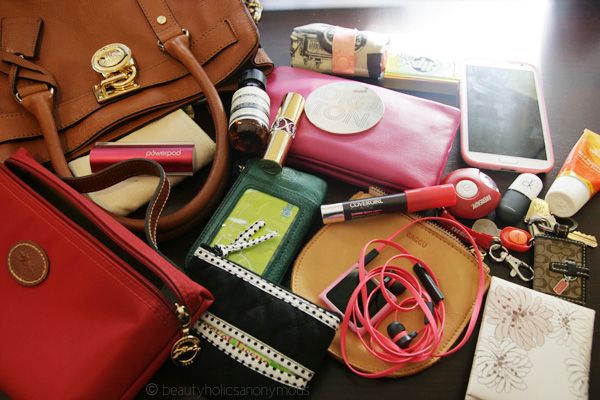 Wallet – I think this was actually a clutch, not a wallet but I ended up using it as a wallet instead. The leather is incredibly soft and it can be expanded to include a lot of things like a phone, keys, etc. This was a birthday present from my sister-in-law. I absolutely love the hot pink shade (I've lost count of the number of times I've received compliments because of this). The wallet is from Oroton.
Phone – Samsung Galaxy Note 2 (pink case is from eBay). When Tim bought his Note 1, I teased him about using a brick as a phone. Now that I've used the Note 2, I can't go back to a smaller screen. The iPhone is so tiny in comparison! 😛
Envirosax – I don't go out without an Envirosax in my bag.
Fossil pouch – A present from my sister-in-law. It holds my business cards, store cards and the Myki.
Baggu pouch + iPod nano + earphones – The Baggu pouch was a gift in a goodie bag I received from a L'Oreal Melbourne Fashion Festival event last year. It stores my iPod nano and earphones. I rely heavily on public transportation so these are a must in my bag. Shuts out the noise and the crazies.
House keys – the Coach keychain was a gift from a dear friend. I've been using this for 8 years now.
Personal alarm + torch – In case of emergencies. Ladies, keep one in your bag too.
ck One USB drive – I've been meaning to print some photos but haven't gotten round to it yet.
Powerpod – The latest addition to my bag. It's a portable charger for my phone. I keep it in a Crabtree & Evelyn pouch.
Mints – Can't have smelly breath now, can I? 😛
Sometimes I bring a Kindle or the iPad with me as well, which fits into the bag perfectly.
I hope you've enjoyed taking a peek in my bag. Sometimes I feel I carry too much stuff with me (especially when the handles start to dig into the crook of my arm) but I'd be lost if I don't have these items with me.
Now it's your turn. Go forth and show us what's in your bag! Link it in the comments below so that I can have a nosey in your bag too. 😛