How many times have you fallen in love with beautiful perfume bottles only to find that when you uncap and take a whiff, you're hit with a scent that you just can't stand? I know I have, many times too.
Often when I'm at the fragrance section of MYER and David Jones, I'll be captivated by gorgeous packaging and stunning bottles but when I spray some on perfume cards to smell what they're Iike, I'll cringe at how strong and unpleasant the fragrance is. I'll mutter to myself "gah, what a waste!"
Cosmetic companies are clever, they are. People judge with their eyes first then with other senses so they make sure the bottles are as attractive as they can be. We'll fall in love with the packaging first for surely the scent will be just as lovely. And if it's not as good as we pictured, as long as it doesn't reek too badly, we buy it because they will look pretty damn good on our dresser. Even a number of celebrity fragrances have gorgeous bottles (yes, I actually think a couple of the Britney Spears ones aren't bad) with cloying, sickly sweet scents. You know what I mean?
I thought I'd give you some examples of the perfume bottles I really like but can't stand the scent. Now I have to be very clear about this: like taste, scent is mighty subjective. What I like/dislike may be the complete opposite for you. I'm quite sensitive to scent so there's only a specific type that I'm partial to. I'm not knocking your favourite fragrances here. They don't work for me but lordy, do I love the packaging.

These are just some examples of fragrances' packaging that I like but the fragrance … meh, not so much.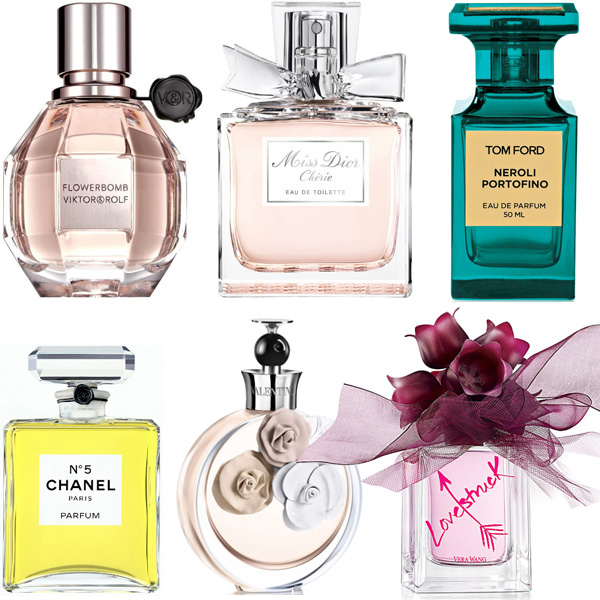 Viktor & Rolf Flowerbomb – Like the hexagonal bottle and the wee flower on the side but the fragrance is too musky for me.
Vera Wang Lovestruck – Such a pretty cap that stands out but the fragrance is too sweet for me.
Chanel No 5 – Sounds even blasphemous that I don't like this classic scent by Chanel. I just find it too strong for me. I associated this scent with "aunties" when I was very young and even though I'm almost there (ugh), I can't shake that association. Having said that, the classic apocathary bottle is just beautiful.
Miss Dior Cherie – Clean, classic bottle with a bow but the scent is too sweet for me.
Tom Ford Neroli Portofino – Another classic design but I find the scent too spicy for my liking.
Valentina Acqua Floreale – Very sweet fragrance that just isn't for me. It's such a pretty bottle though, especially the flat cap.
I've got more but I'll leave it at these fragrances for today. I've fallen in love with plenty of beautiful packaging only to be disappointed by the scent. There are also plenty of fragrances that I really like but the packaging leaves a lot to be desired. I'll leave that to another post for another time.

What about you? Are there any perfume bottles that you love but you just can't stand the smell?