Happy Tuesday and welcome to the 9th installment of BB Creamology! It's been months since my last episode and well, it's about time I revive it, don't you think? 🙂
Today, I'm featuring 3 Western BB creams on BB Creamology and they're from Maybelline, Thalgo and Bobbi Brown. I actually haven't been using Asian BB creams in a while. Even when I was in Malaysia for my holiday, I didn't stumble upon any that piqued my interest. Ooh does that mean the BB craze is finally ebbing away? Oh dear, does that mean we're giving in to the next generation ones that are CC and DD? Oh boy. 😛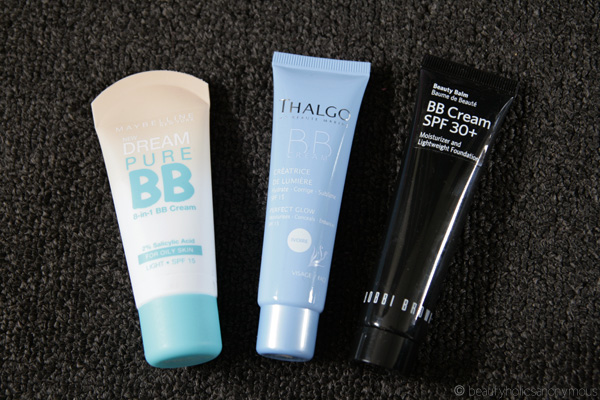 Right, let's not get carried away with the rest of the alphabet and go back to the subject at hand. One drugstore, one spa and one mid-range: which one would rise above the rest?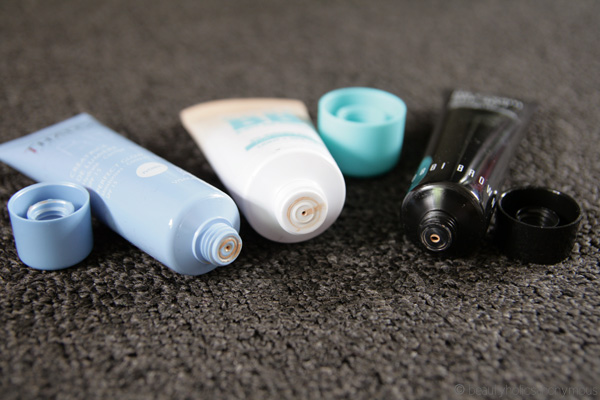 Maybelline Dream Pure BB 8-in-1 BB Cream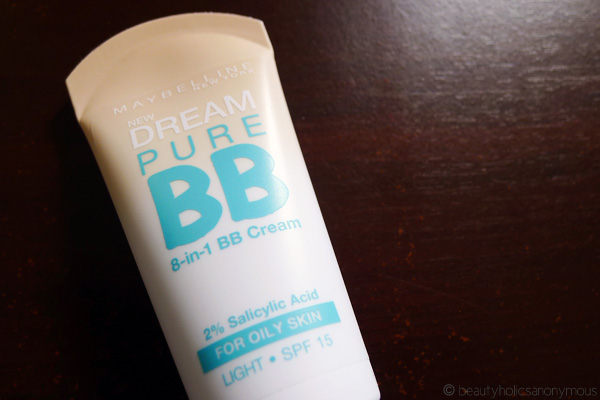 Shade: Light has cool undertones. This is also available in another shade, Medium.
Texture: Light and creamy
Fragrance: Smells a tad like sunscreen but it's subtle.
Wet-To-Dry Time: It's quick to dry and leaves a semi-matte finish on the skin.
Coverage: Light to medium coverage
Sun Protection Factor: SPF 15
Price: AU$15.95
Availibility: Priceline stores, selected pharmacies and supermarkets nationwide.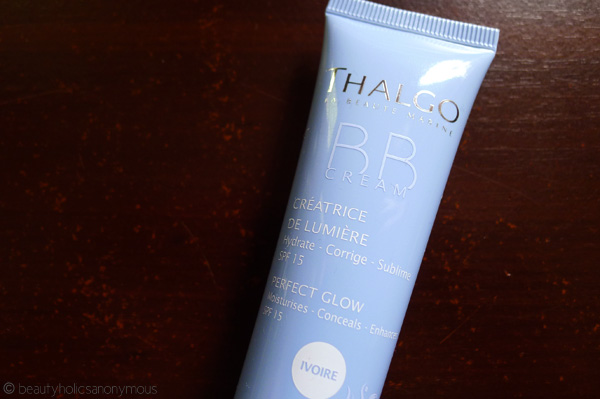 Shade: The one I'm using is Ivoire. Looks slightly dark when applied on the skin but when the BB cream is smoothed out, it blends with my skintone well. Also available in Natural and Golden.
Texture: Thick and creamy
Fragrance: It has a strong floral scent.
Wet-To-Dry Time: Quick to dry and leaves a semi-matte finish on the skin.
Coverage: Light to medium coverage
Sun Protection Factor: SPF 15
Price: AU$45
Availibility: Leading salons and spas nationwide (click here for stockists). Also available on Adore Beauty.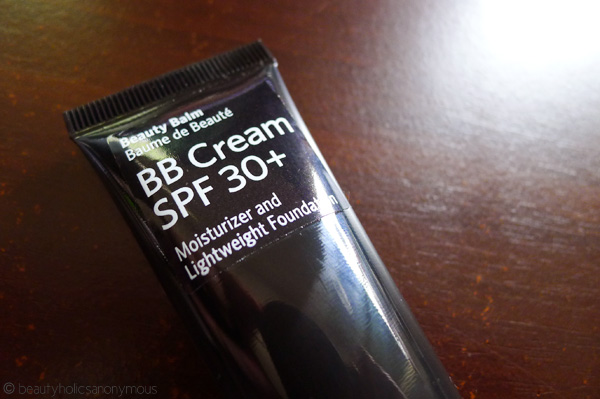 Shade: I have the one in Medium, which is just a shade too dark for my skintone on usual days. However, I think it will work well for summer when I want a bit more glow and colour on me. The Medium has warm undertones. Comes in 9 shades, which is highly unusual (but very good!) for BB creams.
Texture: Thick and creamy.
Fragrance: Smells like regular sunscreen.
Wet-To-Dry Time: Slow to dry and leaves a dewy finish on the skin.
Coverage: Medium coverage
Sun Protection Factor: SPF 30+
Price: AU$60
Availibility: MYER, David Jones, selected Mecca Maxima stores nationwide.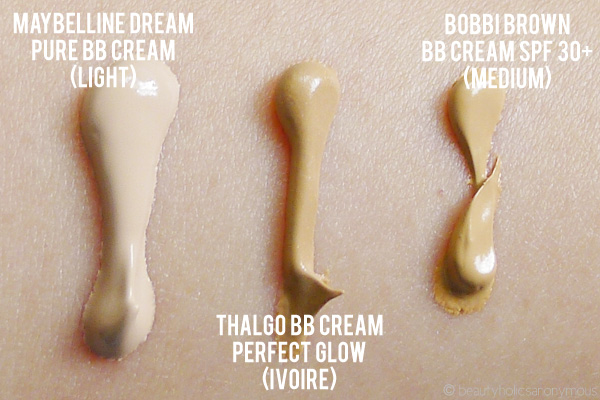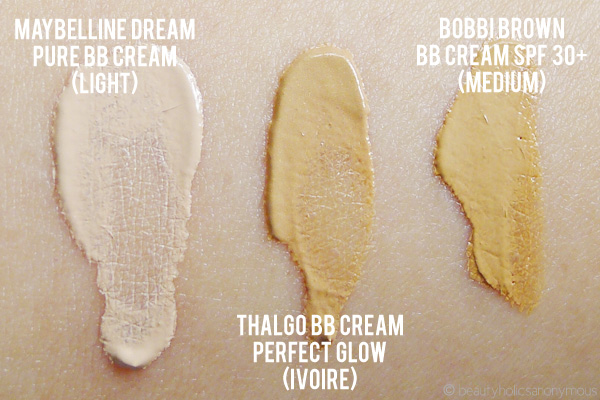 Conclusion:
Prior to trying the Maybelline Dream Pure BB cream out, I swatched the Dream Fresh version of the Maybelline BB cream and I didn't like it at all. So when the time came to try this one out, I had my reservations. Surprisingly, it turned out to be not as bad as I thought it might be. The coverage isn't very sufficient so I say it's good for those who already have decent skin. If not, then this doesn't offer as much coverage as needed. Having said that, it doesn't have a strong fragrance and it lasts for a good number of hours before fading (without any streaking on the skin). I have combination skin and I'm not sure if the 2% salicylic acid really works or not but I can say that I haven't experienced any breakouts with this BB cream. As for its 8-in-1 claim, it does just as much as the next foundation or BB cream so I say pfft to that as a selling point. I like using this on weekends when I don't need much coverage on my skin at all.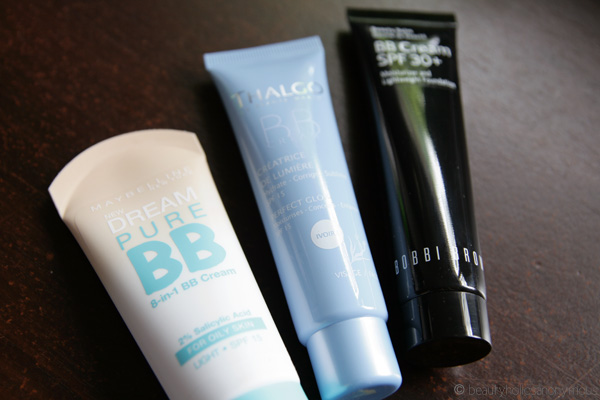 I was surprised when I found out that Thalgo too had a BB cream in their range of skincare products. Jumping on the BB bandwagon too, wouldn't you say? 😉 The coverage is similar to Maybelline's, which isn't much. I wouldn't really call this one a BB cream as it's pretty much a tinted moisturiser. It's an okay product. I'm afraid it's just one of those products where there just isn't much to rave about. I'm not a fan of the strong floral fragrance either.
I've been reading a lot of positive reviews about the Bobbi Brown BB cream so I had high hopes for this one. In the US, it's known as BB Cream SPF35 whereas in Australia, it's BB Cream SPF30+ (mine has the new label stuck on the tube). The one I was given to try out was in Medium, which is one shade too dark for my skintone. Still, it's the kind of shade that will work for me in summer so I'm not discounting it yet. It smells quite strongly of sunscreen. In terms of coverage, it's about a medium but it does beat the other two BB creams hands down. The dewy finish gives my skin a nice glow but it's not oily.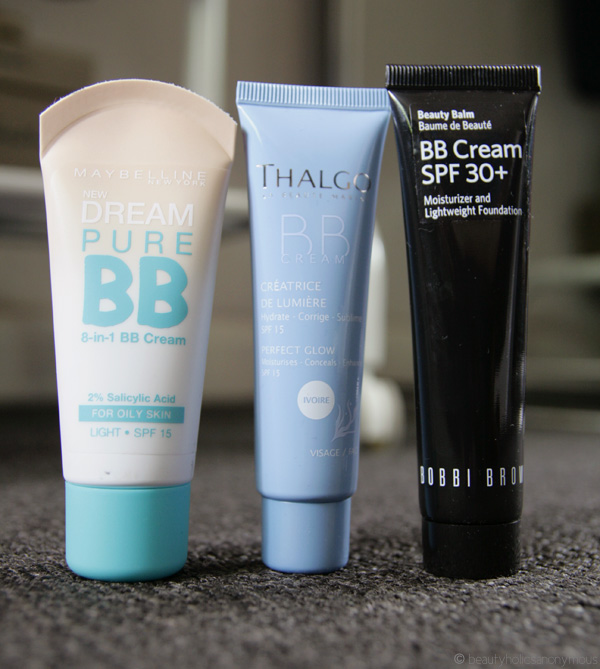 As for the one I prefer out of the three, I can't decide between the Maybelline and Bobbi Brown. Even though Maybelline's coverage is not as good as Bobbi Brown's, I prefer its semi-matte finish in comparison to the Bobbi Brown's and it's cheaper too. On the other hand, Bobbi Brown's has a much better SPF of 30+ and lasts longer on the skin. Oh decisions, decisions.
If you've tried any of these BB creams, which do you prefer?
Note: These BB creams were provided for editorial consideration. Good thing too for I've finally, FINALLY run out of BB creams to write about. Does this mean that the BB Creamology series is now at an end? Do I have to change the topic to CC Creamology? Well, stay tuned to find out! 😉