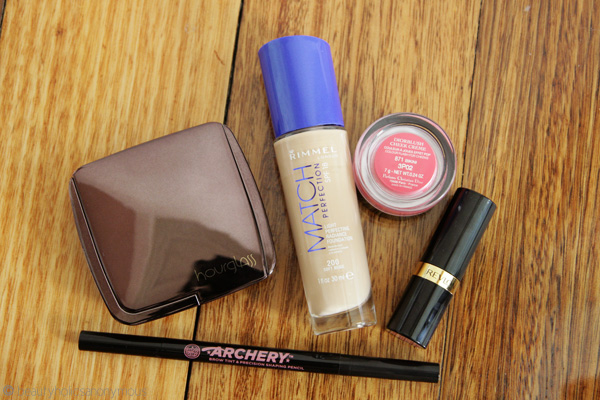 A week ago, Paris B tagged me to share just 5 makeup products I'd pick to, well, do up a face. I thought, oh why not? It's been a while since I've done a tag and what better way to start the weekend.
See, I'm the sort of person where just using 5 makeup products to create my usual look is a piece of cake. In fact, I'll do you one better, how about 4 makeup products which is my usual thing? Foundation/BB cream, powder, blush, lippie? No? Oh all right, I'll stick to the rules of the tag.

Now choosing what those 5 products are … now that's difficult. It's like asking me to pick out my favourite blush. Or my favourite cake. Or my favourite bag. It's a tough one!
After a week of mulling over the topic and products (you can see how seriously I take this tag, eh?), here are my picks for the 5 makeup products I'd select to do up my face. Nothing fancy but at least it'll make me look quite presentable without appearing like something the cat dragged in.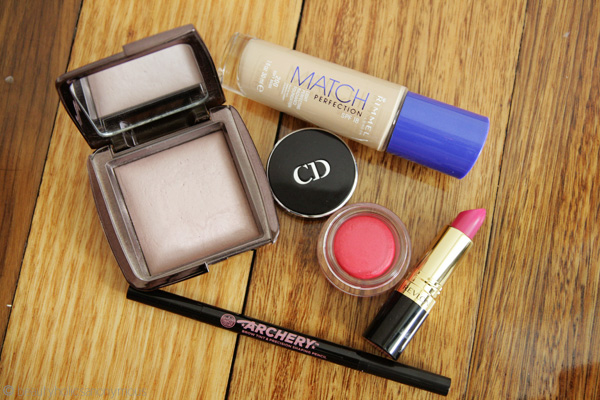 1. A good-coverage foundation
By good coverage, I don't mean it needs to be a full one; just a medium one would do. I like Rimmel's Perfect Match Foundation (it has certainly trumped my old favourite, Bourjois' Healthy Mix Serum) for the amount of coverage it gives me. It's not full but good enough to at least conceal most of the dark circles under my eyes. Hence, I don't need a concealer!
2. A brow pencil
I have thick brows but that's what they just are, thick. There isn't a proper shape to it, not after the recent butchering of my eyebrows (I promised you that story; I'll share it with you soon!). A brow pencil is essential to cover up the "holes" and at least give my brows a "tail" lest I look perpetually angry with turned in brows. I recently discovered Soap and Glory's Archery eyebrow pencil and I absolutely love it. I'm going to be very sad when I'm done with the pencil because I can't get it in Australia. Sigh.
3. A setting powder
As I have combination skin, I also have an oily T-zone. I like to set my makeup with powder so that I don't look shiny after a couple of hours. Whilst Hourglass' Ambient Lighting Powder isn't technically a setting powder (more of a finishing one, which you use on top of a setting powder), I like to use it as one because even though it doesn't prevent the oil from coming back, it makes the skin look very good in a pinch. And that's what this tag is about isn't it, products I'd pick in a pinch?

4. A cream blush
I like how natural a cream blush looks on the skin. Perks it right up! One of my favourites is Dior's cream blush in Bikini. It leaves a beautifully rosy tint on the cheeks like I've been *ahem* exercising.
5. A bright lipstick
A bright lippie, along with a blush, just seals the look and tells me that I'm all good and ready to go. My choice today is Revlon's Super Lustrous lipstick in Fuchsia Shock.
Like Paris B, I used a cream blush and a bright lippie to distract you from the fact that I don't have any eye makeup on! I don't usually need it if I have all these 5 products on. I'll most likely have my glasses on so you won't be able to see my eye makeup anyway.

See, don't need much to do up a face, do ya?

As this is a tag, it's now my turn to tag: Emma, Norlin, Sara-May, Dommie and Jenny. Have fun, ladies!
Of course, it's not just for them. I'd love to know what makeup products you'd pick to create your every day (or even a special one) look when you can only choose 5. Let us know in the comments below.
Have a lovely weekend! x