Forgive the 3rd-person speak but oh yes she did. She shopped big!
My shopping haul for the 5 weeks I was away isn't big but as you'll see as you read on that I did end up spending a lot of money. Finally, after months of saving, it was time to splurge. This isn't meant to be show-offy or to brag about what I bought during my holiday in Malaysia and Europe. You've been asking to see what I purchased so here it is! Trust me, by the time this post is done, I won't be buying anything big for quite some time because I'm now pretty skint. Okay, make that very skint.
Before I show you what I bought, I thought I'd share a few photos with you of some of the designer stores I went to in Paris. As I stayed at Rue Saint-Honoré, it's quite a long street and stretches to a lot of designer boutiques. Of course, finally being in Paris, it wouldn't be right if I didn't visit the mothership.
And by the mothership, I meant the House of Chanel at 31 Rue Cambon.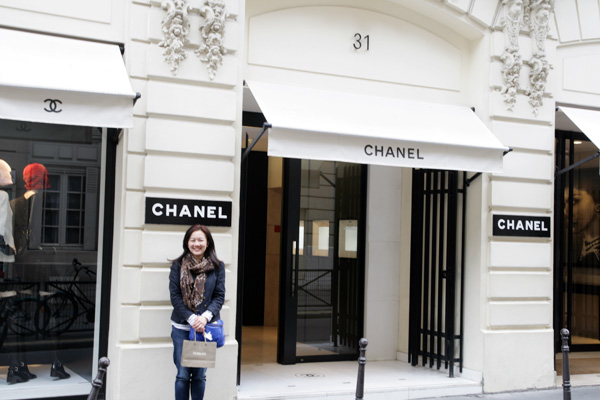 I didn't get anything from Chanel. Boo! To tell you the truth, I wasn't keen on anything but it was interesting checking out where Coco Chanel lived and worked. There was no access to her private apartment, of course, but just being there was good enough. Thankfully there wasn't a line to go in but goodness me, the number of Asian customers in there was astounding. The way these customers were buying leather goods was as though they printed money. Some came with catalogues; they knew exactly what they wanted, pointed to the pages and said "I want this. And this. And this.". Mind you, we're talking about several thousand euros per piece here and these ladies were buying at least two bags each. Tim's eyes grew bigger as we walked past each customer.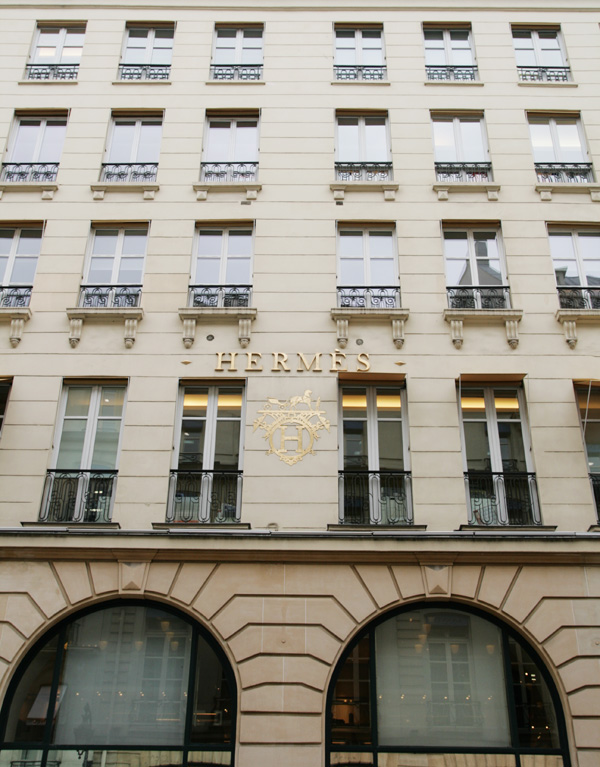 If you thought his eyes couldn't get any bigger, you should have seen his reaction when we walked into Hermes at 24 Faubourg Saint-Honoré. "Holy crap, how much for a set of Hermes cutlery and crockery?!" Still, it was an eye-opening experience and the service was excellent. We even saw an exotic crocodile-skin Birkin behind a glass cabinet retailing at 204,000 euros! It was a bit of a jaw-dropping moment right there.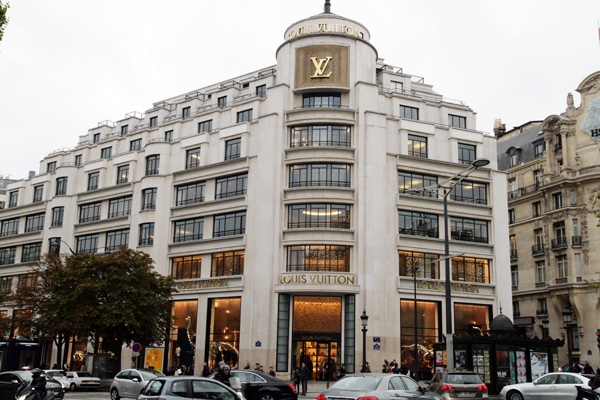 Louis Vuitton on Champs-Élysées
My Shopping Haul
After rambling on about motherships, it's time to get down to business and show you what I bought.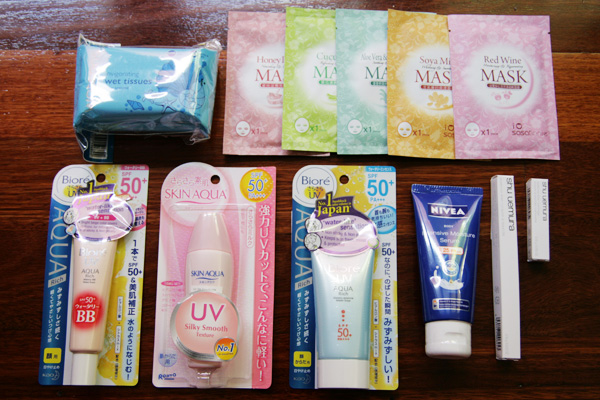 This was what I bought in Malaysia. There wasn't much I needed so I just stocked up on basics like my favourite Biore and Skin Aqua sunscreens (just in time for summer!), some wet tissues, a few facial masks and an eyebrow pencil from Shu Uemura. I wanted to save on luggage weigh allowance for what I could get in Europe, hence the modest haul here.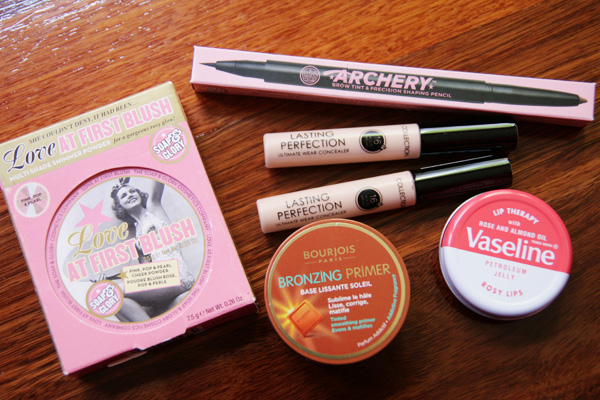 This was what I bought from Boots in the UK. It was painfully restrained haul, I tell ya. It was very difficult not buy almost everything in store but I had very limited luggage weight allowance on budget airlines like Easyjet and Ryanair, which we used to travel to Paris and Rome so I had to limit my haul. Collection's Lasting Perfection Ultimate Wear Concealer came highly recommended by British Youtubers Fleur de Force and Tanya Burr, and the Bourjois Bronzing Primer was highly raved by Essiebutton. I just had to give them a go. Soap & Glory in Australia doesn't stock the makeup line so I picked up a blush and eyebrow pencil at Boots.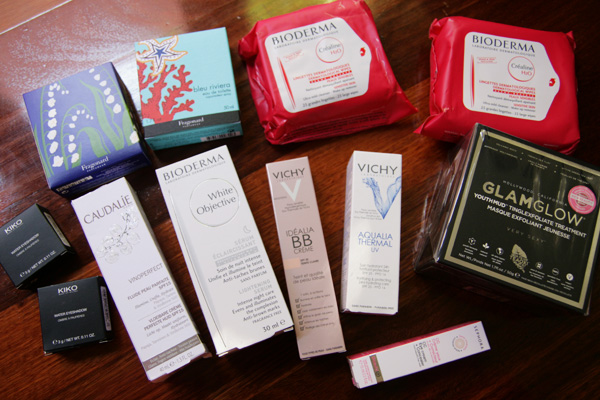 My biggest beauty haul came from Paris and even so, again, it's a very restrained one. I wanted to cry when I entered a French pharmacy because their beauty products were so cheap compared to Australia. Two huge 500ml bottles of Bioderma's Crealine H20 sold at around 16 euros per pack. NUXE, Bioderma and Uriage products were sold in bulk and in very low prices. Again, no thanks to the stupid luggage weight limit, I only picked up an item from Caudalie (Vinoperfect Fluide Peau Parfaite SPF15), Bioderma (White Objective Lightening Serum and the Crealine H20 facial wipes) and Vichy (Aqualia Thermal UV and Idealia BB Creme) from the pharmacy near the apartment.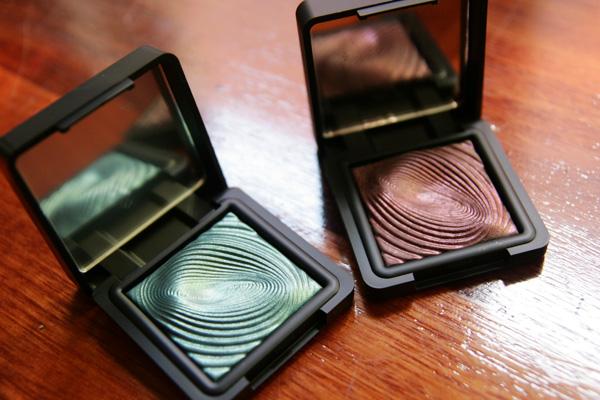 KIKO Water Shadows. Gorgeous!
Tim and I stumbled upon Fragonard as we were heading to the Palais Garnier and I ended up picking up a couple of fragrances. I also went to Sephora in Rome and bought 2 items (only 2 from Sephora? What's this atrocity?!), which was the Glamglow Youthmud and Sephora CC Eye Cream + Concealer. The KIKO makeup store in Rome was having some sort of sale going on, so I picked up a couple of their Water Shadows. I was blown away by how pigmented they were when I swatched them in store. Look at how pretty they are untouched!
Okay, now that I've showed you my beauty haul, it's time to show you the big guns, i.e. the items I splurged on whilst in Paris and Rome. I came home with 2 bags, a scarf and a pair of shoes. Oh boy.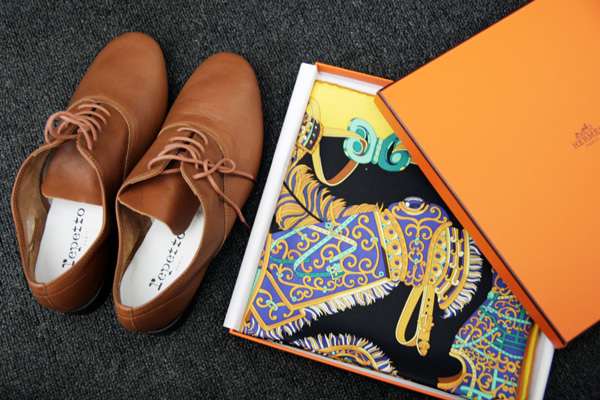 Repetto oxfords and the Hermes Sous l'Egide de Mars scarf. I just couldn't resist!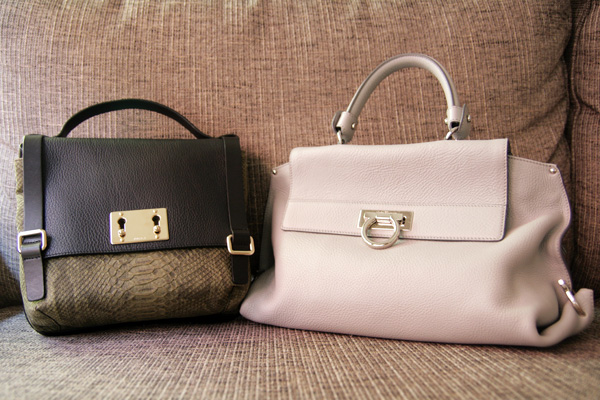 The Furla crossbody satchel came from the Furla outlet store at Castel Romano Designer Outlets just outside of Rome. As for the Ferragamo Sofia, it's a bag I've always lusted after every time I walked into a Ferragamo store in Australia. I finally bit the bullet and got it at Heathrow Airport just before we left for KL. I "saved" almost 400 pounds! Happy days.

I'm so pleased with what I got from my holidays and I hope you've enjoyed reading about them too. I can't wait to dig into all of the beauty products and accessories. Of course, I'll only be using the products after this post because I had to photograph them first. What can I say, I'm a blogger through and through. (except when it came to Sephora. Oh hush! :P)
Stay tuned to tomorrow for I have a little somethin' somethin' from my trip for you!