When L'Oreal Australia launched their Nude Magique Anti-Redness CC cream, the first thing on my mind was: where the heck were the other two CC creams? They were the ones I wanted to try! I didn't understand why they only launched one CC cream and not all three back then (testing the market, perhaps?) but I waited patiently for them and 5 months later, they were finally here.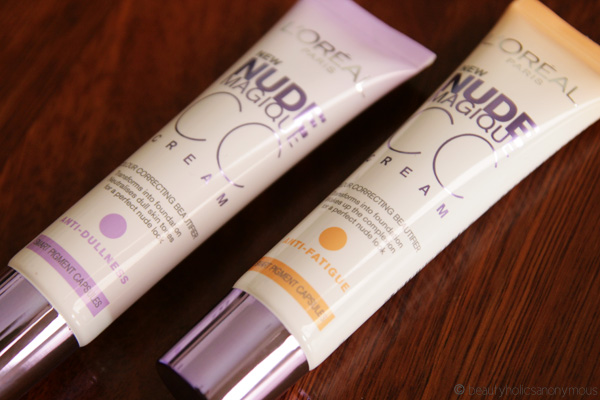 When most CC creams are pretty much just BB creams, the L'Oreal Nude Magique ones actually contain colour-correcting pigments to combat problematic areas like redness, dull and fatigued skin. While I'm glad that they've actually taken the words Colour Correcting seriously, I have to wonder if they've gone a tad overboard with the amount of colour-correcting they offer.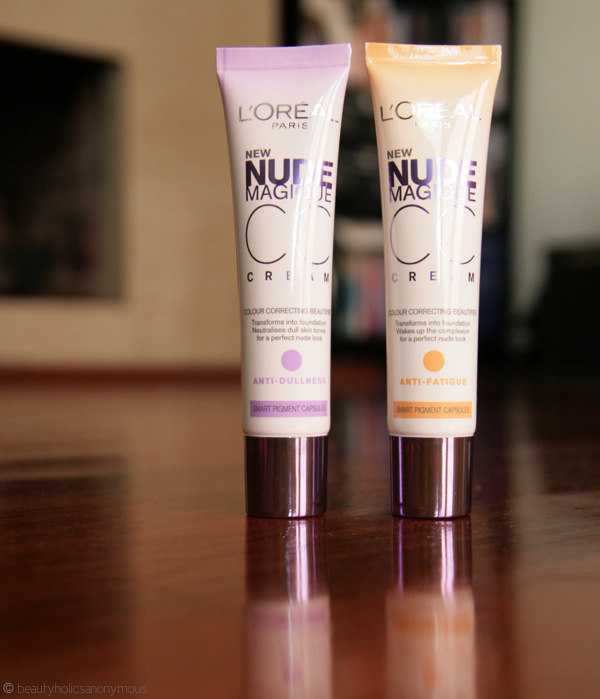 Anti-Dullness
Texture: Slightly grainy, goes on smoothly when spread out on the skin.
Colour: Dispenses light purple cream, when applied and spread out, it turns to skin colour.
Finish: It leaves a semi-dewy finish on the skin.
Coverage: Light, only evens out skin tone, doesn't cover blemishes.
Longevity: Doesn't last very long. By mid-day, a lot of it would have faded. It's a weekend-wear sort of base.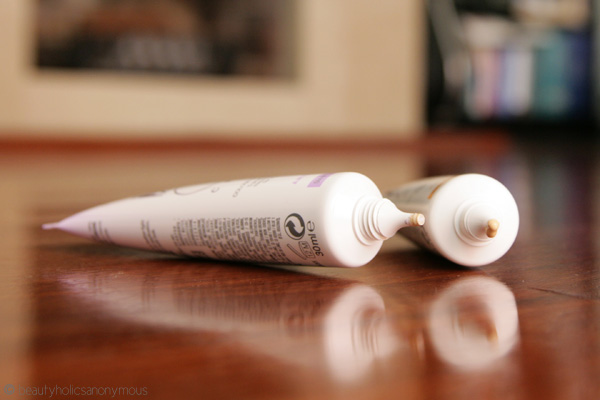 Anti-Fatigue
Texture: Slightly grainy, goes on smoothly when spread out on the skin.
Colour: Dispenses orange cream, when applied and spread out, it's skin colour with strong orange tones.
Finish: It leaves a semi-dewy finish on the skin.
Coverage: Slightly heavier than the Anti-Dullness, light to medium coverage, evens out skin tone, covers tiny blemishes
Longevity: Lasts a tad longer than the Anti-Dullness cream.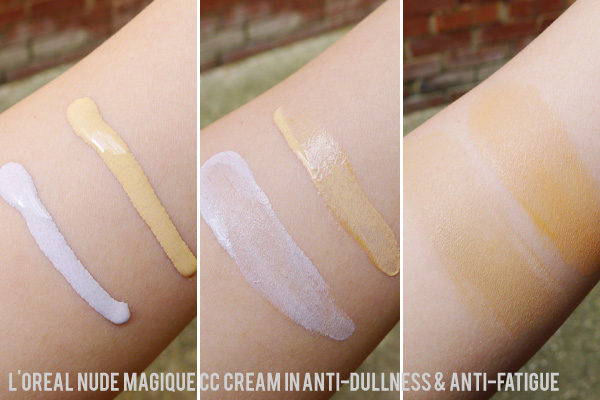 Out of the three Nude Magique CC Creams, I was most keen on trying the Anti-Dullness. I half-expected gorgeous, radiant and glowing skin because that's what it's supposed to do right, when you call it Anti-Dullness? Unfortunately, it didn't work for me at all. The CC cream oxidised on my skin within the hour and my skin became a few shades darker than it is. There wasn't any radiance nor did it fight skin dullness. Perhaps my skin isn't that dull to begin with (I should be so lucky), which is why there isn't much to combat? *shrug*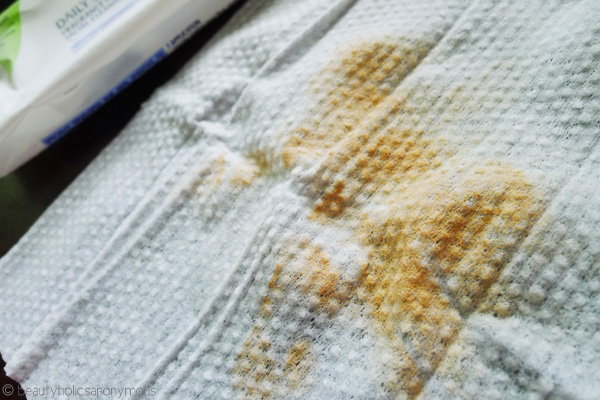 Look at all that orange!
I found the Anti-Fatigue CC cream the more interesting of the two. It comes out orange, spreads out orange and while the skin looks orange for the first minute, the colour changes to a bronzed-like skin colour. It freaked me out the first time I applied it because I looked like an oompa loompa. I literally had orange skin for the first minute. I removed it right away without waiting to see how it would turn out.
Weeks later, when I was clearing out my beauty cupboard, I stumbled upon this again and I was ready to chuck it into the bin because really, WHO WANTS ORANGE SKIN? Still, I decided to try it out one more time and this time, I put it on for much longer than a minute. The oddest thing happened. That strong orange shade disappeared and what was left on my skin was warm, tanned skin. A lot of that orange had disappeared! On the other hand, it did make my skin look like I had fake tan on which isn't a good look on me at all.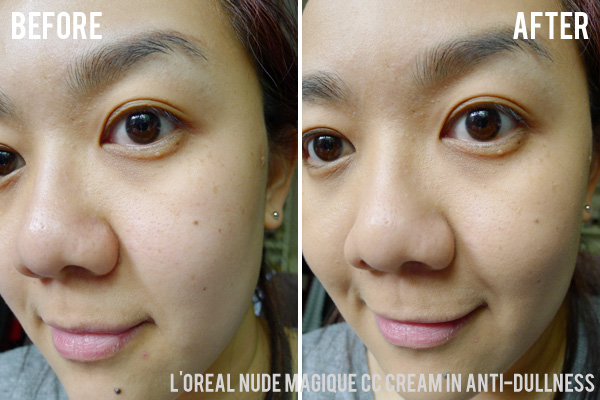 In terms of colour-correcting the skin, I can't say the Anti-Dullness or Anti-Fatigue did a very good job. In fact, I honestly don't see much difference on the skin other than it looking darker than it was before. The Anti-Dullness gave me muddy skin and the Anti-Fatigue gave me fake-tanned skin. Both defeated their purpose of what they're actually supposed to do.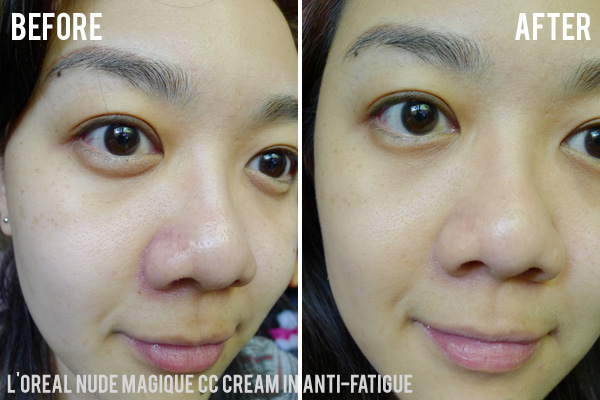 In short, the Nude Magique CC Creams were a disappointment. At least, they were for me. The Anti-Redness made my skin sallow, the Anti-Dullness made my skin look dirty and the Anti-Fatigue made my skin look like a badly applied fake tan. I understand their concept of colour-correcting which very little other brands of CC creams do but the amount of colour correction to combat underlying problems is so much that it creates even more problems. Having said that, I don't suffer skin redness, dullness or fatigue badly so I'd say these CC creams are definitely not for me.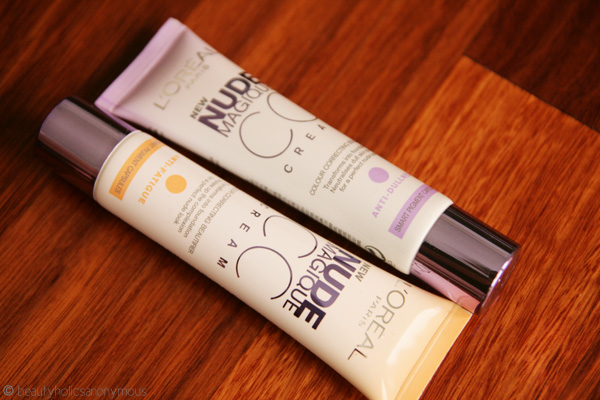 L'Oreal Nude Magique CC creams retail at AU$26.95 for 30ml each and is available at leading pharmacies and supermarkets nationwide.
What I like about them: Light texture, oil-free, actually does colour-correcting as CC creams should (even if it's a little too much).
What I do not like about them: The Anti-Fatigue and Anti-Dullness are too dark on me, don't last long, minimal coverage.
Have you tried any of these Nude Magique CC Creams before? What did you think? Did any of them work for you, especially the orange Anti-Fatigue one?
Note: These products were sent for editorial consideration.