Remember when I wrote about how I love certain perfume bottles but can't stand the smell? Today, I thought I'd do a follow-up on that post and share with you the fragrances I love but the packaging, not so much.
To be honest, this post was a lot more difficult to write because it was very tough finding ugly perfume bottles. Cosmetic companies always make sure that the packaging of the fragrances they sell are top notch, just in case the scent alone doesn't attract customers. It's a fair call and goodness knows the number of times I've been lured to gorgeous bottles first.
As I mentioned before, scent is very subjective. What I like/dislike may be the complete opposite for you. I'd say that the same thing goes for packaging. I may dislike the bottle but you may love it. Again, I'm not knocking your favourite fragrances here. I think these fragrances smell fantastic but there's just something about the packaging I cannot stand.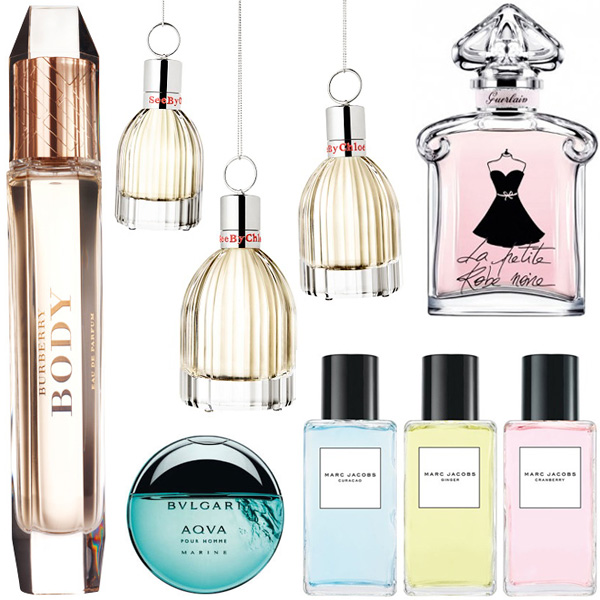 Burberry Body – the scent is a beautiful one but the packaging is too phallic for my liking. Plus it doesn't stand properly thus takes up space.
Marc Jacobs Body Splash – It almost seems blasphemous for me to knock the body splashes by Marc Jacobs because I absolutely adore them, especially the Curacao. While the bottle is classic and I don't technically HATE it, I wish they made it a lot easier to hold and spray. I don't have tiny hands to begin with but I still find it quite tricky to hold the gigantic 300ml bottle with one hand and spray at the same time. I had to decant this to a Travalo in order to use it after almost dropping this on the floor a few times. A 300ml bottle hitting your toes isn't going to be pretty.
See By Chloe – I don't normally like sweet fragrances but this one just appeals to me for some odd reason. The bottle though? Not a fan. I understand the birdcage concept but the ring on top is misleading and it makes people think you can pick and hold the perfume up by its ring. It's not strong enough to hold the weight and the bottom will drop. Plus rings on caps just make the whole thing look cheap.
Guerlain La Petite Robe Noire – It took me a while to fall in love with the fruity scent, not because it doesn't smell good (let it rest on the skin longer and it'll smell even better). I just can't get over the fact that the cap of the bottle looks like , how do I put this delicately, the knob of male genitals. Oh stuff it, it looks like a dickhead to me, okay? Yes, I have a filthy mind but I swear it was the first thing I noticed when I first laid eyes on this perfume! 😛
Bulgari Aqua Pour Homme – I bought this for Tim a few years ago and while I absolutely love this on him, I'm not a fan of the bottle. The bottle doesn't actually stand (as shown in the stock photo) but it lies on its back. It takes up so much space! Tim and I share a section of the bookshelf in our room where we store our fragrances and this one takes up almost a quarter of the space. Yeah you can see where I'm coming from here. 😉
I'm sure I have more but I'm afraid I could only think of 5 fragrances for now. It's far simpler to find fragrances with gorgeous bottles and crappy scents compared to the other way round. I'm glad there are more beautiful bottles of perfumes out there. I like me a good eye candy first before I take a good whiff. 😛
What about you? Are there any perfumes that you love but don't like the packaging much or at all?