When was the last time you cleaned your makeup bag? I don't mean removing any grimy makeup products or dirty makeup brushes from the makeup bag. I meant actually cleaning the entire bag!
I recently emptied the contents of my makeup bag for inspection to see if there's anything I needed to clean e.g. grimy compact, dirty hairbrush, broken lipsticks, empty tissue packets, etc. When it was time to put the stuff back, I took a look inside the empty bag and was horrified at how dirty it was. The bag had smudged lipgloss stains, bits of glitter from a face powder and had grey stains here and there. How did I let it get that bad? It was all round FILTHY.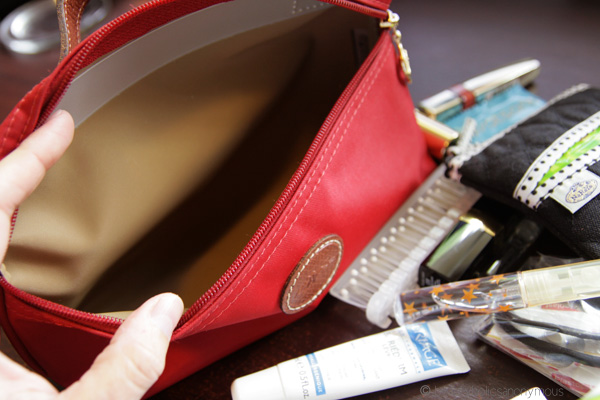 I quickly sprayed a generous amount of rubbing alcohol onto a piece of paper towel and gave the bag a very thorough wipe. The paper towel came out black! Oh I still shudder at the thought. Lesson learned: clean makeup bag often!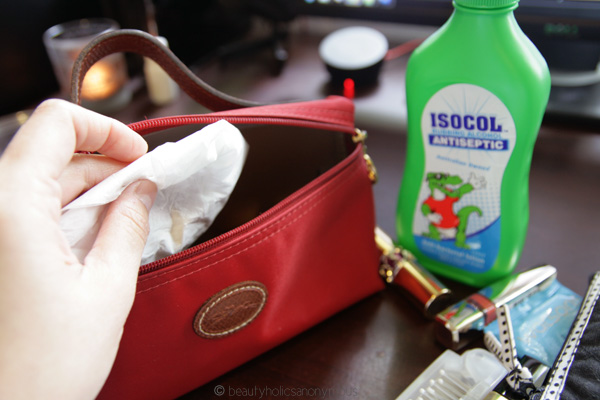 If possible, wash your makeup bag. I couldn't toss mine in the washing machine because of the leather handle but if I could, I would. Or give it a good hand wash. In between, give it a good wipe with anti-bacterial wipes or rubbing alcohol.
Check out your makeup bag NOW. How clean or dirty do you think it is?