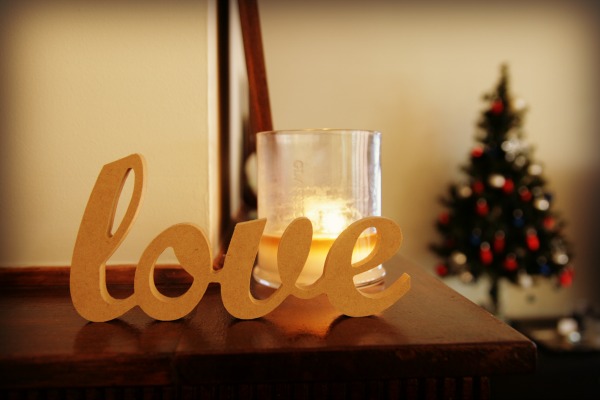 When I saw the Christmas tag on Makeup Savvy, I just couldn't resist doing it as well. Christmas is fast approaching and what better way to get the blog further in the Christmas spirit and answer some questions about Christmas, eh?

Ho ho ho, here we go!*
1. Do you prefer a real Christmas tree or synthetic?
I've never grown up with a real Christmas tree (where would we get real Christmas trees in Malaysia? They'll be dead in a day, it's so hot! :P), only plastic ones. It was only when I left for the UK to study 13 years ago that I saw my first real tree. Oh I was a country bumpkin, I was. Oooh-ing and ahh-ing over a TREE. Having said that, I'm more than happy with a plastic tree that I can reuse for years to come. The 6′ plastic tree in my parents' home has been with us for over 15 years now and it's still going strong despite the crazy amount of decorations my mum puts on it.
2. You're in a coffee shop, it's December, what do you pick?
This is a funny question for me because it makes no difference to me! I'm not the kind of girl to automatically switch to pumpkin spice, cinammon, etc drinks just because it's December. Again, growing up in Malaysia, I'm more than happy with a simple kopi peng (iced coffee) on a stinking hot day. Now that I'm living in Australia and it's Christmas in summer, give me a regular iced coffee with a dollop of vanilla ice cream any time.

3. Whats your favourite colour scheme for decorating the tree?
For years, I never thought that Christmas trees should have a colour scheme. I told you that mum over-decorates our tree and by that I mean anything goes. There's barely any green spots to hang anything anymore; there are that many items on the tree. There's a myriad of colours on the tree: red, green, blue, purple, yellow, orange … you name it, we have it. And I loved how completely mismatched everything is. Every item on the tree bears meaning; she hangs gifts given to the family even from 20+ years ago. I've always thought Christmas trees at shopping centres that have a colour theme to be quite boring because there's no character. Having said that, now that I have my own tree, I do have a colour scheme for it, which is red and silver. This year, I'm adding blue to the tree. I've only had my $5 Kmart tree for the past 2 Christmases, and each year, I'll add an extra item onto the tree. This year, it's a large bejewelled snowflake. I hope to add more to the tree as the years go by.
4. Giving or receiving?
Giving, always giving. It sounds terribly braggy, I know. "Ooh she's showing off how generous she is" but I've always felt this way ever since I can remember. That feeling of buying or making a gift for someone for birthday, Christmas, etc … it's joy. My gift is the look on the recipient's face when he/she opens the present. Of course, I love presents too but at the end of the day, I'm just happier giving.
5. To mince pie or not to?
This is such a British thing, mince pies. For the years that I was in the UK, I've always thought that mince pies contained minced meat in them. It always baffled me how they managed to squeeze mince meat into such tiny pies! It was only when I was about to leave the UK for good that I realised it was minced fruit, not meat! I did manage to try one out and sorry to say, it's not my cup of tea.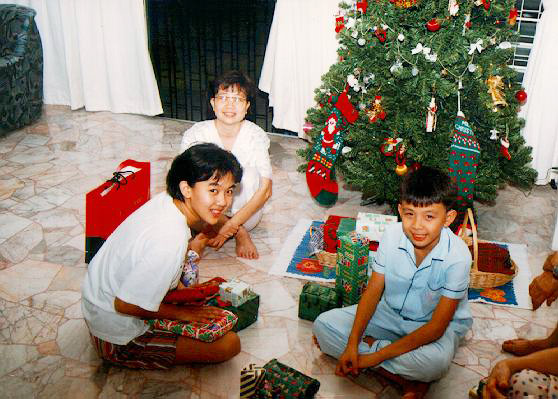 Can't remember how old I was in this picture. Don't even know how I got it! My brother looks about
10 here so I'd be about 14 years old. That's us opening presents past midnight on Christmas Day.
6. What's your traditional Sunday lunch?
You think of Sunday roasts with Yorkshire puddings and gravy when the words "Sunday lunch" is mentioned. For my family, a traditional Christmas Sunday lunch is going to Penang Swimming Club (in Malaysia) and having their set lunches that don't taste good but we still have it anyway because it's cheap :P. It's something my dad insists on doing even though we've suggested many other places that do much better Christmas lunches. I don't know whether it's because he wants that place to be a tradition or just because the food is cheap :P. Either way, that's the family Christmas Sunday lunch. Now that I'm married and living in Australia, Christmas Sunday lunches can be anything that doesn't require booking and that usually means Chinese food somewhere. The dinners however is starting to become a bit of a tradition where my close friends and I have dinners in each other's homes on Christmas Eve, Christmas Day and Boxing Day. It's 3 days of continuous feasting!
7. Christmas day fashion
Having celebrated Christmas in mostly warm weather, it can be anything. No cute Christmas jumpers, that's for sure. I usually save a new item of clothing just to wear to church for the Christmas service.
8. What's your favourite Christmas song?
Hands down, it's "Have Yourself A Merry Little Christmas". I absolutely love this song and almost always goes on repeat on Christmas day. I love the one sung by Judy Garland in Meet Me In St. Louis, the modern versions not so much.
9. What's your favourite Christmas film?
Hahaha this one has got to be Home Alone 1 and 2. Best Christmas films in my book. I know a lot of people like Love Actually but come on, you gotta love a kid planting his hands on his face and go "aaaaaaaaaaahhh!!".

10. Open presents before or after lunch?
When I was very young, my family used to open presents after Christmas lunch but in the past 15 years or so, we've developed this habit where we wait until it's midnight on the eve and when the clock strikes 12, it's open presents time! Usually by then my parents are usually knackered from the Christmas BBQ party we held and want to get it done and over with :P. Now, it's open presents anytime on Christmas day.
I hope you've enjoyed this tag and please feel free to do it too! Let me know if you've done this, leave your link below in the comments so that I may check it out.
Have fun!

*It's the silly season. I was having a moment.