Happy hump day, folks!
Noticed something different here, did ya?
It's been at least three years since I've had the plain blog theme that you've been accustomed to seeing if you've recently joined us (hello!). That's like wearing the same undies and not changing for … okay let's not even go there. You get the drift.

When I first started Beautyholics Anonymous, I had a variety of layouts and designs. I've done purple, I've done red and white and I've even dabbled in a whole lot of pink. Three years ago, I decided to give the blog and Beautyholics Anonymous a brand and that was when I came up with the black, red, white and grey logo you're familiar with. As I'm an advocate of maximising the amount of white space, I gave my blog a very simple theme. It served me well for three years but it's time to move on and refrock.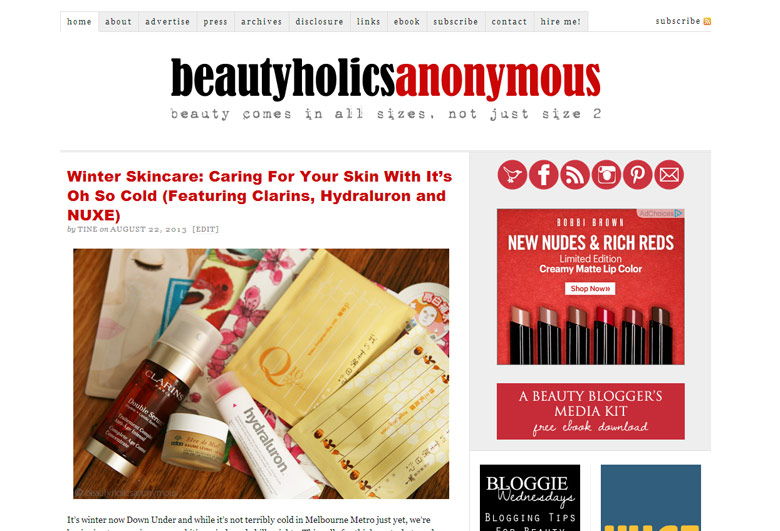 I tried out magazine themes and quickly realised that it's not what I wanted. I'm a strong believer that a blog should look like a blog, which means that you see the latest post on top and the earlier ones going downwards in chronological order. This is not to say that magazine-styled blogs are wrong for I've seen many really stunning designs. At the end of the day, it's just not for me.
I tried rebranding the name and website by giving it a more feminine touch. Oh boy, that made it worse. I absolutely love pretty, feminine-looking websites with pastels, cursive fonts that are so fancy, it makes me almost need to curtsey in its presence. I tried a few designs that made Beautyholics Anonymous look sweet and feminine. It wasn't long before I threw in the towel. It felt wrong. What can I say? I just can't do frilly and feminine. Damn.

In the end, after months of indecision, I took a good look at my current design and decided to work from there. There must be a reason I stuck with this design for so long. What was it that I liked about it that made me hang on to it? After days of putting my foot down on the necessary elements and coding, I finally came up with something I liked.
At that time, even though I did like it, I was unsure if it would work. I had an extra sidebar that made it look a tad cluttered. What happened to the amount of white space I wanted? After consulting LeGeeque and Paris B, I made more tweaks to the design and finally came up with something I love.
The new design has the amount of white space I needed that was still enough but not threadbare. I stuck with just one sidebar to avoid filling it up with junk I don't need. I added an image to my logo (check out those gorgeous red lips!). This time, I made the content wider in order to fit larger and clearer images, which is something I've always wanted to do. It's responsive, which means that you'll be able to view this easily on any mobile device, phone or tablet.
I want to concentrate more on content viewing this time, whether you're on the desktop or viewing this on your phone. I want the text to be easily read (old and almost blind-as-a-bat eyes like mine need big fonts, y'see) and the images easily viewed.
After rambling for many paragraphs, I hope you like it as much as I do. It's still a work in progress and I'm still ironing out any kinks I see. If you manage to break something (and I hope you do!) on the blog, please let me know so that I may fix it as soon as possible.
Welcome to the new Beautyholics Anonymous of 2014.