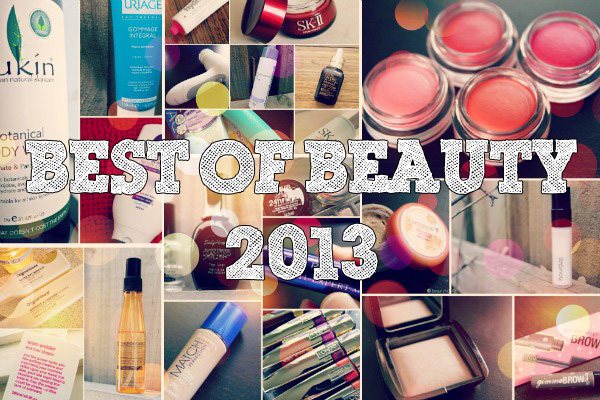 It's the beginning of the new year and looking at my Archives, man I tried and reviewed a LOT of beauty products in 2013! Out of the many products that I had the opportunity to try out, there were a few that stood out for me, which I thought I'd share with you today.
There are some that I didn't review on the blog (the ones without links). I find shampoos, conditioners and body washes slightly difficult to review because to me, they're either really good, meh or totally crap. The reviews would be just photos and one line: good, meh or crap and I don't think you'd be interested in that.

I won't go into detail as to why these are my top picks as you can click on the links to find out more.
Alrighty, let's get started!
SKINCARE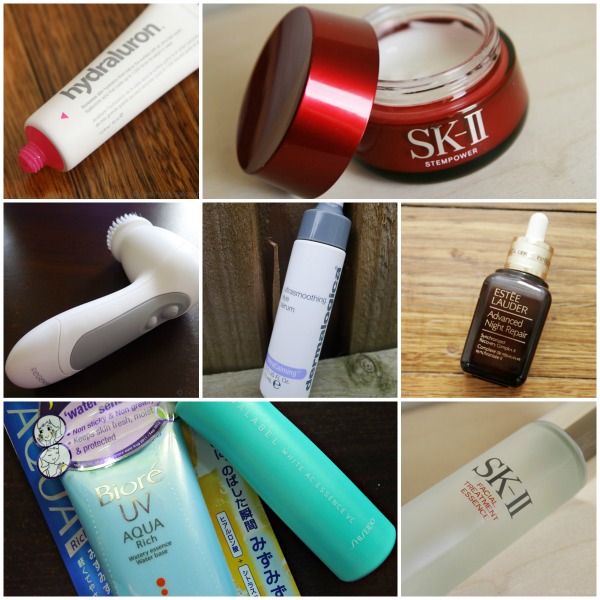 Favourite Cleanser: Olay Regenerist Advanced Cleaning System Specialty Cleanser
It's gentler and more travel-friendly than the Clarisonic. Oh did I also mention it's 10% of the price?
Favourite Toner: SKII Facial Treatment Essence
This used to work for me and then it stopped. I resumed in April and we've been going steady since. Skin does become softer, those darn smart Japanese.
Favourite Serum(s): Estée Lauder Advanced Night Repair Synchronised Recovery Complex II / Hydraluron
I couldn't decide between the two so I thought, why not have two favourite serums of 2013? I used both when I was travelling a lot in August and September and they were both very good. One's on the higher end price range and the other one's more affordable.
Favourite Eye Cream: Dermalogica Ultracalming Ultrasoothing Eye Serum
Very light eye cream. No wait, make that eye gel. Keeps the undereye area well hydrated without being heavy.
Favourite Moisturiser: SKII Stempower
I love this moisturiser so much that I almost cried when I wiped the jar clean last month. A 80g jar lasted me 7 months! Definitely worth a repurchase.
Favourite Sunscreen: Biore UV Aqua Rich Watery Essence Water Base SPF50
It's light, non-greasy and does the job. I'm currently on my 3rd tube as I sometimes use this on my body too. Love this.
Favourite Pimple Treatment: Shiseido Aqua Label White AC Essence VC
I didn't blog about this because I think you can only get it in Japan (which was where I bought mine). Boo! I'll be a sad panda when this is finished because it zaps those pimple suckers just like that *snap*.
MAKEUP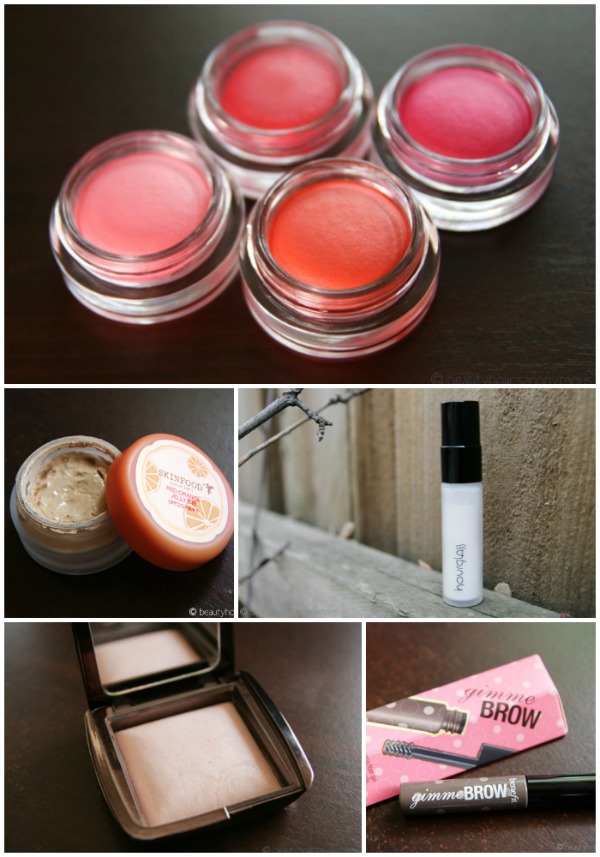 Favourite Primer: Hourglass Veil Mineral Primer
I had this on all day and night at the weddings I attended in September. My foundation didn't budge one bit. Sweet!
Favourite BB Cream: Skinfood Red Orange Jelly BB SPF 20 PA+++
I wrote about this in December 2012 but I still find this as my top BB cream for 2013 as it's the one I reach for almost all year. It gives me great coverage and looks fantastic on the skin.
Favourite Foundation: Rimmel Match Perfection Light Perfecting Radiance Foundation
This foundation shares the Holy Grail pedestal with the Bourjois Healthy Mix Serum. It just makes my skin glow like I've had a good facial (without the oil slick).
Favourite Concealer/Highlighter: By Terry Touch Expert Advance Ultra-Radiance Active Concealer
I find this a lot better than the YSL Touche Eclat (the founder of By Terry, Terry de Gunzburg, was the creator of the Touche Eclat). The formula is not as thick and glides on the skin much better. It conceals my dark circles well and doesn't make the area look cakey. Downside is, it's bloody expensive.
Favourite Lippie: L'Oreal Shine Caresse
I can't believe I didn't blog about these lipglosses when they were the ones I reached for the most in 2013! I prefer these to the YSL Glossy Stains. I like they feel watery on the skin and dry to gorgeous stains on the lips.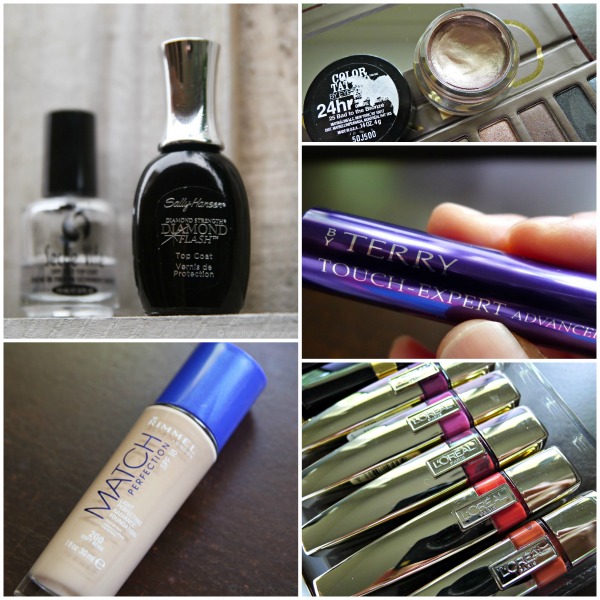 Favourite Face Powder: Hourglass Ambient Lighting Powder (Mood Light)
I call this Photoshop in a pan. Bam! Instant radiant skin.
Favourite Blush: Dior Blush Cheek Cremes (from the summer '13 collection)
I reached for these blushes the most in 2013. It feels quite powdery to the touch despite being cream blushes and looks very natural on the cheeks.
Favourite Eyebrow Product: Benefit Gimme Brow
2013 was all about the brows for me. I tried a few eyebrow pencils but the one I used the most was the Benefit Gimmer Brow brow gel. It's so easy to use and looks very natural on the brows.
Favourite Eyeshadow: Maybelline Colour Tattoo Bad to the Bronze
Next to the Urban Decay NAKED palette, this is my favourite-st eye shadow all year. I use them so often and it's the only eyeshadow that has a big dip in it from so much use. I haven't been buying eyeshadows for almost a year because I just stick to the Colour Tattoos and the Urban Decay palette.
Favourite Nail Polish: Sally Hansen Diamond Flash Top Coat
I don't have any particular brand and colour that I really like this year as I haven't been wearing a lot of nail polishes. The top coat I reach for each time I do wear nail polish is the Sally Hansen Diamond Flash. I actually prefer this to the Seche Vite!
BODY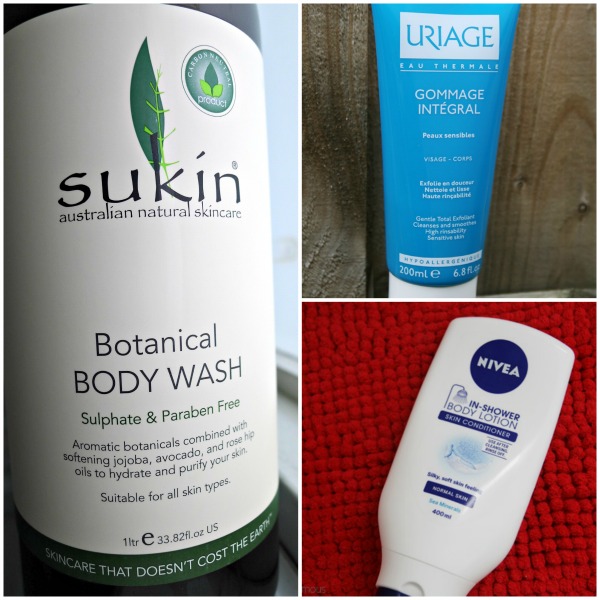 Favourite Body Wash: Sukin Botanical Body Wash
I discovered this during one of Priceline's 40% off skincare sales. Tim and I are hooked. He usually prefers the cheapies from supermarkets but ever since we tried this out, he's been asking me to repurchase this instead of the usual Palmolive. Love the scent. Reminds me of chocolate oranges.

Favourite Face/Body Scrub: Uriage Gommage Integral Gentle Total Exfoliant
Love that this is gentle enough for me to use on my face AND my body. Multitaskers FTW.
Favourite Body Lotion: NIVEA In-Shower Body Lotion Skin Conditioner
Best body lotion discovery all year! I can skip conventional body moisturisers altogether and my skin will still be well hydrated. In winter, for extra hydration, I top it up with an extra body lotion. Just a few applications and it was bye bye scaly skin.
HAIR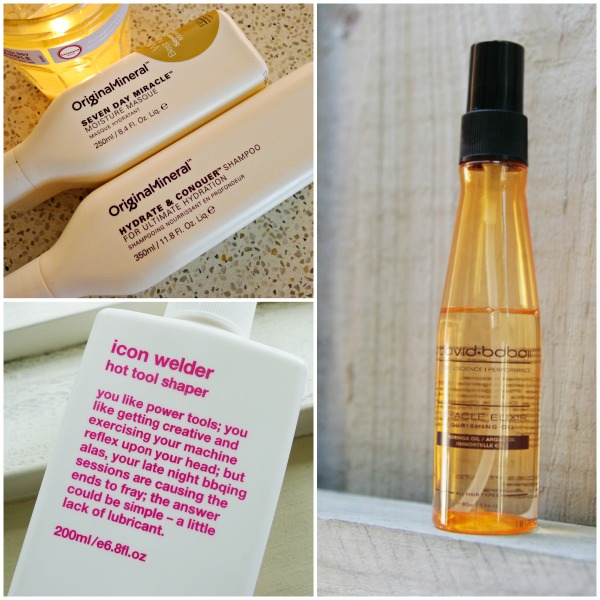 Favourite Shampoo & Conditioner: Original Mineral Hydrate & Conquer Shampoo and Seven Day Miracle Moisture Masque
I tried a lot sulfate-free haircare products in 2013 and the only one that worked for me was the one by Original Mineral. My hair is softer and a lot more manageable now (when it's usually a big ball of frizz).
Favourite Hair Oil/Serum: David Babaii Miracle Elixir Nourishing Spray
A combination of argan and other oils in a light spray that leaves the hair soft and shiny.
Favourite Heat Protecting Spray: EVO Icon Welder Hot Tool Shaper
EVO products have the funniest product descriptions (if you haven't seen them, go check them out!). The Icon Welder works well as a heat protectant before I use the flat iron on my hair. Smells good and also works as a styling product.
BEAUTY TREATMENTS
Favourite Spa for Facials and Massages: Endota Spa
I blogged about Endota Spa ages ago and to date, it's the only spa I go back to on an almost monthly basis. Their spas are clean and service is excellent. Aurora Spa comes a very close second.
Favourite Brow Bar: Benefit Brow Bar @ Chadstone
I tried them out beginning of 2013 and have been going back to them on a monthly basis. I rarely have the same brow therapist on each appointment but their work is very consistent that I always end up with gorgeous brows after they're done.
Favourite Hair Salon: Oscar Oscar @ Chadstone
Jacky and Nathan. Best hairstyling duo for cut and colour. Their services are not cheap but they always deliver fantastic results. If you do happen to be there, tell them Christine says hi.

I hope you've enjoyed my recap of favourite beauty products I've discovered and liked in 2013. I'm still using most if not all of these now and I have a feeling will continue to be favourites of 2014 as well. You know when you just need to hang on to great beauty discoveries that work so well for you? Yep, that's what I'm doing.

Here's to more fabulous discoveries in 2014!
What's your favourite beauty product of 2013? The beauty product that really stood out for you? You don't have to list everything down like I did (but if you do have the time, I'd love to know your favourite beauty products in the categories above), just one or two will do.