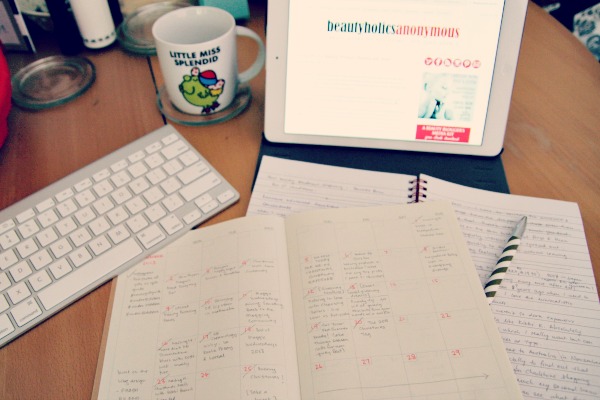 Don't you just love January? I do. It's the month where people spend the least post-Christmas and it's the month where shops are slashing prices even further to entice people to shop more even though we're broke from spending too much during the holiday season. It's also the month where web traffic is lowest as people are still on holiday and are slowly returning to the grindstone.
January is the month where made resolutions are the strongest (of course, it tapers in February then March and come June, it's like resolutions? What resolutions?), which is why I think it's the best month to come up with some organisation plans for our blogs. Low traffic in January doesn't really bother me because 1) it's a good thing that people are away from the computers and spending some quality time with their loved ones and 2) it gives me a bit of a breather to be able to plan content for the coming months and year.
What do I mean by planning your editorial content for the year? Take note of important dates and occasions of the year that you might want to cover for your blog. For instance,
Valentine's Day
Mother's Day
Fashion weeks
Your blog's Anniversary
Your birthday
Your cat's birthday (hey I intend to celebrate my dog's on the blog so why not? )
Easter
Racing season
Thanksgiving (if you celebrate it)
Christmas
New Year
The list goes on. In magazine time, content is planned for the intended month at least 3 months in advance. You don't have to do that for your blog. That's what makes blogs more interesting and real; you can do it on the fly. Having said that, it's worth planning a rough guide of what you'd like cover for the year.
You can also plan your content in a month-to-month basis. After I've added the dates above to my editorial calendar, it's time to plan what I want to feature on the blog on a specific month. I rarely go past 30 days of concrete topics to blog about because things change and I like to be able to switch topics around when I can.
For example, if I'm currently on my first week of trialling a new moisturiser that I would like to review, I check my calendar to about 6 weeks from today and write down the name of that moisturiser on the calendar. This means that I'm to review that moisturiser during that week. It doesn't have to be a rigid time frame but I find that giving myself a deadline like that makes sure that I do write about it rather than forgetting and moving on to something else. In the mean time, I trawl blogs to find interesting tags or stories that I can also write about and fill that in to my editorial calendar.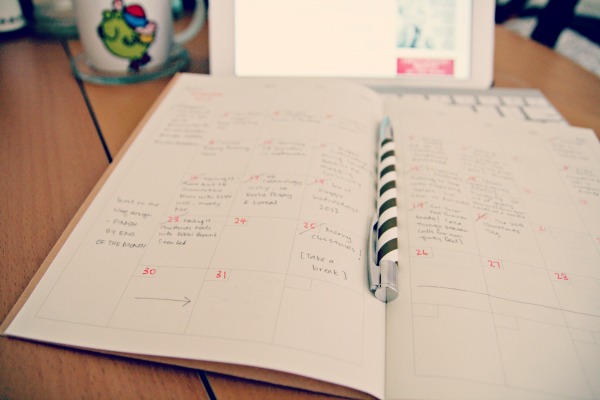 So, how do you plan your editorial content? A calendar is always a good start. You can use a digital calendar like Google Calendar where you can save and access your data on the cloud. Or you can use a physical calendar to plan your content. A notebook is also handy for any spur-of-the-moment ideas.
As for me, my tools for content planning is very simple:
A blank monthly calendar. I fill in my topic titles in the dates in pencil and move them around when necessary. I got mine from MUJI for under AU$2.00.
A small spiral notebook. Topic titles are written in the notebook where I expand on the actual content. I find this very handy especially when I'm trialling makeup and I need to write the colour description, texture, scent, etc. I can always type them out later if I want to write about that specific product.
A WordPress plugin called Editorial Calendar. I used to write my topic titles here instead of a physical calendar but I found that it cluttered my vision of what has already been published and what are drafts. The calendar gives me a bird's eye view of my published content for the month.
I tried using Google Calendar for months but in the end, preferred a physical one that I can actually write on and erase. I can be quite old school that way.

While we're on the subject of planning your editorial content, I stumbled upon a digital planner that you can print out for your blogging needs. You can buy these planners on Etsy but Erica from Confessions of a Homeschooler has made a beautiful one available for free to download. I thought it was a very generous gesture so if you're reading this, Erica, thank you.
Every blogger has his/her own ways of planning content for their blogs whether it's using an online calendar, a gorgeous Moleskine or a cheapie spiral notebook from Kmart (that's me!

). It might seem extra work (on top of school or day job) but with proper early planning, it will save you so much time without having to worry about having no content later.
How do you plan your editorial content? What tools do you use? What works best for you?