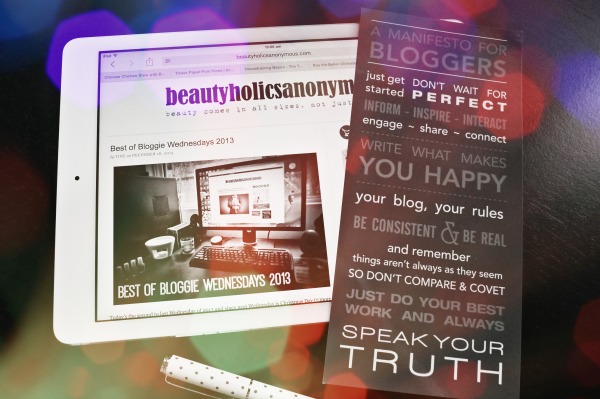 Hurrah for another year of Bloggie Wednesdays! It's been an awesome year talking about blogging (read 2013 recap of best posts here) and I'm so glad that you've enjoyed the series and found it helpful. I've had a lot of fun doing the research and writing (sometimes, they're even more fun than writing about makeup. Shh! You didn't hear that from me!) and it's an honour to receive emails from readers on how much Bloggie Wednesdays have helped them.
So, what's in store for Bloggie Wednesdays in 2014? Here are just some of the activities and content I have planned for this year:
More collaborations with bloggers
I would love to continue collaborating with bloggers to bring you their amazing insights to blogging. I had a lot of fun working with some of them in 2013 and they're such an inspiration to me.
Hold a webinar or two
I've been wanting to do this for quite some time now. Perhaps a webinar is a bit formal but I'd love to do a Google Hangout with you. I was going to do this in November but life got in the way and I had to scrap the idea for a bit. I even have a full HD webcam all set up and ready to go!
Bloggie Brekkie!
This idea came from Yishan and I thought it was such a fab one. I would love to meet up with like-minded bloggers for breakfast to discuss about my favourite topic (other than makeup), and that's all things blogging. Again, I've been meaning to do this at the last quarter of 2013 but as I mentioned earlier, life got in the way and I couldn't plan it in time (man, these things need a whole lot of planning!). What do you think? If you're based in Melbourne, is this something you'd be interested in?
Getting the lowdown from the horse's mouth
I'd love to get opinions on working with brands from PRs that I've worked with. I did this in 2012 and found it tremendously helpful because we often talk about it amongst bloggers but we don't actually hear from the brands on what they think about working with us. I'd like to hear their side of the story.
Answer your bloggie questions
If you have any questions at all about blogging, please send them over! There are no silly questions; they're probably the ones all of us have but dare not ask. This will also help me greatly in planning Bloggie Wednesdays content for you.
These are just some of the ideas I have for 2014. There'll be more as the year progresses so please stay tuned. If there's a specific topic you'd like me to address, feel free to leave them in the comments or email me.
Here's to a great year of blogging for you and I!

Bloggie Wednesdays
is a series of articles just on blogging. They contain tips, how-tos, discussions about anything and everything you need to know about blogging and how we can be better bloggers. If you have any suggestions, tips and tricks about blogging you would like to share with us, or if you have any questions you would like me to address, please let us know in the comments.