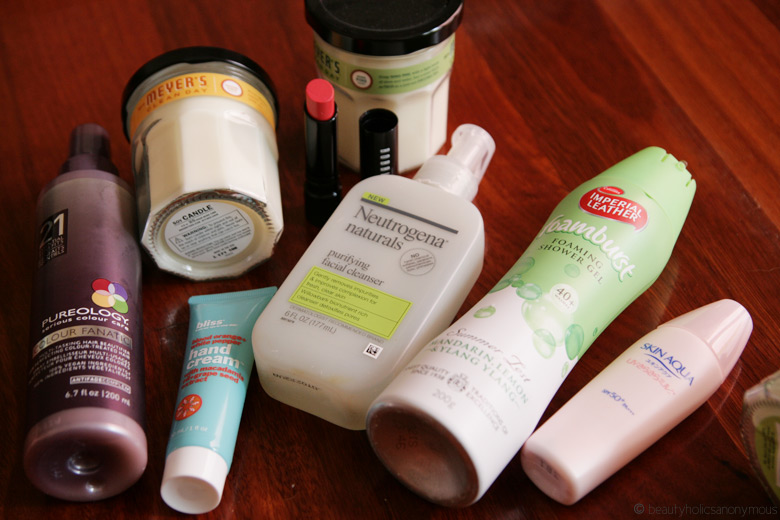 I've decided to introduce a few more series of posts for 2014 since I quite enjoy doing them last year (BB Creamology, Rudiments of Rouge, List of Lusts, etc). While some may be put to pasture, I thought I'd kickstart the first month of the year with my monthly Hit and Miss List.
It's not a new concept; it's a popular monthly favourites series done by beauty bloggers and YouTubers where they tell you what their favourite products of the month are. It's something I used to do way back when that fell off the bandwagon after a while. I thought I'd resurrect it this year and add my list of misses too. If there's something good, often there's something bad, right?

Let's get started with January's Hit and Miss List!
The Hit List
Bliss Blood Orange + White Pepper Hand Cream
This was a Christmas gift from a dear ol' friend and it has become a fast favourite on my bedside table. It smells amazing (you know me and orange scents) and it isn't greasy. I'm not sure if I can get this in Australia because I definitely want to get the full-sized tube when this is finished.
Pureology Colour Fanatic Multitasking Hair Beautifier*
I love this multitasking hair leave-in spray. It protects against colour fade, conditions my hair, controls frizz and static on my hair. I usually have a myriad of hair care products, each for detangling, treating, conditioning and this just combines all of them into one easy-to-spray bottle. I can just imagine decanting this for when I'm traveling and how many bottles I DON'T have to bring with me just to take care of my hair. Again, multitasking FTW.
Bobbi Brown Sheer Lip Colour in Rosy
This lipstick was highly recommended by Estée from Essiebutton and believe it or not, this is my first lipstick by Bobbi Brown. It's creamy and the colour's gorgeous. I was expecting this to be quite sheer given its name but it packs one heck of a colour punch upon first application.
Mrs Meyer's Clean Day Soy Candles
I discovered Mrs Meyer's Clean Day soy candles in December when I was shopping on iHerb. I was just getting some pet supplies for Janey and I had no idea iHerb stocked soy candles too. I picked up a couple from Mrs Meyer's Clean Day range and I absolutely love them! I really like the jam jars they come in and for a good soy candle, they're cheap too (under $10). I picked up a couple more in my next order and will continue to repurchase as long as iHerb still stocks them.
The Miss List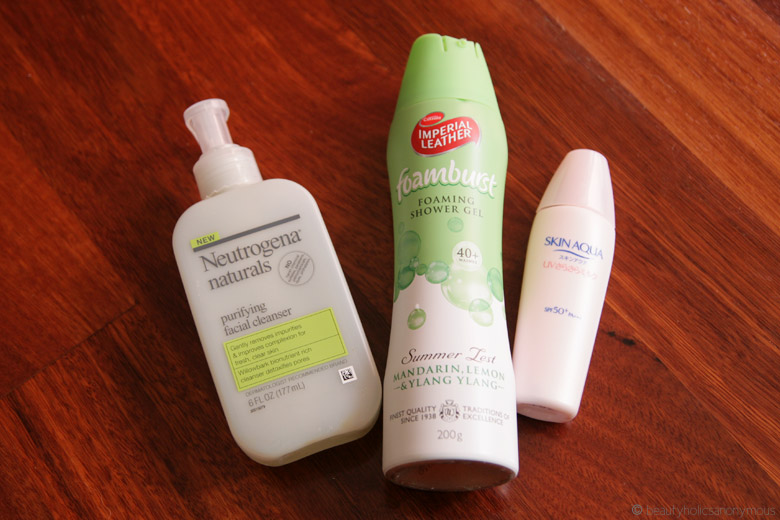 Cussons Foamburst Foaming Shower Gel
When these first came out, I really liked them because they came out like a gel, foams up like a mousse and smell really good. You only need a small dollop to soap your body, arms and legs. I stopped using them for over a year when newer shower gels came to the market. A few weeks ago, Priceline had a 50% off all Foambursts and I picked up a couple. It was then that I remembered why I stopped using them.
When you've used up about 1/2 of the shower gel, it becomes really hard to dispense. You'll have to press the small plastic lever really hard just so worm-sized gel comes out in a snail-like pace. Every time I get past half the bottle, it's shower gel constipation all over again. I give up!
Neutrogena Naturals Purifying Facial Cleanser
I picked this up during a 40% off sale at Priceline. I've heard good things about it and how it's pretty comparable to Cetaphil's Skin Gentle Cleanser. Long story short, it's not. Not even close. I found it drying and when Tim used it, he didn't like it either (damn, and I thought I could palm it off to him). It gave our skin that tight and squeaky clean feeling that I really don't like. There's now an inch of facial cleanser left in the bottle that neither one of us want to use. Ideas anyone?

Skin Aqua UV Moisture Milk SPF50
I like sunscreens by Skin Aqua. Heck, I've repurchased a lot of their variations. Sadly, this isn't one of them. I wouldn't say I hate it but I don't like it at all. It's terribly watery (light, oil-free, slightly runny texture is good. Easy-to-spill watery is not) and to be honest, I don't know how much of it is needed for a decent amount of skin protection. It's like applying water on the skin. As the bottle is small and light, I'm keeping this in my bag for times when I forget to apply sunscreen but it wouldn't be something I'd automatically reach for if possible.
I hope you've enjoyed my hit and miss list for this month. Apologies if any of my not-so-good ones are in your favourites list but that's what makes it interesting, not everyone liking the same products. No worries at all if you hate my favourites.

What's on your hit and miss list for January?
Note: The product marked with * was sent for editorial consideration.