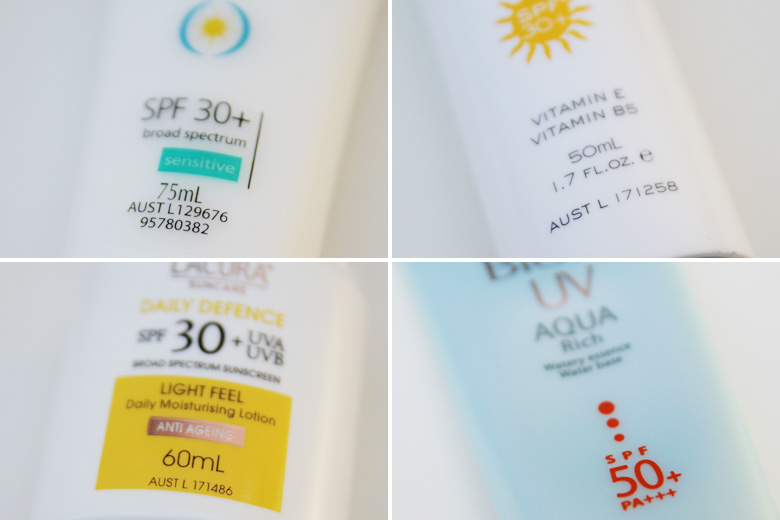 I love a good beauty Q&A because there's just so much to learn. Something I wanted to do this year was to get my burning questions about skincare, makeup, haircare, body care … whatever it is that is related to beauty, answered. I'll be asking experts from the beauty industry for their opinions on certain issues. I hope this is something you'd be interested in as well.
Today, I'll be asking Emma Hobson, who's the Education Manager for Australia, New Zealand and Asia from the International Dermal Institute about sunscreens and SPF. I came up with these questions when I was using leftover face moisturiser that has SPF30 on it. Is the amount of sun protection the same if it's not labelled as a sunscreen?
1. Is the amount of SPF in a face moisturiser that is not labelled as sunscreen the same as the ones labelled as sunscreen?
If you mean a face moisturiser has an SPF of e.g. 30 but is not labelled a 30 is it the same? Theoretically it possibly could be; that said, if it is not a registered sunscreen which has gone through rigorous testing and registration (which cost a small fortune to do so) then I would NEVER trust it to protect my skin or use it as my choice of skin protection because you simply don't know what you are getting! Every sunscreen product in Australia must come with an AUSTEL number that means it has been registered with the TGA (Therapeutic Goods Association).
2. Is the amount of SPF for the face moisturiser/sunscreen also the same for a body sunscreen/moisturiser with the same SPF number? Eg. does a body sunscreen/moisturiser of SPF30 have the same level of sun protection as a face sunscreen/moisturiser labelled with SPF30? I'm asking because I wonder if I can use a face sunscreen on my body and if it would offer the same level of protection.
Yes, any product face or body that has a stated SPF rating would be the same on the face or the body. The important thing to note is the quantity of sunscreen that needs to be applied to achieve the stated SPF as many people apply way too little. Studies have found that most people apply less than half of the amount of sun protection product required to provide the level of protection (e.g SPF50) stated on the packaging.
Consider the Cancer Council of Australia's guide to applying sun screen for the face; it is a half a teaspoon of product applied to the face and neck – including the ears and the back of the neck. That's a lot of product you need to apply to achieve the required SPF, we certainly don't apply and it's definitely not achievable from simply applying makeup containing SPF15+. I can't imagine anyone applying half a teaspoon of foundation and certainly not a face powder!
For the body we need to apply 30-35ml (or grams) of sunscreen for the average body, that's about a "golf ball" size amount of product or at least six teaspoonful's. Also, note your application of various products containing sunscreen does not negate one or the other. Equally they are not accumulative, meaning if you apply one product with SPF 15 then another with SPF15 you don't end up with a SPF30. You only end up with fractionally over the SPF15 you applied with both products.
Reapplying is essential. It is recommended every two hours especially if you tend to sweat a lot and have product that rubs off. Remember to apply immediately after swimming even if you wear a water resistant sun screen.
Again, sunscreens are not accumulative, they don't add up like a simple math's equation. Layering two SPF15 products will only increase the SPF fractionally, not by double. It is important to reapply sunscreen whenever you swim, exercise or sweat, and reapply at least every 2 hours.
Many thanks to Emma for her insight to sunscreens. I use a lot of sunscreen, especially on my face and neck, and it's good to know that the amount of SPF stated for face and body are the same. You know me, I like to use my face sunscreen on my body as well. Far less oily that way.
If you have any questions at all about skincare, please let me know in the comments (or email me) and I'll pass it along to Emma or another skincare expert. There are no silly questions; chances are it's something all of us want to know but dare not ask!