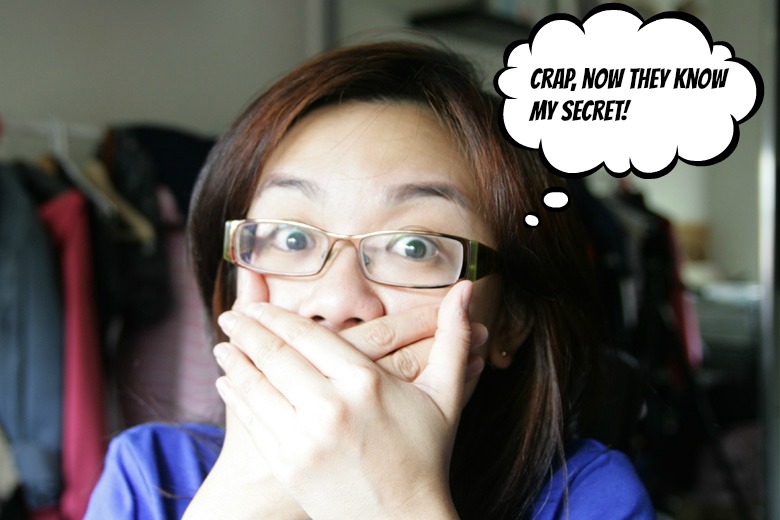 Happy hump day, fellow beautyholics!
Since it's Wednesday and I'm dragging my behind over the week hump as usual, I thought I'd write a more lighthearted Bloggie Wednesday post today compared to my usually dry, technical ones. 😛
Forgive me, oh readers, for I have sinned. My last confession was … er … never. Today, I'm sharing some of my blogging secrets and confessions with you. They're not secrets to gaining more readers or scoring a fantastic Google page rank. They're little secrets that I do on the blog that make it look all fancypants but in reality, it's all just smoke and mirrors.
Be warned when reading this post for it will strip your good (I hope) impression of me and the blog.
SO WHY AM I EVEN TELLING YOU ALL THIS??
I blame the summer heat. It's turning my brains to jelly.
1. I Photoshop my nail photos
Oh dear, the dreaded word on the blogosphere: Photoshop. I may write a lot about beauty but truth be told, I have the gnarliest cuticles ever. They're terribly dry and peely. They don't improve much even with lots of cuticle oil. But I do love nail polish and want to share my likes and dislikes with you. So I edit the grottiness away. I'm sorry if this disappoints you; it's not something I'm proud of but trust me, if you see the unedited photos, they will turn you off nail polish forever. I guarantee it.
2. I'm not as neat as you think
My desk isn't as neat as you see in a lot of photos I post during Bloggie Wednesdays. I feel bad when I receive a lot of compliments about how neat my desk is because in reality, it's far from it. Most of my stuff are on the floor or pushed to a corner just so you see a strategically placed lit candle and iPad (I don't place the iPad on the desk. Hello, my arms need more space, not the iPad). I'm not the kind of person who can just have a computer, a potted plant, a candle, a notebook and a pen on the desk. I need my shit stuff.
Like I said, it's all just for the photos.
3. I live in my pyjamas
For every FOTD or makeup look post that I do, I have on a proper top for the camera but will be wearing pyjama bottoms that you can't see. Sometimes I even try to "fancy up" my PJ top. 😛
4. They didn't teach me that many colours in school
When I don't know how to describe a colour or scent (especially the former. It's so hard to describe colours! It's not just red. It's maroon, scarlet, raspberry, rose, vermilion, wine, etc.), I check reviews on blogs like Temptalia and Makeup and Beauty Blog, and use their descriptions instead. Why reinvent the wheel, or in this case, reinvent a colour? 😛
5. I like to show you my fingers
For nail polish swatches, I don't bother painting the thumbnail, which is why you only see 4 fingers at a time. I don't want to have to show you the claw. 😛
6. I still don't know how to apply false eyelashes properly
They look good in their packaging and they look good when someone else applies the falsies on me. But whenever I try handling them, it's like handling a cockroach with many furry legs and trying to stick that roach on my eyes. I haven't given up yet because I will conquer you, YOU FLIMSY @#$%!!
7. I'm too boring to not wear neutrals
I love applying and photographing green eyeshadows for the blog but in real life, I seldom wear them. I prefer my neutrals. I adore emerald green eyeshadows and think they're so very pretty. But I also like my browns. I do wear other colours but I wear neutrals a lot more. I'm quite dull in real life as you can see. 😛
8. I'm a hair cheapskate
I spend a lot of money on my face in terms of skincare but I'm quite a cheapskate when it comes to my hair. Unless it's for a good hair cut and colour (I don't compromise on this), I don't like to spend a lot of money on it and usually just buy drugstore brands. It's ironic because my hair is in a lot worse shape than my skin. Having said that, there's a lot of very good drugstore haircare that are more than comparable to the expensive stuff.
9. Google is my best friend
When I say "research" on the blog, I mean Google the crap out of the topic. Er, don't we all? 😛
10. So are big hair clips
My hair might look wooshy/sleeked/nicely coiffed, etc in FOTD and makeup look posts but that's just strategically placed hair clips that you can't see. It's like bulldog clips on clothes that don't fit mannequins.
So, have I burst your beauty blogger bubble yet?
If you're a blogger, go on, 'fess up. What's one thing that you do behind the scenes that aren't al that glamorous? No judgement here. Hello, I have shitty cuticles.
😉
Bloggie Wednesdays
is a series of articles just on blogging. They contain tips, how-tos, discussions about anything and everything you need to know about blogging and how we can be better bloggers. If you have any suggestions, tips and tricks about blogging you would like to share with us, or if you have any questions you would like me to address, please let us know in the comments.