Happy Friday, folks!
Today I thought I'd do something not-really-beauty-related-but-may-be-oh-I-don't-know different today and show you a tutorial on how to recycle and reuse candle jars.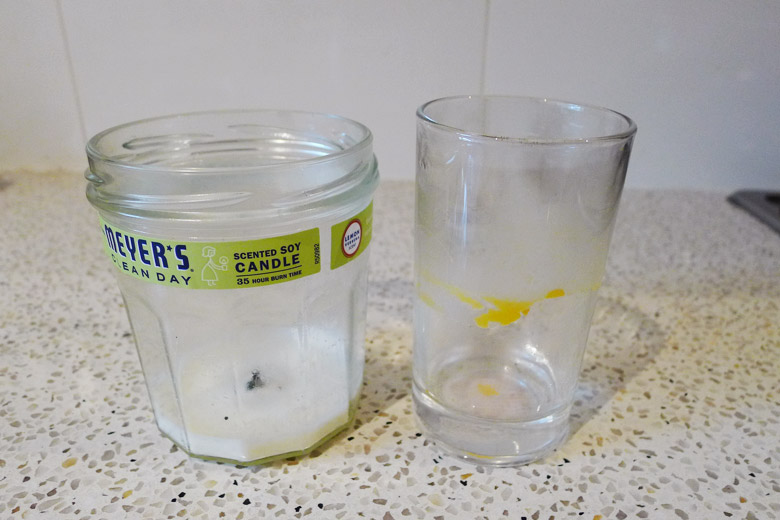 Here's a little known fact about me (at least, I don't think I've mentioned this on the blog or social media), I make my own candles. I still buy beautiful candles e.g. Glasshouse, Circa Home, Mrs Meyers', etc from time to time, but nothing beats having your own homemade candles.
Oh wait. I told you I make my own candles in my last candle-y post, didn't I?
*facepalm*
Right. Carry on.
Soy is my wax of choice simply because it's much safer for the household and it's easier to clean up if there's any spillage. Cheapie paraffin wax candles smoke easily and usually don't burn evenly, leaving a hollow in the middle of your candle. I highly, HIGHLY recommend soy candles if you're a fan of burning candles at home.

The markup of soy candle prices in retail stores are ridiculous. You'd be amazed at how cheap it is to make your own. Big brands often hike up the price by 200-300%! I know, yet I still buy them. Guilty pleasures, people. Guilty pleasures 😛 . I get my candle-making supplies from Live in Spirit and eBay. Do check them out if you're interested in learning how to make your own candles too.
Anyway, I digress. Today isn't about making soy candles, it's on how to recycle the candles jars. One of the best things about soy candles is that you can easily recycle candles jars and make them look like new (can't do that with cheapie paraffin wax candle jars. They don't clean out as well). I've reused heaps of candle jars to either refill them with new wax or upcycle them as containers for my cotton wool, cotton buds, makeup, etc.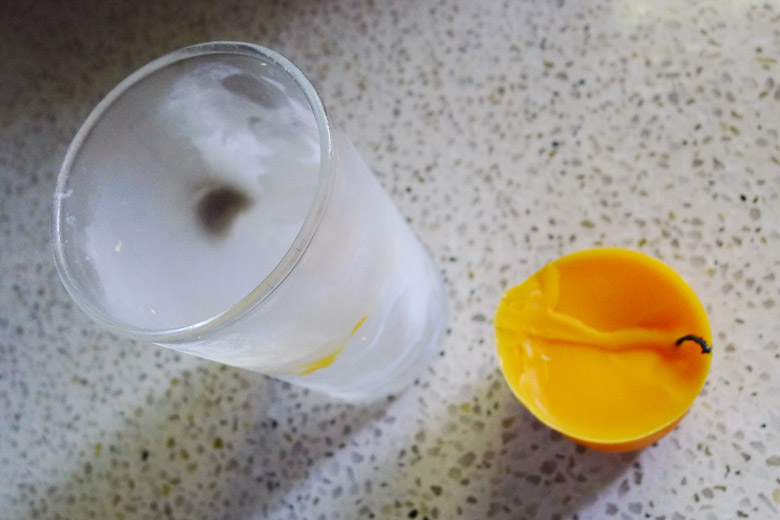 There are plenty of ways to recycle candles jars. A popular way is to freeze the jar when you're done and then crack the wax with a knife to remove the frozen wax. This isn't my favourite way of doing it because even though it's quick, the chances of cracking the glass or scratching it with your knife is high if the wax doesn't contract enough from the cold and doesn't come out of the jar easily.
This is how I do it. It's a much longer process but every single jar that comes out of it looks brand new and it's guaranteed to be free of any wax residue.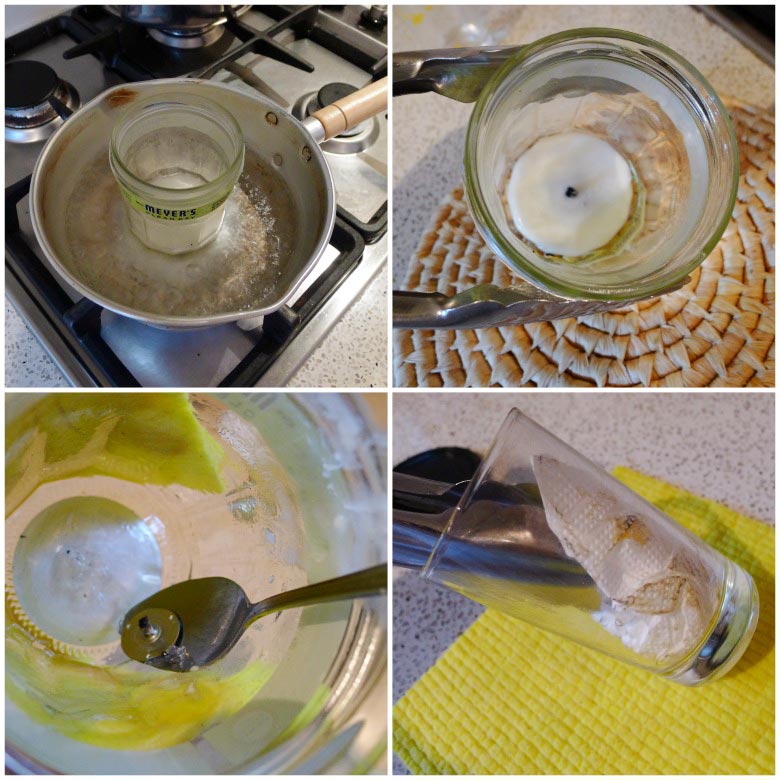 1. When the candle has come to its last leg, let it cool down completely for at least 24 hours. If you like, clean out as much residue on the glass with a kitchen paper towel. Be careful, the glass will be hot.
2. When the glass is completely cooled, heat a saucepan of water. You don't need a lot of water; just an inch of it will do, enough to cover the bottom of the glass jar. Heat to a boil. If you place a newly finished glass jar that is still hot into a pot of boiling water, the glass will crack. I lost a gorgeous Glasshouse apothecary jar because of this.
3. When the water is boiling, place the glass jar on the pot. Don't submerge the jar in the water, just place in the pot with the water surrounding the jar. Monitor the jar for about 20-30 seconds. When the remaining wax start to separate from the glass, remove the jar from the pot with a pair of tongs.
4. Pour the wax onto a bowl with crushed up newspapers. Do not pour the wax directly down the sink!
5. While the jar is still hot, wipe the jar down with a kitchen paper towel. Be careful when doing this because the jar will be very hot. I usually wear oven gloves when doing this.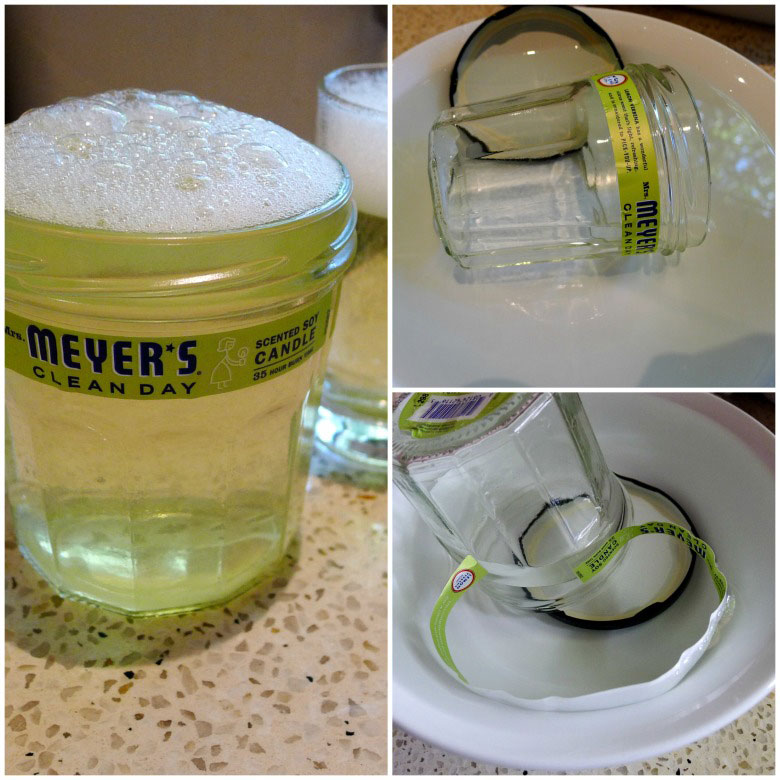 6. To remove the metal bit at the bottom of the jar, scrape it off with a teaspoon and continue wiping down with another paper towel.
7. Squirt some dishwashing detergent into the jar and fill it up to the brim with hot water.
8. When the jar is starting to cool down and the water has become warm, wash the jar thoroughly with water. Use more dishwashing liquid if needed.
9. Voila! You'll be left with a pristine jar. Wipe it down with some rubbing alcohol if you like before filling it up with products like facial cotton or cotton buds. Otherwise, use it as you please.
10. If the jar still has bits of paper stuck to the glass (whether it's from the brand label or the precaution label at the bottom), just soak the jar in water for about 30 minutes. The sticky bits of paper will peel right off. I prefer to do this than use olive oil because they don't always work and it's greasy.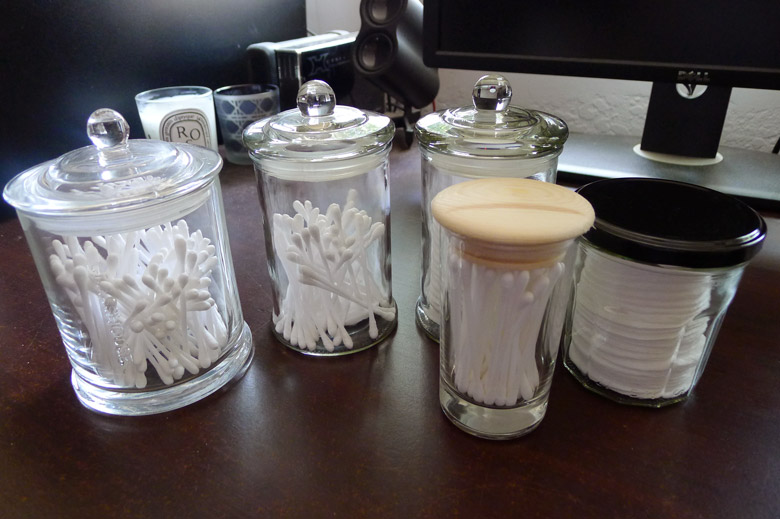 I know, it's a crazy amount of steps compared to just freezing the jar but I've done this with every soy candle glass jar I have and they always end up looking like new. Not a single hint of residue is left on and in the jar and you wouldn't have to worry about putting face products in there.
I hope this tutorial has been helpful for you. It's a lot of fun recycling glass jars for extra storage and even better when the jars end up looking newer than when you bought it.
Have fun! 🙂