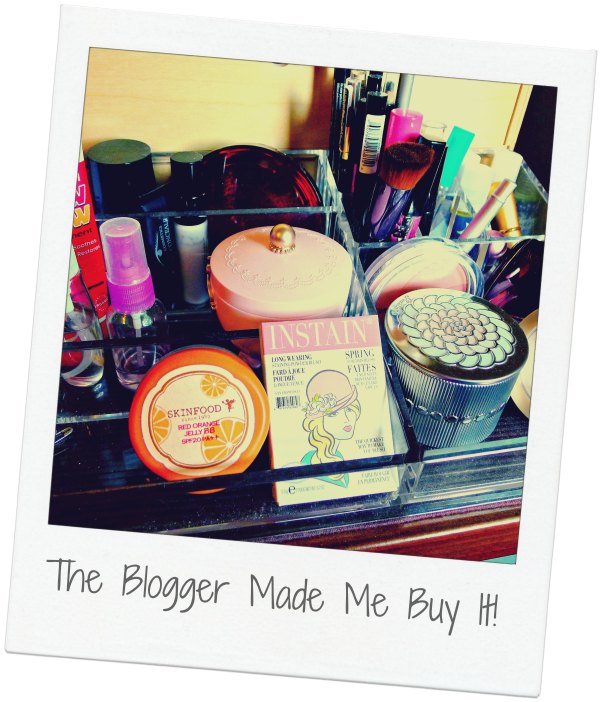 I don't know what it is about Fee of Makeup Savvy but she always picks the best tags to do! I've lost count of the number of tag ideas I've nicked from her for the blog.

When I saw the Blogger Made Me Buy It tag that she also did on her blog, I knew I had to do it too. Hello, all of you bloggers made me buy so much, okay? Have I told you how much I love and hate you at the same time? My heart loves you, my bank account hates you. Shush bank account!
Let's get started, shall we?
1. Who are your most influential bloggers? Who are the ones that you really rely on for reviews and swatches?
Lordy, I've got so many! Bloggers are the best (or is it the worst?) enablers. I've a whole heap of beauty products just from their recommendations alone. Let's see, my most influential ones … I'd say Paris B is definitely one of them. A lot of skincare and makeup were her recommendations and they're more often than not very spot on. LeGeeque, oh yeah. She's one heck of an enabler. Temptalia would be another one. I've gotten a lot of blushes solely from her photos (for me, when Temptalia gives something an A, I feel as though I have to have it too. Tsk tsk.) Jess and Val are great enablers too, as seen in our shopping sprees from Harrods. Emma is a scary blush enabler. I want everything she has!
2. Do you buy a product solely as a result from one review from your favourite bloggers, or do you look for more reviews from others?
From the bloggers mentioned above? I have faith in their recommendations and I just get them without checking other reviews first. Having said that, if it's skincare, I do sometimes check out other reviews as well because we don't have the same skin type.
3. What is your most favourite item that you have ever bought as a consequence of blogs?
Guerlain's Meteorites, for sure. I never thought I'd get it and when I did, I didn't think I'd like it that much. I swore that I was happy with just one tin of the Meteorites when I bought my first one and now I have four. Yikes!
4. What is your least favourite item that you have ever bought as a consequence of blogs?
Oh dear, this is a toughie. I'm sure there were a lot of lemons that didn't work for me but I can't remember all of them. Off the top of my head, the La Roche-Posay Effaclar Duo didn't work as well on me as it did for many others. The NYX Butter Glosses are pretty but I don't like the vanilla flavour. The Tangle Teezer was a much raved product by heaps of bloggers but I don't like how it felt on my hair. Glam Glow's Youthmud Tinglexfoliate Treatment mask was a tad harsh and drying on my skin.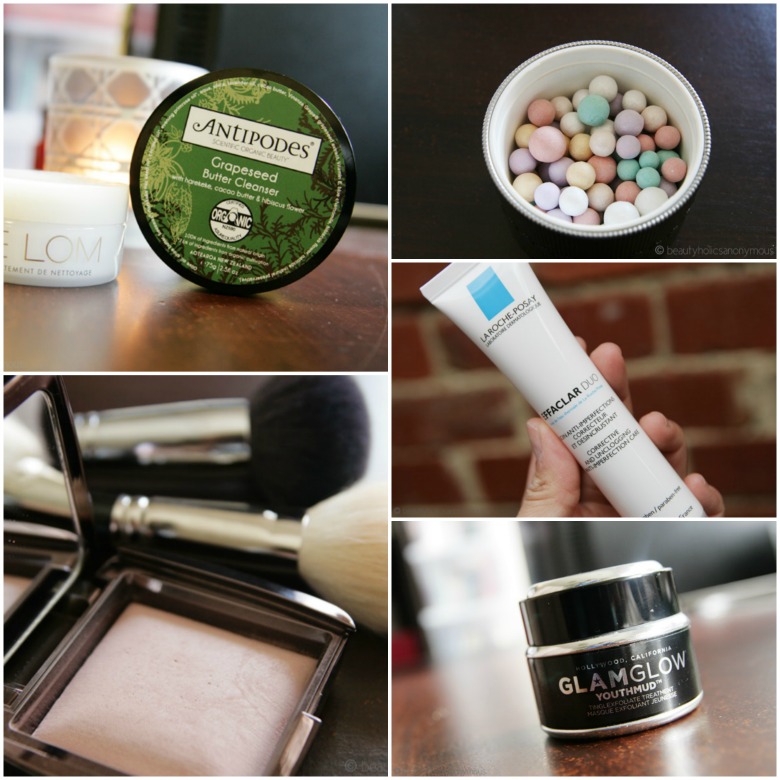 5. Name 5 products you have bought recently as a result of blogs.
Oh boy, when I start, I may never stop

. In no particular order: Kiehl's Line-Reducing Eye-Brightening Concentrate, Bobbi Brown Sheer Lip Colour in Rosy, Antipodes Grapeseed Butter Cleanser and Rimmel's Fix & Perfect Primer.
6. Have you ever given into blogger hype? If so, which hype?
The Hourglass Ambient Lighting Powder. When I first saw that on Temptalia, I fell in love, and that was just the photos alone. I was contemplating hard on whether to buy it or not because it's so expensive for a pressed powder. I'm so glad I got it because to me, it's worth every cent.
7. Have you ever avoided blogger hype? If so, which hype?
The Urban Decay NAKED 3 eyeshadow palette was incredibly hyped before it launched. In fact, many thought that it was just a hoax, that there really wasn't a NAKED 3 palette. It looks pretty in the pictures but given that the shades are rose gold-toned and look very similar to each other, it's just not for me. I didn't get the NAKED 2 palette either. I'm more than happy with my NAKED palette, which has a variety of cool and warm tones that are more versatile.
8. Is everything you buy based on blogger reviews or are there some items you buy without checking out a review?
Most of the beauty products I've purchased are based on reviews because that's usually where I first saw them. Of course, there were also a lot of spur of the moment purchases that I see in store. It's like, "ooh, pretty! I want!". And then I end up with yet another lipstick I don't need.

Now I tag you, you and YOU to do this tag too!