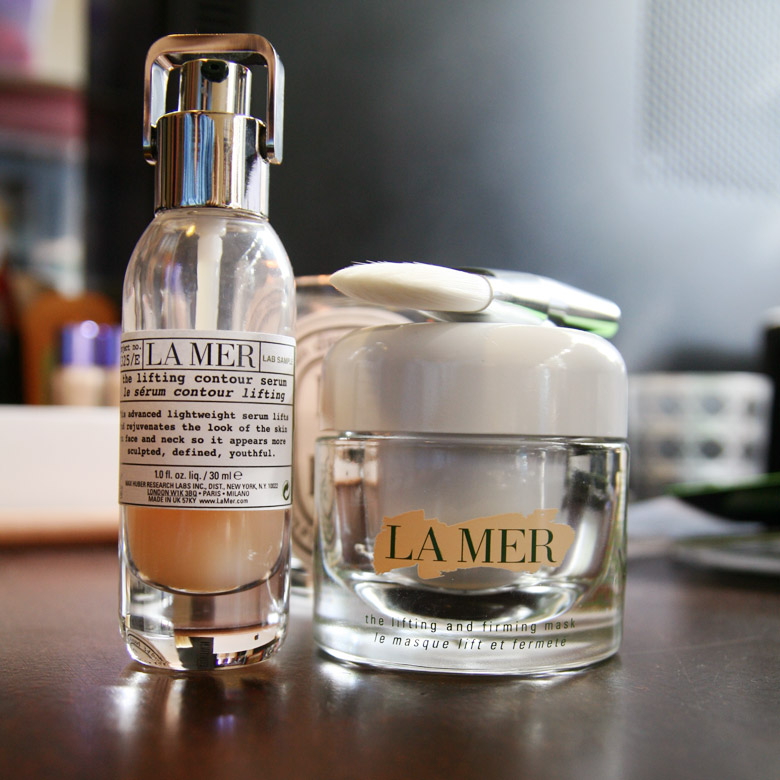 I was originally going to publish this post a lot earlier than today because I've been trying these La Mer products out for the past couple of months and it's high time I told you about it. On the other hand, I felt conflicted to share with you, not because they're not good (they're fantastic products) but because, truth be told, these are beauty products that I would never have purchased for myself.
See, thanks to blogging, I'm very lucky to be able try a lot of new beauty products so that I may share my thoughts about them, good or bad, with you. With the opportunity to try out new products also comes the chance to try out very expensive products that I will probably never, ever buy. La Mer skincare is one of them.
I won't lie, for the serum and mask that I'm going to talk about, their combined price would be able to get me a Sophie Hulme mini leather tote that I'm currently lusting after. Or a pair and a half of Christian Louboutin pumps. Or an entire season and a half's worth of ZARA outfits.
If I'm not actually going to buy La Mer products (at least, not at the moment), should I be telling you about them? Does my sharing my thoughts about them with you mean that I'm telling you to rush out and buy them but I personally won't be making any purchases soon?
Sigh. Tough decisions for a beauty blogger to make, isn't it?
I had the opportunity to try out La Mer's Lifting Contour Serum and Lifting and Firming Mask (I won't deny that I did one heck of a happy dance when I saw the La Mer package. Words along the line of "HOLY SHIZZBALLS LA MER?!" may have been spoken). I've been using these products for well over 2 months now and I think they're great products that deserve a mention. Not because they're so bloody expensive. It's because they're actually pretty damn good.
La Mer The Lifting Contour Serum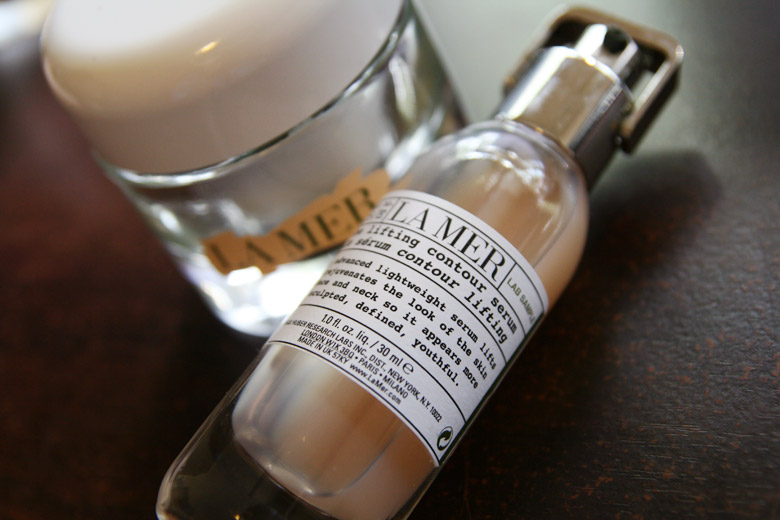 I've heard so many good things about this serum when it was in its original green bottle that it makes me so glad to be able to try it out. What you're looking at now is a limited edition lab packaging which is very much like a medicinal, almost apocathery-like bottle, which I absolutely love. (Update on 3 April: I originally mentioned that this was a limited edition bottle but I was wrong. This is a lab sample. If you're to buy a bottle of this, it will be in the signature green bottle. Personally, I prefer the lab sample packaging.

)
The serum is a light gel that absorbs very quickly onto the skin and smells like the sea (again, another plus point). In just less than a week, I'm already seeing the results of softer, smoother and more "lifted" skin. Skin may feel soft to the touch but it's also firm at the jawline. I didn't experience any breakouts with the serum.
Do I like the serum? I love it. It's a beautiful, light, refreshing serum that my skin just drinks up and goes all boing-boing for.
The Lifting and Firming Mask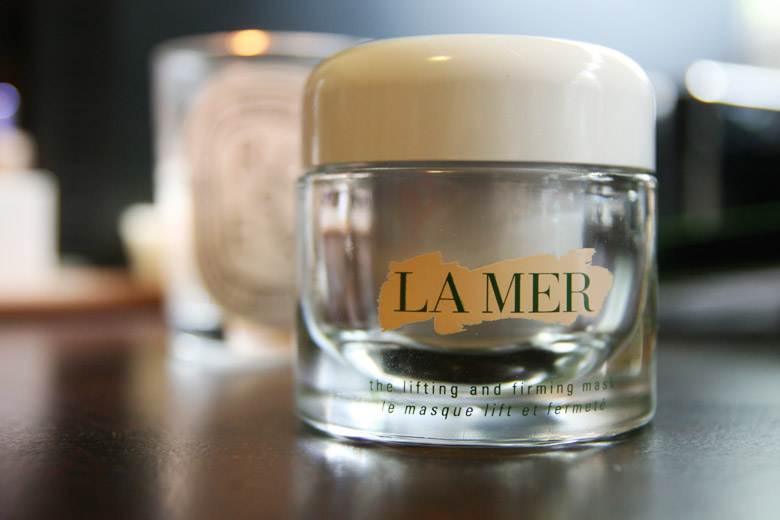 If you like the Lifting Contour Serum, you are going to love the mask even more. This mask comes with a flat brush that you can use to apply the mask. You're to apply to face and neck in a thin layer with the brush or fingertips every other day after cleansing, massage onto the skin and leave it on for 10 minutes. It also recommends that you do not tissue it off and follow up with a moisturiser.
The mask comes in a heavy glass jar (you can knock someone out with this thing. For real). The fragrance is similar to the serum but smells a lot stronger.
I didn't use the brush at all to apply the mask. It picks up too much product and it's a waste because you only need a thin layer of it to work anyway. I'm saving the brush to use with a foundation instead. As for the mask, I use it like I do a serum. Instead of the Lifting Contour Serum, I substitute it every other day with the Lifting and Firming Mask. I don't tissue it off (don't waste the good stuff!); I wait for 10 minutes and then apply my usual moisturiser.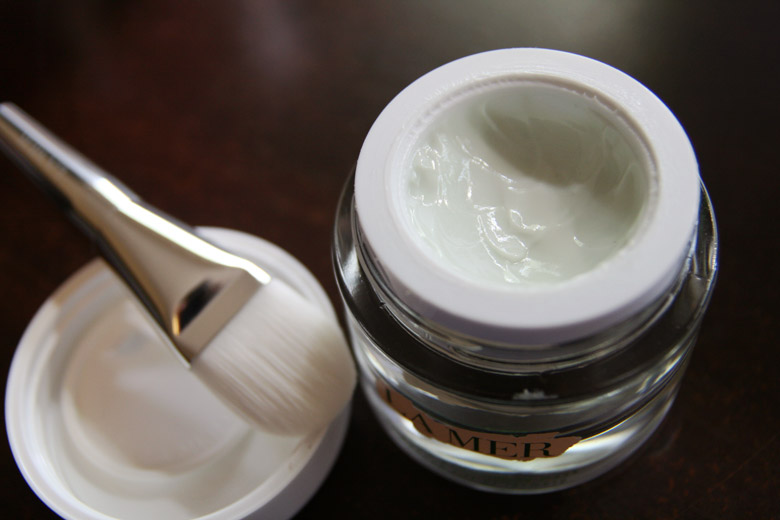 This is the sort of mask you want to use before a big event. I like to use this in the evenings. The next morning always greets me with fantastic, smooth and radiant skin. It gives the skin extra oomph in terms of brightness and smoothness. To be honest, I didn't see much of a "lifting" or contouring effect with this mask but for the smoothness and radiance alone, it's already a winner in my books.
Now comes the hard part: my verdict. These are very good skincare products, there's absolutely no doubt about it. But are they must haves? No, they're not. There are cheaper serums and masks out there that give you the same if not better results. I'd be lying if I tell you only this La Mer serum and mask will give you those sort of results. So no, I'm not asking you to rush out and buy them, not unless they're something you can truly afford to buy. At this point in my life, I'll have to say no, they're not. Not for me. Not now anyway.
Having said that, these are beautiful items of skincare that work very well and if you're looking to pamper yourself with a bit of luxury (okay, make that a lot of luxury), then I'd say go for La Mer. Methinks you cannot go any more luxurious than that. It's the Mercedes Benz of skincare after all.

La Mer's The Lifting Contour Serum retails at AU$410.00 for 30ml and the Lifting and Firming Mask at AU$300.00.
What I like about them: Beautiful serum and mask, both gave me soft yet firm (oxymoron much? Oh I'm sure you know what I mean), skin, also gave me smooth and radiant skin.
What I do not like about them: I really should stop stating the obvious, shouldn't I?

Have you tried anything from La Mer? Perhaps any of these products? What do you think? What's worth the money, what's not?
Disclaimer: These products were provided for editorial consideration.