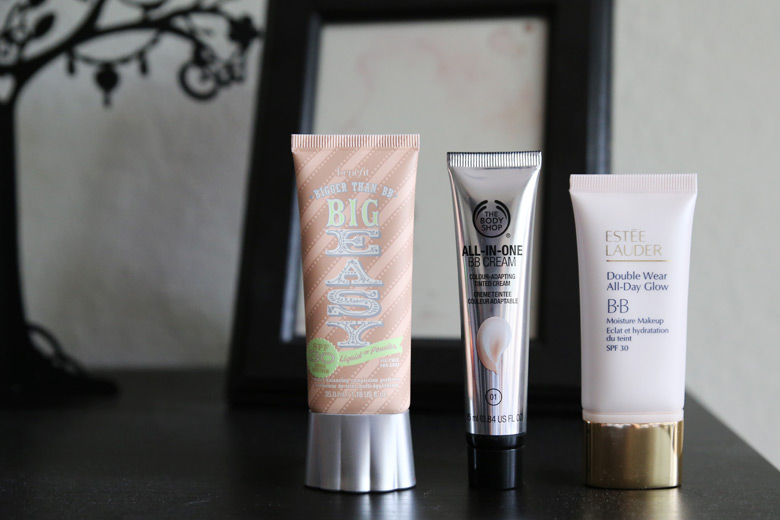 Happy Friday folks and welcome to another episode of BB Creamology!
If you're new to this segment, BB Creamlogy is a series on the blog where I review 3 BB creams and tell you if they're worth your dosh or not. I've been doing this series for a while now and to be honest, I'm running out of BB creams to talk about. Brands are ditching the BB and moving on to the CC, DD and whatnots making them seem like they're a whole lot better than BB creams but more often that not, they're just the same. Seriously, folks, whether the letters increase or not, they do just about the same thing as foundations.
As we've "moving on" (emphasis on the quotes please) to the CCs, DDs and whathaveyou, I'll be adding those to future BB Creamology episodes as well. Unless the CC/DD/ZZ creams are super bloody fantastic that requires an entire post dedicated to just one product, I'll be putting categorising them under the BB Creamology umbrella because again, same thing! What do you think?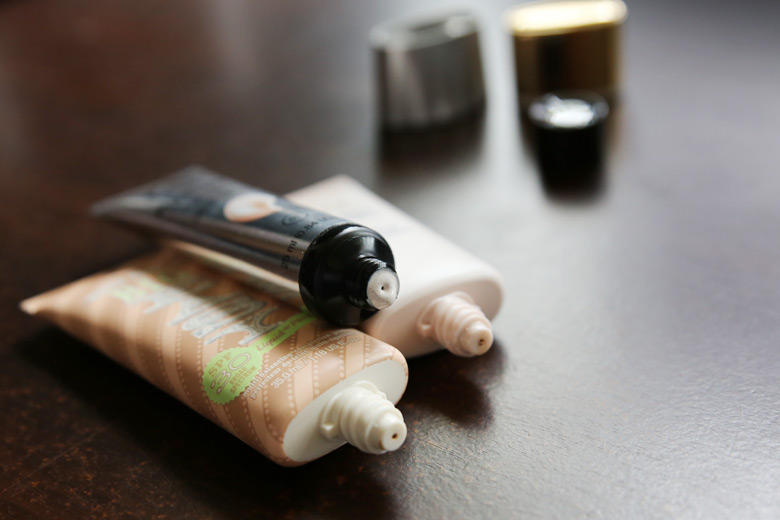 Anyway, back to today's segment. This month, I've been trying a few more BB creams (all Western ones) which I'd like to share with you today. Two are pretty decent but one is just … well … you'll just have to read on and find out!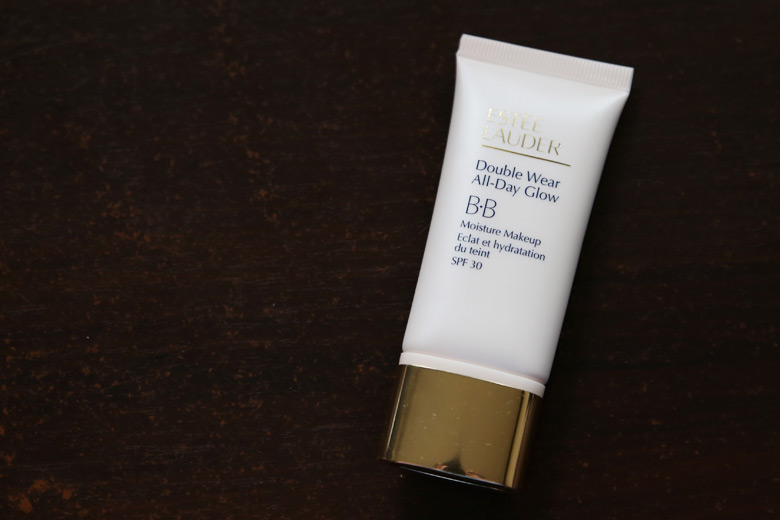 Shade: Intensity 2.0 (with peachy undertones). Available in 7 shades.
Texture: Light and creamy
Fragrance: Smells like sunscreen.
Wet-To-Dry Time: Takes a while to dry and leaves and a satin to almost dewy finish on the skin.
Coverage: Medium
Sun Protection Factor: SPF30
Price: AU$50.00
Availability: Estée Lauder counters, online and selected pharmacies nationally.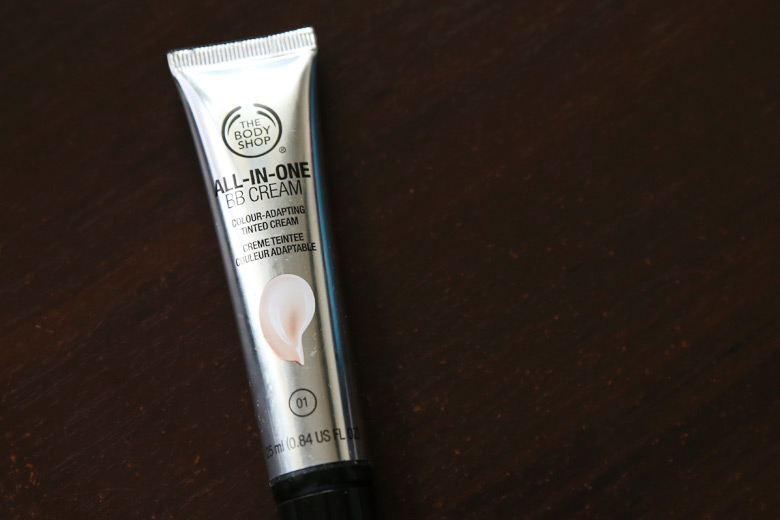 Shade: Shade 01 (with neutral to slightly warm undertones). Available in 4 shades (00, 01, 02 and 03 from the lightest to the darkest)
Texture: Light and creamy.
Fragrance: Subtle scent of sunscreen.
Wet-To-Dry Time: Takes a while to dry and leaves a dewy finish on the skin.
Coverage: Very light
Sun Protection Factor: Not available
Price: AU$21.95
Availability: The Body Shop stores and on their online store.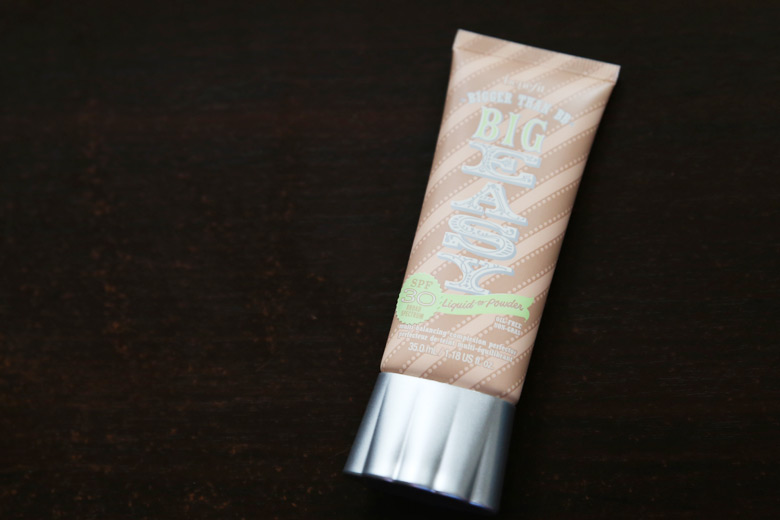 Shade: Shade 03 Light/Medium (with neutral undertones. I say neutral because I actually had a hard time deciding what this falls under. It's not really cool and yet, it's not really warm. Oh well, neutral it is!). Available in 6 shades.
Texture: Claims to be a liquid-to-powder finish. I'd say it's more of a cream-to-powder finish that leaves the skin matte. It's also thick and creamy.
Fragrance: Very subtle scent of sunscreen.
Wet-To-Dry Time: Very quick to dry and leaves a matte finish on the skin.
Coverage: Light to medium
Sun Protection Factor: SPF30
Price: AU$55.00
Availability: Benefit counters and online at Adore Beauty.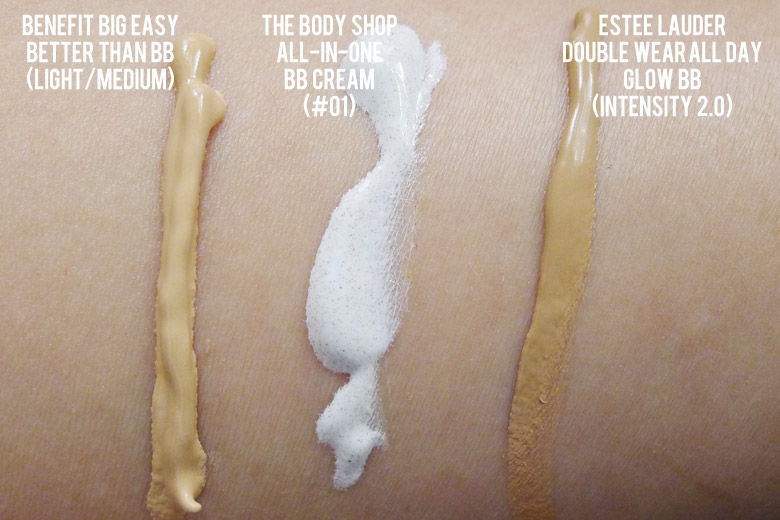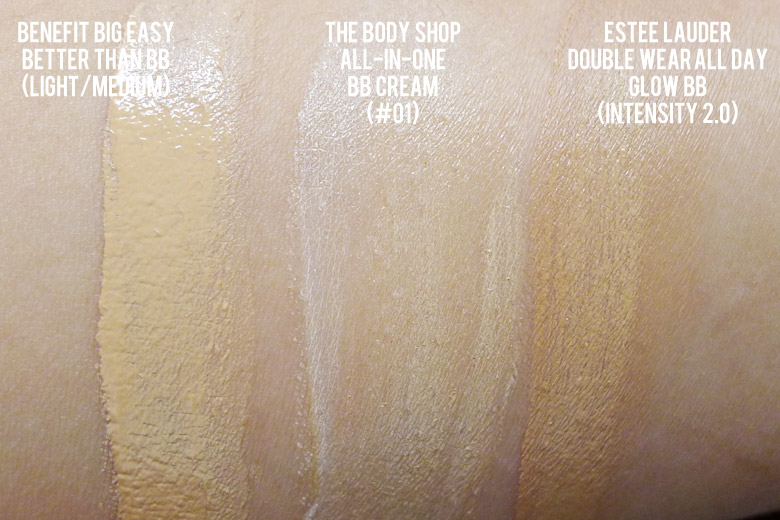 Conclusion:
I must say, for once, I'm quite impressed with the fact that each of these BB creams have quite a variety of shades. BB creams usually just come in 1 if not 2 shades but these range from 4 to 7 shades.
Let's get the "bad" out of the way first and sadly, it's the one by The Body Shop. I don't think I've ever been that disappointed in a BB cream than this one. There's light coverage like a tinted moisturiser. And there's I-can't-see-a-damn-thing light. This one is tinted all right but the coverage is so sheer, I had to wonder if there was any point in it at all. The cream comes out white but when you start blending it, you'll see it turning into "skin" colour (similar to L'Oreal's Nude Magique BB and CC creams). Coverage is very sheer that I don't see any difference on my skin at all. Forget an even skin tone with this one because there isn't even coverage to give you any. You'll need to have very, very good skin to pull this BB cream off. My blotchy skin scoffs at it and asks "are you kidding me?". 😛
When I first saw the rave reviews of Benefit's Better Than BB online, I knew I had to check it out. I was particularly intrigued in their liquid-to-powder finish claim (could it be like L'Oreal's Nude Magique Eau de Teint or Chanel's Perfection Lumiere Velvet foundations?) but it's actually a cream-to-powder finish instead. Although the coverage is slightly lighter than I like my BB creams to be, this is actually not bad at all. It glides on very smoothly on the skin, blends well and lasts a good 6-8 hours before fading. Those with good skin will be able to pull this off during the work week. Me, I prefer wearing it on weekends. The high SPF is a good bonus.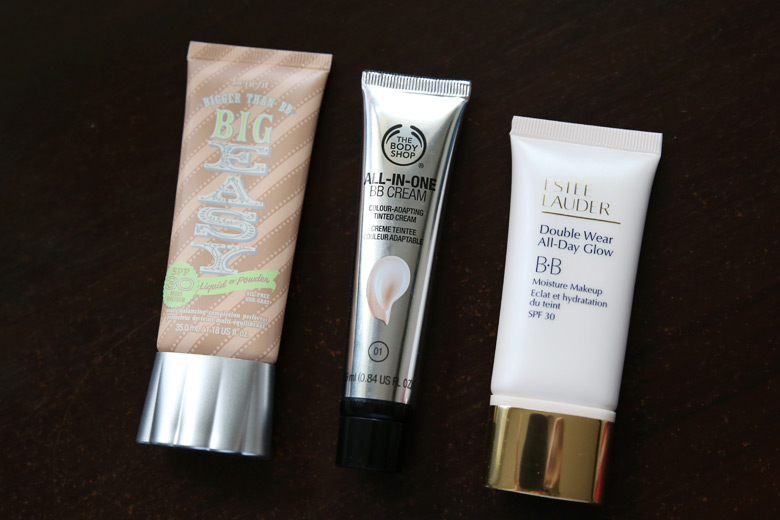 The star of this episode's BB Creamology would be the Estée Lauder Double Wear BB. It's thick but creamy and applies on the skin very well. It looks dark in the swatches but in reality, it blends to my skin tone well without looking like it has oxidised on my skin. I like the amount of coverage it gives me. It's just enough to cover my blemishes without looking cakey. By the way, this is nowhere near the high-coverage Double Wear foundation by Estée Lauder so don't be fooled by the name. It's much better than a tinted moisturiser and is more of a medium-coverage foundation. Also love the high SPF.
In terms of preference for this segment's BB creams would be the Estée Lauder Double Wear BB, the Benefit Big Easy, most of the BB creams I have, then the one by The Body Shop. Yeah, I really didn't like it all that much. 😛
Have you tried any of these BB creams before? What did you think of them? Yay or nay?
Disclaimer: Products marked with * were provided for editorial consideration.