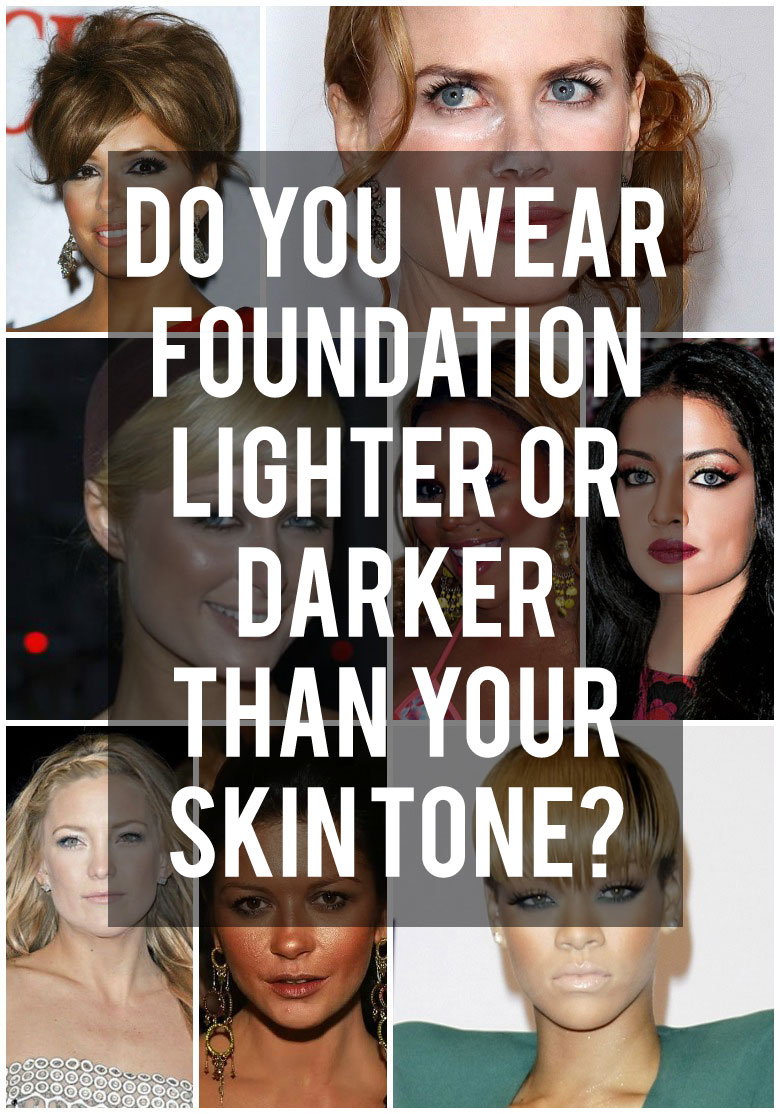 Photographed in the wrong light or makeup faux pas? You decide.
Tabloid magazines often catch celebrities in their most unflattering form and more often than not, the caption has absolutely nothing to do with reality. It's just like pressing the pause button when you're watching a video and it happened to stop right at the moment when the person is blinking. Eyes closed, maybe looking a little sad and bam! "Kate Middleton is sad about being preggers again!". Y'know, that sort of thing.
And then there are those unflattering photographs of celebrities whose faces look a few shades lighter or darker than their actual skin tone. I'm sure you've seen a lot of those as well. Often those photos make me wonder: is it the photographer's flash that made their look way lighter than their neck? Is the light bouncing of the SPF in the makeup? Or did said celebrities really wear foundations lighter than their skin tone?
It made me curious. Do we wear foundations that are exactly our skin tone or do we deviate to something lighter or darker depending on how we want our skin to look?
Let's go back to the basics for a bit here. What are foundations for?
1. They're meant to even out your skin tone.
2. They're meant to conceal any light blemishes on the skin (concealers for the darker and stronger blemishes).
3. They're meant to still look like your skin but much better.
The best way for all three to happen and still make you look natural is to find a foundation that matches your skin tone to a T. But if you can't find a foundation that matches your skin tone perfectly? This is not an uncommon problem. Would you prefer to go a tad lighter? Or a tad darker?
On many occasions, I've gone a shade or two lighter. My face would look lighter than my neck because I forgot to take the foundation down to my neck. It's still passable in real life but woe betide me if I'm to be in photographs because you'll see me with a very washed-out face looking very pale and quite sickly.
I've also gone darker, especially in summer. It's not significantly darker and you probably won't be able to tell so much in real life but as the hours go by, I would seem to go even darker. I don't know if it's the foundations oxidising on my skin that is making me look darker or if my mind was playing tricks on me. Either way, darker or lighter, they're not good looks on me.
These days, I'm very particular about the shades of foundations or BB creams I wear. They must suit my skin tone to a T. If they're darker or lighter, I'd mix them with some lighter or darker foundation just to get the right shade. I used to be happy going lighter but after seeing myself with a white cast one too many times, methinks it's best to stick to what works best for me and that's my exact skin tone. I adjust the colours according to seasons, when I'm paler in winter and when I'm darker in summer.
Oh and note to self: Tine, please remember to take your foundation down to your neck. You ALWAYS forget to do this!
Ahem.
I'm interested to know your thoughts about this. If you couldn't get a foundation that suits your skin tone perfectly, would you prefer to go a shade or two lighter or darker than your skin tone? Why?