In early March, I had the pleasure of attending the media launch of a new beauty brand called Enbacci. It's an international skincare brand that is founded in Australia, with a lot of their products focusing on the plant stem cells of grapes. I was kindly given a bag of goodies that contained several of their skincare products to bring home and try.
Now as much as I enjoyed the afternoon of beauty talk and champagne, it doesn't take a lot for my skeptic side to come out especially when one starts talking about using plant stem cells in cosmetics. To what I've gathered, plant stem cells in skincare products are simple plant extracts and they do not perform any sort of anti-aging work on the skin. There's an interesting article on the Telegraph about this if you'd like to know more.
Still, all that beauty talk piqued my interest and the first thing I got my hands into was the Vitis Vinifera Rejuvenating Essential Creme.
In case anyone is wondering, vitis vinifera is the common grape vine and is a species of Vitis (grapevine) which is native to the Mediterranean region, central Europe, and southwestern Asia, from Morocco and Portugal north to southern Germany and east to northern Iran. Enbacci incorporates grape stem cells in their Vitis Vinifera line of skincare products. The grape stem cells are extracted from a cultivated grape of the Gamay family (a purple-coloured grape variety most known for its use in the production of red wine). This particular variety of grape was selected, as they are very high in anthocyanin, which are powerful antioxidants and free radical scavengers.
The Rejuvenating Essential Creme is a lightweight and oil-free moisturiser. It has a light gel-cream consistency that absorbs quickly onto the skin without leaving it greasy. It has one of those marine-like fragrances; it's not floral nor fruity but very fresh. Gah, I told you I was awful at describing scents! Suffice to say, it's a very pleasant fragrance that I like.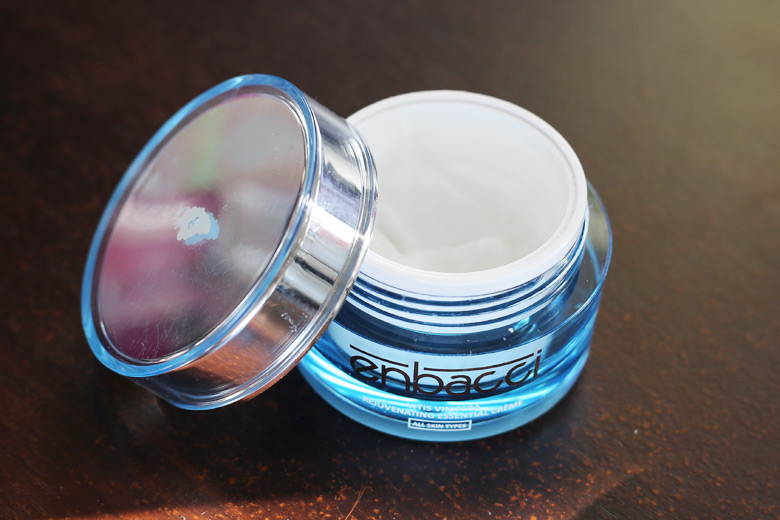 I've been using the moisturiser for 2 months now and I have to say, I like it. I use it mainly in the evenings and even though it's light, it's more than sufficient for my combination skin. My skin is kept well-hydrated and moisturised throughout the night without my waking up to oily skin in the morning. It's lovely to use, glides on my skin so smoothly and keeps it plump and boing-boing. I've used this during the day too and it's not heavy on the skin.
Now, onto the stem cells claims and whether they did anything to my skin. To be honest, I didn't see any visible changes to my skin other than the fact that it moisturised it well. Any visible smoothing and diminishing of fine lines are due to the emollients in the moisturiser and even after using an entire jar (yep, I've finished and scraped every last bit of the cream!), there are no further visible changes.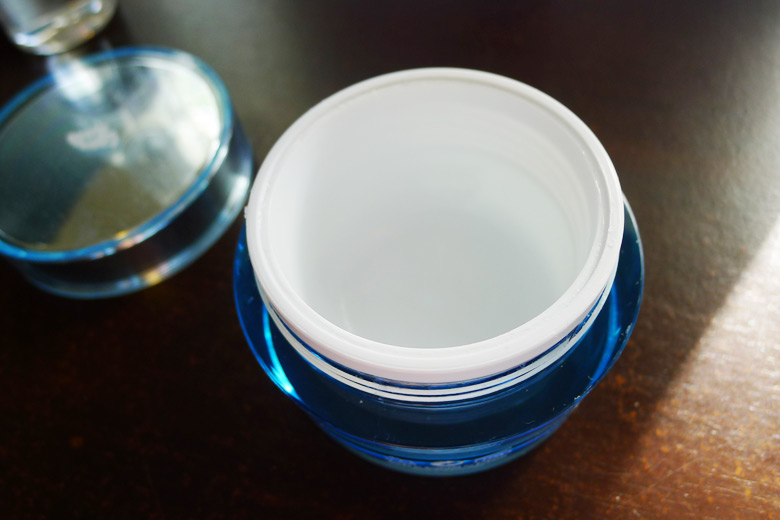 It's an empty!
Will I purchase another jar now that it's finished? If I don't already have jars of moisturisers stocked up and ready to try out, I'd say … maybe. It's a decent moisturiser and I really do like it but I wonder if it really is worth the rather hefty price tag for something that doesn't do any more to my skin.
Enbacci's Vitis Vinifera Rejuvenating Essential Creme retails at AU$103.00 for 50ml and is available for online purchase at the Enbacci website.
What I like about it: Enjoy the fresh scent, lightweight, non-greasy, keeps my skin well hydrated throughout the night, not heavy even when used during the day.
What I do not like about it: Pricey and I still find plant stem cells in cosmetics ambiguous. Perhaps with more research and well-documented positive results, then I'll jump on the bandwagon.
What are your thoughts about plant stem cells in skincare? Have you tried any skincare products that incorporate them?
Disclaimer: This product was provided for editorial consideration.