Note: This is a sponsored post.
Just before I get to the review, I have to admit that this sponsored article was exceedingly difficult to write. Sponsored reviews consume a lot of brain juice because the review still has to be honest even though it's a paid one. There's a fine line between raving about it because you really like it or raving about it because you're compensated to do so. This is the first time I've ever done a sponsored review and it should have been published weeks ago. The reason I mulled over it for so long was because I had difficulty bringing the message across to you without making it so damn glowing just because I was compensated for it.
Y'see, I was hoping to find something I won't like about this product just so it doesn't seem so damn positive. Then again, if I didn't like the product and said I did, I'd be lying and you'd so call me out on it. This is my dilemma: I love this product. I really didn't expect to like it that much. But if it's such a glowing review, then you'd call me out on it because hello, I was paid for it.
Know what I mean? Can I just say please take my word for it, it's really good and you must try it out? Geez, Tine. Presumptuous much? But really, even if I wasn't compensated for this, I'd still sing praises about it because it's just that good.
After rambling on for 3 paragraphs, we really should get to the review, shouldn't we?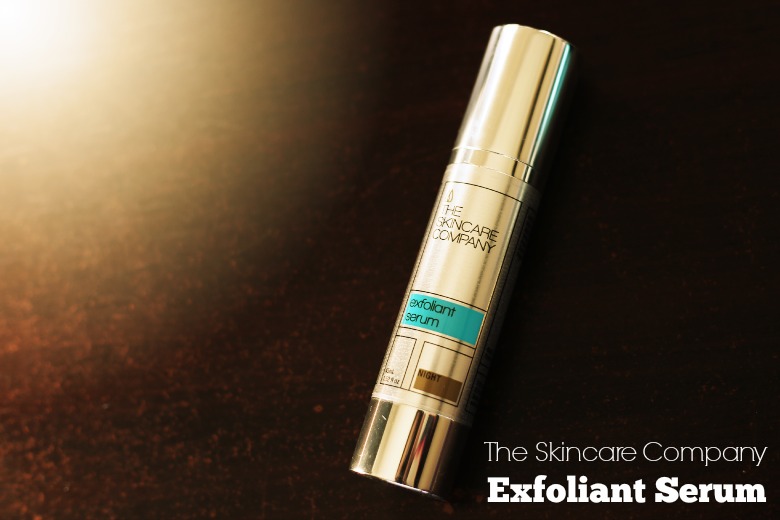 The first time I heard of The Skincare Company was at the beginning of the year when the PR for the brand contacted me and asked me if I'd like to try out their products. There was a lot of going back and forth about getting more information about the brand and the products. The Skincare Company reminded me of one of my favourite no-nonsense skincare brands, Cosmetic Skin Solutions. They were all about effective active ingredients without the fluff. They're not as affordable as Cosmetic Skin Solutions but for what they do offer, they're definitely cheaper than mainstream beauty brands like Estée Lauder, Clinique, Clarins, etc.
I was kindly sent a few of their skincare products to try and the first one I checked out was the Exfoliant Serum.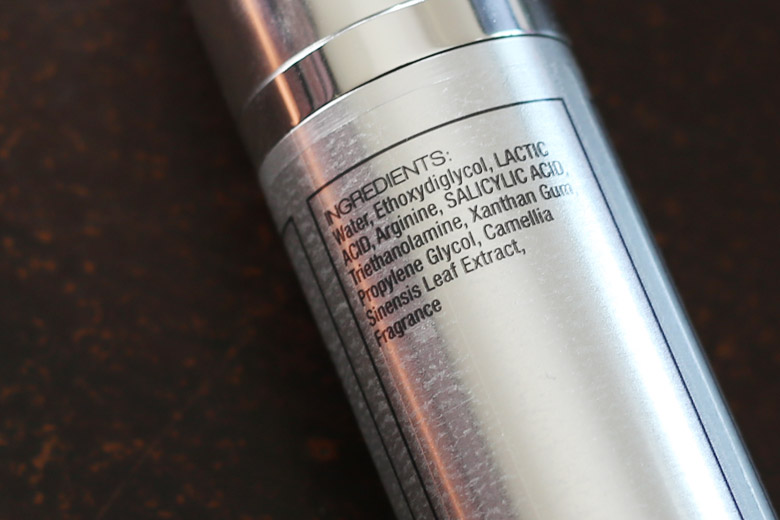 Description:
The Skincare Company's Exfoliating Serum with alpha and beta hydroxy acids is designed to significantly improve skin texture. It removes dull, dead surface cells to aid in the stimulation of cell turnover. Therefore helping reduce skin discoloration and excess pigmentation. AHAs and BHAs have been proven to assist the condition of decongested and acne prone skin. Exfoliating Serum also enhances the penetration of other active ingredients of your skincare routine (vitamin A, B and C etc.). All the benefits of AHAs without the irritation! The formulation is predominately lactic acid based and should be used only at night.
The serum is a thick clear gel that absorbs very quickly onto the skin. In fact, I was surprised as to how quickly it was absorbed because most serums I've tried can be quite "wet" and take a bit of time to absorb. This one is almost instantaneous. It feels very sticky at first; in fact, it feels a bit like clear glue. During the first few seconds, my hands feel as though they're stuck to my face. But very soon after, it's back to normal. I don't have to wait at all before applying my moisturiser.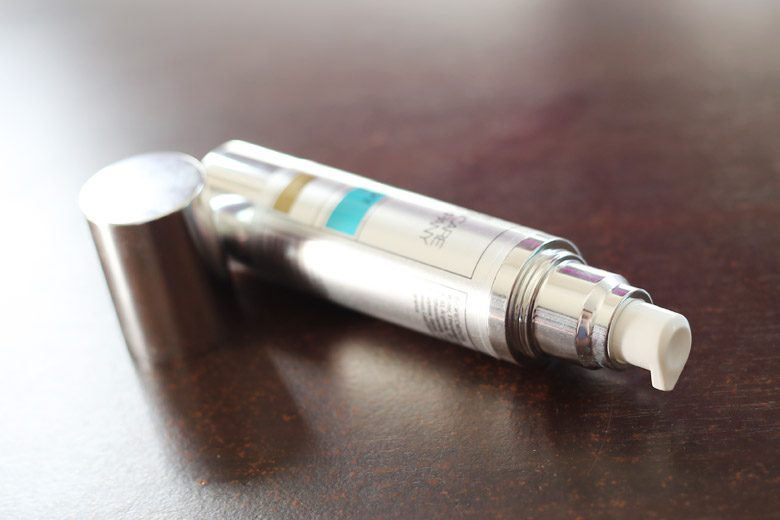 Here comes the kicker: this serum gave me almost instant results. I know! It baffled me greatly when I had super smooth skin the very next morning. I expected to only see results of the serum after at least 6 weeks but my skin was already visibly smoother the next morning. I didn't make any changes to my skincare routine; the Exfoliant Serum was the only new product I introduced to my routine.
The only negative bit I encountered about this serum was that it stung my skin the first time I used it. It contained lactic acid and I knew that it was going to make my skin tingle because all of the serums that contains lactic acid have made my skin tingle. It was quite a sharp pinch on the skin. I was rather apprehensive in using it again the next night despite the great results for fear of that pinch again. Fortunately, that first pinch was the first and last time I felt. The serum didn't sting my skin at all after the second and consecutive uses. Also, I felt that fragrance wasn't necessary in the product. It's an ingredient often added to cosmetics to mask the smelliness of some of the other ingredients and as the scent for the serum is very subtle, it's quite an unnecessary addition.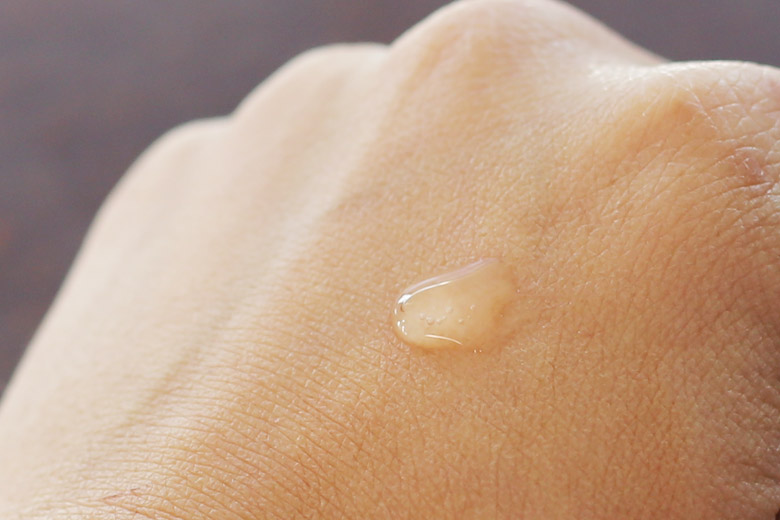 It's now been almost 3 months of using the serum and I'm well impressed with it. I only use this serum at night and already it's given me great – and more importantly, quick – results of smooth skin. My skin is visibly smoother, lines less pronounced and my skin less oily in the mornings. It didn't break me out, not even once.
The Exfoliant Serum reminds me somewhat of Dr Lewinns' S8 Super Hydrator Serum. Their textures are similar even though the Exfoliant Serum is slightly thicker. The Super Hydrator does as its name suggests: it hydrates. The Exfoliant Serum exfoliates. They don't do any more neither do they do any less. I don't normally layer the Exfoliant Serum with other serums but when I do, I only do it with the Dr Lewinns Super Hydrator.
Will I purchase this serum once it's finished? Most definitely. In fact, I have 1/3 of the serum left and I'm already planning to place an order for another bottle very soon. This has knocked my favourite Clinique Turnaround Concentrate Radiance Renewer (also a chemical exfoliant serum) right out of the park. This puts the serum on the Holy Grail pedestal, which is one heck of a record for me because it's been a very long time since I've liked a skincare product that much in such a short amount of time.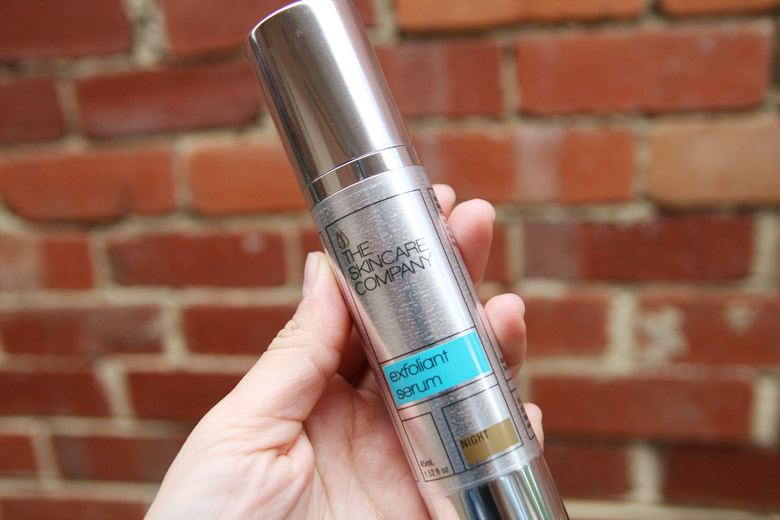 The Skincare Company Exfoliant Serum retails at AU$85.00 for 45ml. Previously, you can only access products from The Skincare Company at selected medical skin clinics but you can know get them online from their website.
What I like about it: Very quick results of visibly smoother skin with less pronounced lines on my face. I've never gotten this quick results that didn't come from chemical peels.
What I do not like about it: Very sticky gel that feels a bit like glue, stung my skin during my first application (but no more after that), unnecessary addition of fragrance, not readily available to try out in stores.
PS: Now you know why this sponsored review was hard to write, eh?
This is a sponsored post for The Skincare Company. For more information on sponsored content, please read my
disclosure policy here
.