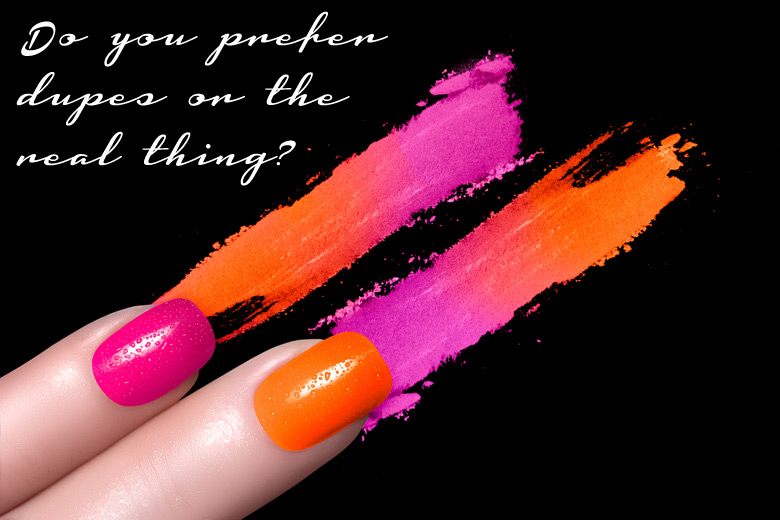 © Casther
If you Google "dupe for MAC", you'll get approximately 3,610,000 results. In fact, if you Google "dupe for [insert random makeup]", chances are there will be a dupe for it.
I don't know who it was who first coined the term "dupe" for makeup very similar to another (ideas, anyone?) but brands have been creating cheaper alternatives to cult makeup for years and it helps those who would rather not splurge a lot of money on just one item of makeup and yet still be able to try something similar.
When I first got interested in makeup, I didn't have the means to purchase from high-end brands. I relied on a lot of dupes, a lot I could get very cheaply from indie mineral makeup brands. I had at least 5 blushes that were dupes of the famous NARS Orgasm. Funny thing was, I've never tried the actual thing and the total amount I spent on those 5 blushes would have gotten me 1.5 NARs blushes. Heck, 2 NARS blushes even!
As the years went on, I reduced my purchase of dupes and got the actual thing instead. Often after I've used the dupes for a few weeks, my mind starts to bug me with thoughts of "I want the real thing." I should be contented using the dupe and then it comes again. "I want the real thing". So I try to squash that thought by getting another item of makeup.
"I want the real thing."
In the end, I get the real thing. It's ridiculous because I spent money on the dupes AND I still ended up getting the item I bought the dupes for! Prior to a major makeup collection culling I did last month, I realised how many dupes I had for the YSL Touche Eclat, NARS Orgasm, Bobbi Brown Gel Eyeliner, Guerlain Meteorites and many more. Guess what? I bought all of those too.
*facepalm*
Will I stop purchasing dupes? I won't say I'll never buy another dupe but I'll be watching those desires like a hawk. I'd rather save the money, buy less items and get the real deal instead. That way, I'll also squash that nagging thought because hello brain? I got the real thing! 😛
Just before I go, I had a random thought. If you buy a dupe and it looks very similar to the actual makeup you bought the dupe for, do you tell people it's the real deal or the dupe? Would they even know if I'm not actually wearing the real thing? Ahhh … something to think about. Hmm …
What about you? Do you prefer dupes to the real thing?