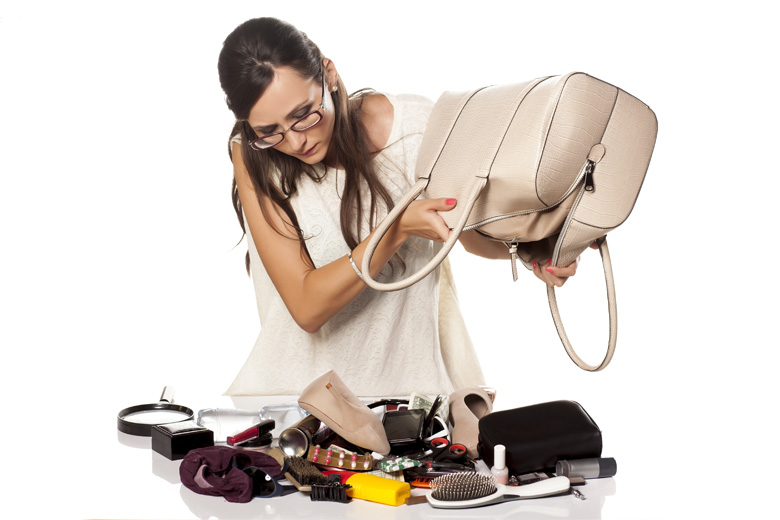 One of my guilty pleasures when perusing YouTube is checking out travel videos. I like to see what people bring with them when travelling. It could be what they have in their handbag, carry-on bag or even handbag.
Why, of course I'm nosy! Aren't you? 😛
A very popular search term is "what's in my travel makeup bag?" and whilst I cannot be 100% certain that these people are serious about bringing that much makeup with them when travelling, I'd say I'm about 90% sure a lot of makeup is taken along.
I don't know about you but it astounds me the amount of makeup one needs when travelling especially when it's just a short break. For example, in a particular video I saw, this YouTuber brought somewhere along the lines of 3 eyeshadow palettes, 2 cream eyeshadows, 3 mascaras, 1 blush palette with 6 shades, 1 lip palette with over 10 shades, 3-4 foundations and so on. I'm not even exaggerating. You'd think she was packing her makeup for a long trip, right? Her trip was less than 2 weeks long. In a lot of cases, that amount could be one's entire makeup collection!
This begs the question: how much makeup do you bring with you when travelling?
I don't bring a lot of makeup with me when I travel. The most I'd bring in terms of eyeshadows is the Urban Decay NAKED palette because of its versatility. Even then I usually only end up using 1-2 shades. These days when I do travel, I only bring one Maybelline Colour Tattoo with me, a couple of eyeliner pencils for the quick smoky-eye (usually ends up unused), one blush, one eyebrow pencil (with a brush at the end) and one foundation/BB cream. The most I'd bring would be 2-3 lipsticks.
The reason why I bring so little? Well, first of all, I'm on holiday so who cares what I look like, eh? No, really, I can't be bothered to put on lots of makeup during a holiday plus I'd like to get as much rest as possible since I tend to walk a lot when sightseeing. Less time for makeup = more time for sleep. That is a proven formula, thank you very much!
Another reason why I bring so little makeup with me is so that I can buy new makeup when I'm at my destination! And isn't that a better excuse? 😉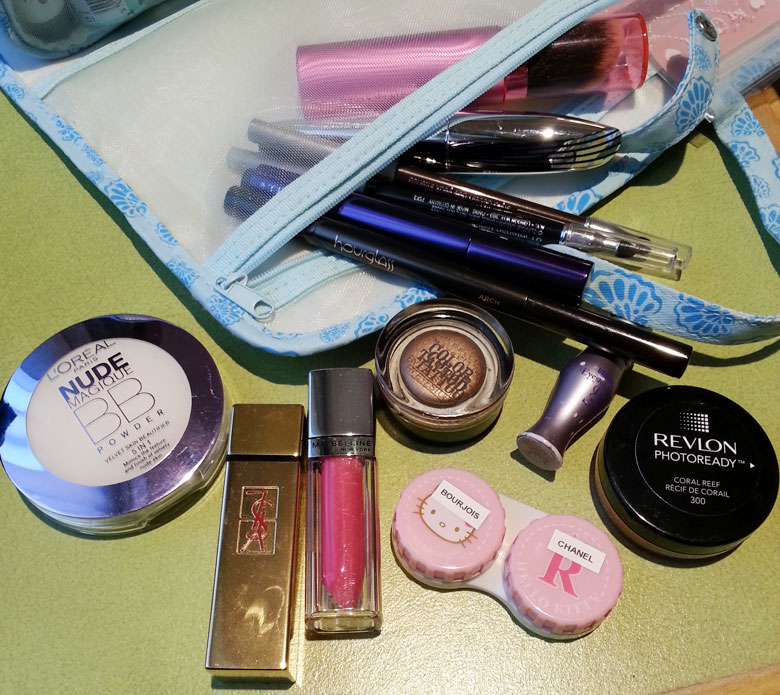 My travel makeup bag during my recent trip to Japan
For my last holiday, I couldn't decide on the foundation I wanted to bring with me. I certainly wasn't going to lug two bottles of foundation with me for just a 12-day trip so I did the next best thing instead. I decanted a bit of both foundations into an unused contact lens case. This way, I didn't have to choose between the two foundations. Easy peasy!
I tend to focus a lot more on skincare when I'm travelling. It's usually the time when my skin goes haywire on me. It gets very dehydrated from air travel, blotchy and pimply from the change in weather and temperature so as much as possible, I stick to my usual skincare products which I decant to travel-sized bottles. My skincare items can end up being quite heavy so it's imperative I keep my makeup to a minimum.
Plus it's more fun adding makeup to your shopping list! 😀
But enough about me. What about you? How much makeup do you bring with you when you travel? The absolute minimum? Or the kitchen sink?
Shop the post!