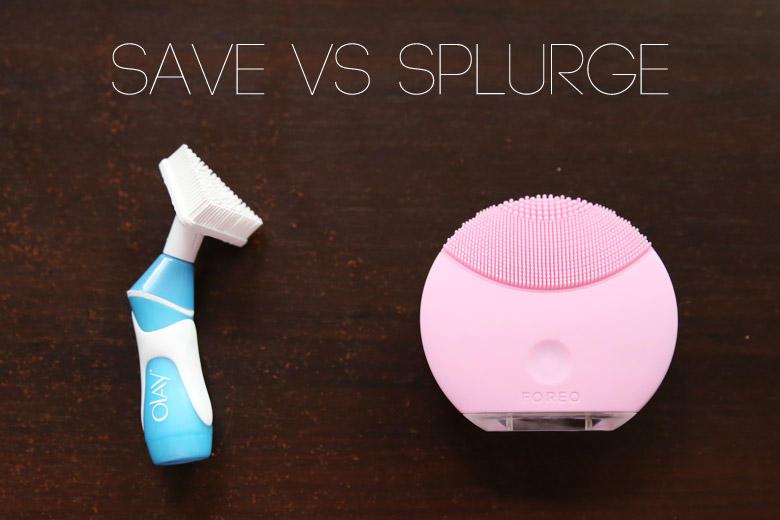 It's no secret here on Beautyholics Anonymous that I'm not a fan of the Clarisonic cleansing brush. I didn't have the best experience with it but having said that, I'm not knocking all cleansing brushes because the much cheaper alternative, the Olay Regenerist Specialty Cleanser, works very well for me.
Cleansing brushes must be what they call "oh so last season" because here comes a range of cleansing brushes that aren't really brushes at all! Instead of plastic bristles that form a brush, these are brushes that have silicone, rubbery bristles. Instead of rotating brush heads, they vibrate.
What the … ?
Today I'd like to show you two types of vibrating cleansing brushes that come in two sides of the price spectrum. It's what I call a Save vs Splurge because they do pretty much the same thing.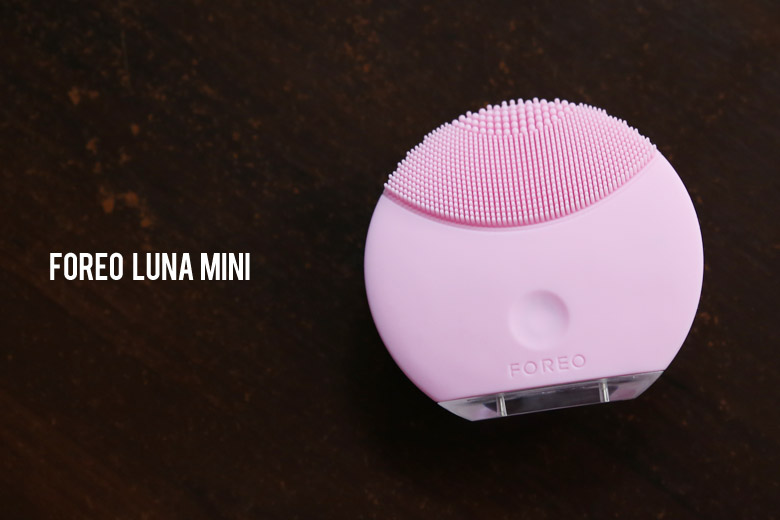 On the Splurge side, we have the round Foreo LUNA Mini. It has differently-sized silicone bumps on both sides of the device and fits very nicely in my hand. All you have to do is either to squeeze a small dollop of facial cleanser directly on the Foreo or apply the facial cleanser on your face and then massage it with the Foreo. Both ways work just fine. The edges of the Foreo are good for cleaning areas like the sides of your nose and on the naso-labial lines.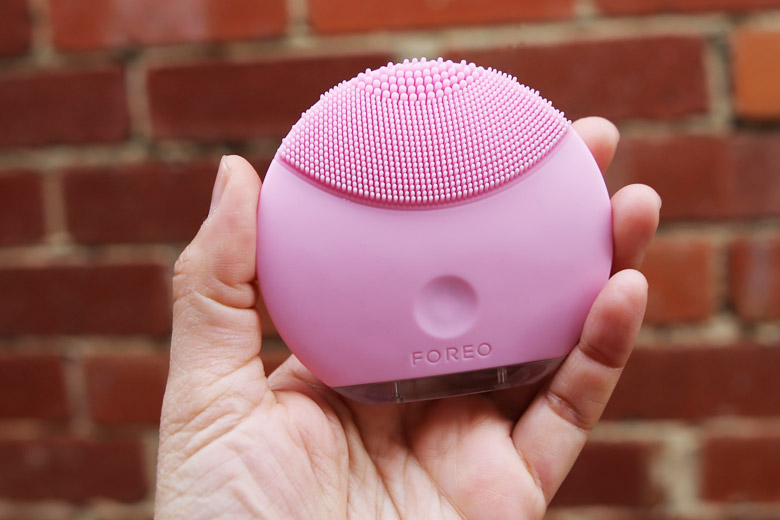 What I like about the Foreo is that it has a timer so each time the device vibrates differently, it's time to move to a different part of the face. Just like the Clarisonic, I like to start on my forehead, both cheeks and then on to the nose and chin before tackling my neck. It also has 2 speeds (I prefer the lower). The battery life is reported to be very good; even with daily once-a-day use, you only need to charge it once a year. A YEAR!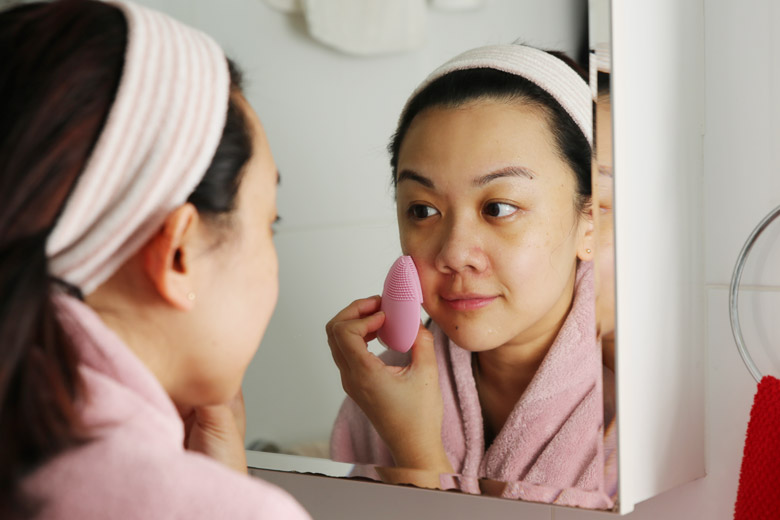 On the Save side, we have the Olay Fresh Effects Va-Va-Vivid! Powered Contour Cleansing System. At first glance, I thought the triangular brush head would rotate but it actually just vibrates like the Foreo. It uses an AA battery which comes with the device and while it's smaller than the Foreo, the triangular edges make it easier to clean the sides of the nose. It's light and also fits well in my hand.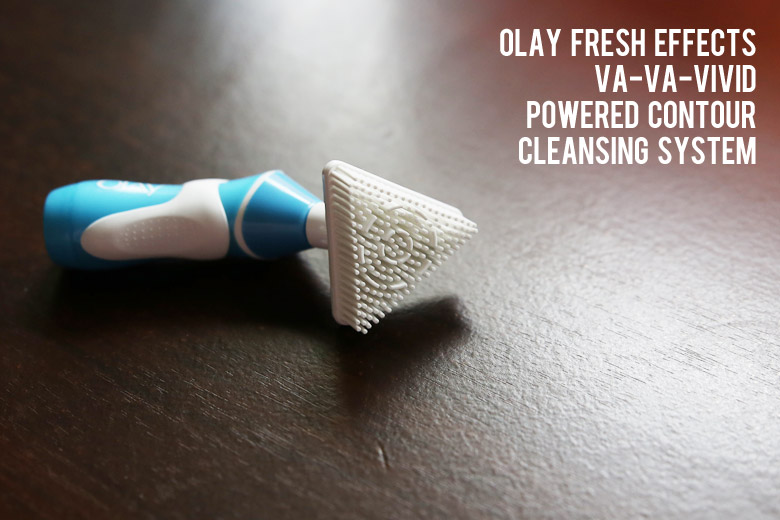 What I like about the Olay brush is that it does pretty much the same job as the Foreo but at a much lower price and with stiffer bristles. On the other hand, it doesn't have a timer and holding it for as long as you'd hold the Foreo, all that vibrations on the Olay brush will leave your hand feeling numb because they're a lot stronger on the Olay brush. It also only has 1 speed.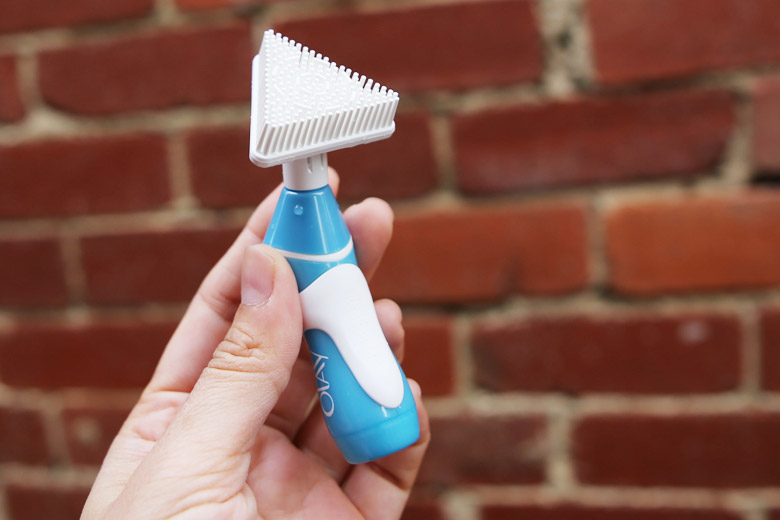 Now comes the part where you ask me if this is something you need in your life. The honest-to-goodness answer is no. To tell you the truth, when I first started using the Foreo and Olay brushes, I struggled to see how it would actually cleanse my skin because there was no actual brushing action. It vibrates the skin and I have to brush the skin myself. Small feat of course (gee, first world problem much?) but after using rotating brush heads for so long, it's something I've grown accustomed to.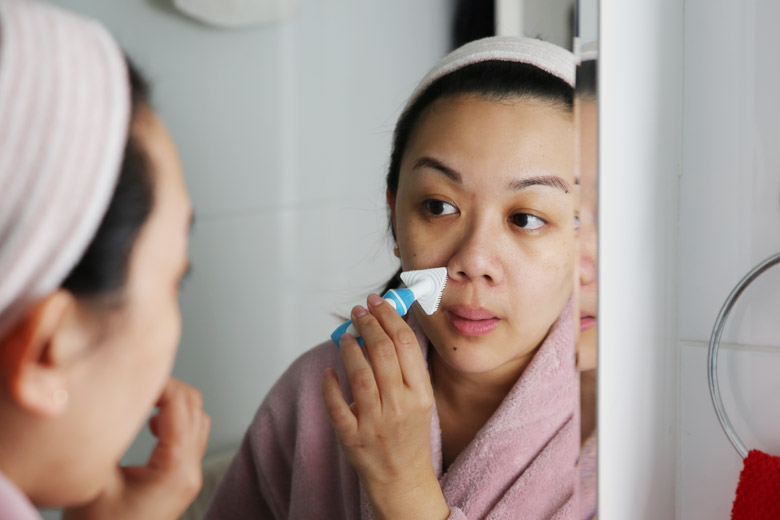 Having said that, after using it for months, I enjoy using them now, although I have to say I like the Foreo one a lot more than the Olay only because the vibrations on the Olay are too strong and leaves my hand numb after using. I enjoy a good massaging of my face and the small bristles did scrub out the grime on my skin without leaving it dry or stripped at all. The best thing about these brushes are that you can use them daily and it wouldn't irritate the skin. I cannot use the Clarisonic (or even the milder Olay Regenerist Specialty Cleanser) for more than 4 days in a row without it flaring my skin up and making it very dry. With the Foreo LUNA Mini and Olay Va-Va-Vivid, I've used them daily, consecutively, and there wasn't any adverse reaction on my skin at all.
Now that we have a Splurge vs a Save, how about a Save that is even cheaper than a cup of coffee? You can get a silicone face brush from DAISO for AU$2.80 that will give you similar results too. No vibrating action of course but hey, it does the same job. You didn't hear it from me. 😉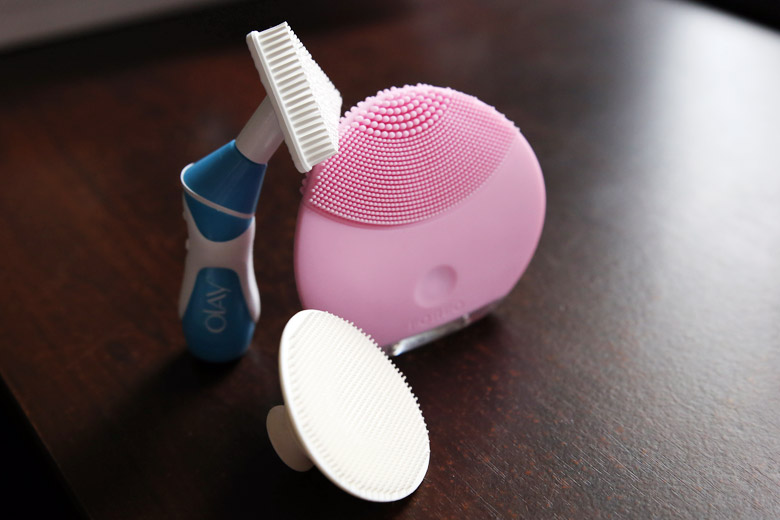 The Foreo LUNA Mini retails at AU$179.00 and it available at Adore Beauty. The Olay Fresh Effects Va-Va-Vivid Powered Contour Cleansing System retails at AU$16.99 amd is available at Priceline, major supermarkets and selected pharmacies nationwide.
What I like about them: The vibrating action for both devices massages the skin, which is nice. It cleanses the skin well without leaving it dry and didn't cause any adverse reaction on my skin. Fantastic battery life for the Foreo and the Olay brush is very affordable for the same results it delivers.
What I do not like about them: The Foreo is quite pricey for what it does and holding the Olay brush for too long leaves the hand feeling quite numb.
Have you tried any of these forms of vibrating silicone cleansing brushes before? Do you think they're better than the Clarisonic (or similar)?
Disclaimer: The Foreo and Olay brushes were provided for editorial consideration.