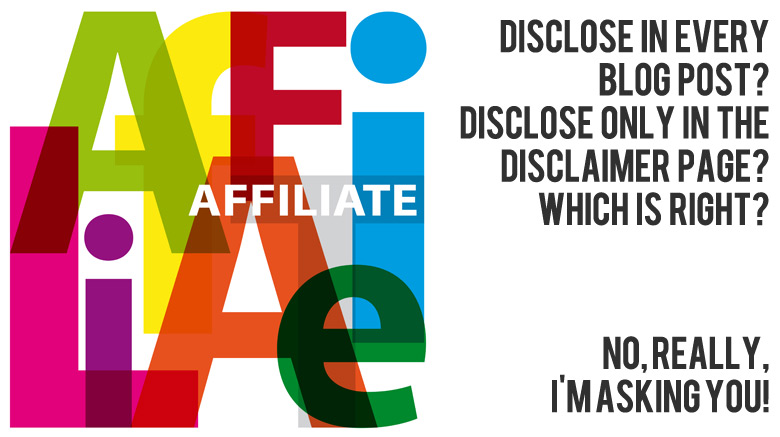 Happy hump day, folks!
I've been thinking a lot about affiliate networks and affiliate links lately and rather than just do my usual nightly brain dump on my notebook and husband, I thought I'd do a bit of my brain dump here as well.
I'd to talk about affiliate links today. In fact, I'd love your opinions on affiliate links, both as a blogger and as a reader because it doesn't only affect our blogs, it affects our readers as well.
As a blogger, do you disclose your affiliate links in every blog post that contain them? Or do you disclose the fact that you have affiliate links in your Disclosure/Disclaimer page but don't disclose them at the beginning/end of each post?
As a reader, does it bother you if the blogger doesn't disclose affiliate links in each of those blog posts but he/she discloses them in their Disclosure/Disclaimer page? Is that enough for you?
Have I confused you already?
See, the thing is, I used to do the ol' tsk-tsk when I see a blog not disclose its affiliate links. They are obviously affiliate links so why not tell us what they are? Can't pull the wool over our eyes, y'know. Yet for the ones that do disclose, I see the disclaimer in every single post!
I had to wonder: at the end of the day, is it better if the blogger just mention the use of affiliate links in their Disclosure/Disclaimer page and be done with it? Rather than announcing it in every blog post?
Don't get me wrong; I have absolutely nothing against affiliate links or bloggers making a commission from them as long as they're genuinely there because the blogger likes the product. Heck, I'm more than happy to buy products off my favourite bloggers' affiliate links because 1) there's no extra cost to me and 2) they get a tiny percentage of my purchase.
I use affiliate links too and if you're unfamiliar with how much money a blogger typically earns from affiliate links, it's very little, especially if the items are not expensive. As I don't blog a lot about pricey, high-end products, commission earnings are typically very low. Of course top-tier, big-shot bloggers who make a 6-figure annual salary, they'll make a lot more from affiliate links due to their influence on their massive audience. Huge audience = increased influence = increased sales = increased commission.
Anyway, I digress.
I'm in a bit of a dilemma because when it comes to disclosure of affiliate links, I'm standing on the fence and cannot decide which side to choose. A week ago, I brought the subject up in a Facebook group and all of the bloggers who chipped in mentioned that they only disclose in their Disclosure page and that it isn't necessary to do so in every blog post. Then I thought, how is affiliate link disclosure any different to disclosure of products sent for review? You know what I mean?
This is turning out to be a very long and rambly post for Bloggie Wednesday and it's certainly not my best so for that, I do apologise. I've got no tips nor advice on disclosure of affiliate links for you today because I'm rather stumped myself.
Okay, this is doing my head in. I'll stop here for now. 🙂
I really would like your opinion about this and what you think about affiliate link disclosure. Is it all right to not to disclose in every blog post (providing that it mentions at least a product) and have the affiliate link disclosure in a separate page? Or should we disclose in every blog post? If you're a reader, do you care if the blogger doesn't disclose affiliate links in every post but just the Disclosure page? Does it bother you to see affiliate link disclosures in every single blog post? If you use affiliate links, how do you disclose them on your blog?
Am I thinking too much??
Bloggie Wednesdays
is a series of articles just on blogging. They contain tips, how-tos, discussions about anything and everything you need to know about blogging and how we can be better bloggers. If you have any suggestions, tips and tricks about blogging you would like to share with us, or if you have any questions you would like me to address, please let us know in the comments.