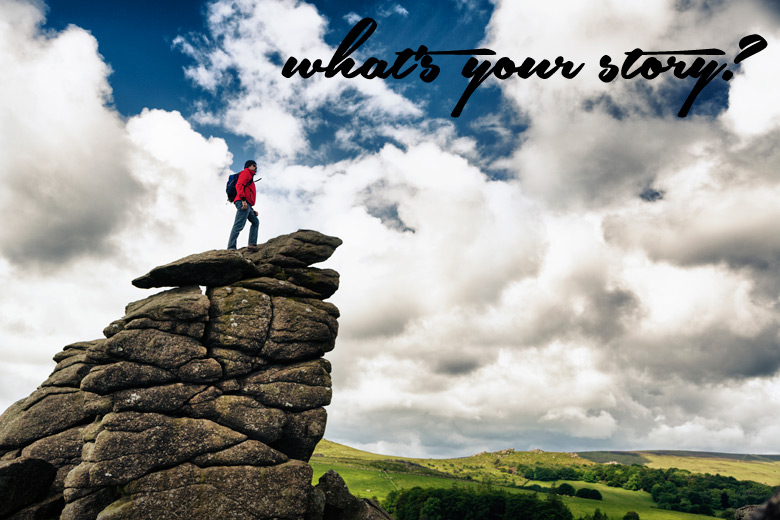 © RichLegg
I'd like you to take a look at your About Me page. When was the last time you updated that page? Wait … what? You don't have an About Me page on your blog?
Oh boy. You and I, we need to talk.
I can't even stress how important an About Me page is. I often see blogs with just a short 2-line bio of the author on the sidebar and it frustrates me because I want to know more about the blogger. But that's all the blogger would tell me, all in those 2 lines.
Here's an example of a sidebar bio I'm completely making up (but not really): Hi, I'm Jane and I love makeup. Welcome to my blog! Let's connect.
That's it. There isn't an About Me page in the blog that allows me to know more about Jane. I don't know where Jane is from. I don't know why Jane loves makeup. Would I want to stick around and connect with Jane?
Unless Jane's writing is really kick-arse, then the chances are no, I wouldn't. Harsh, isn't it? Unfortunately, that's the reality of the blogosphere. With thousands (maybe even tens of thousands) of beauty blogs on the Internet, you have to be able to stand out. You need to tell people who you are and why you're blogging. Allow your potential readers to connect with you.
See, if Jane were to write on her sidebar bio: Hi, I'm Jane. I'm a Melburnian and I love makeup. Funny thing is, I used to never wear it! So what changed? [insert link to an About Me page]
Ahh I'm intrigued. Who is this Jane and why did she start this blog? Was there a personal reason? Maybe she's an aspiring makeup artist. Either way, Jane has piqued my interest long enough for me to want to stick around her blog to find out more. When I clicked on Jane's About Me page, I like what I see. Oh Jane's from Melbourne! I'm from Melbourne! Jane loves dogs? I love dogs! OMG Jane is a blush fiend? Okay she got me hooked. I'm going to check out a few pages to see what blushes she like.
So on and so forth. Before long, I've subscribed to Jane's blog because I enjoy the way she writes and she lives in the same city as I do. Jane has just gained herself another reader.
That's just an example, of course, but you know what I mean. That's the power of a good bio, not just on the sidebar but also the all important About Me page.
My About Me page took me a long time to write. It's a lot harder to write than I originally thought and I'm still updating it pretty frequently. In the end, I wrote as though I was speaking to a new friend. I mentioned that I was originally from Malaysia and why I moved to Australia. I wrote why I created Beautyholics Anonymous, what it's about, who my target audience are, my motto and so on. I also included a photo of me to make things more personal.
Even though I have an About Me page, I also have a short bio on my sidebar that allows readers to click on a link to my About Me page if they wanted to know more about me. How I came up with my short bio? I actually wrote what I didn't like first and that was baked beans. What that has to do with beauty is beyond me but it works! 😛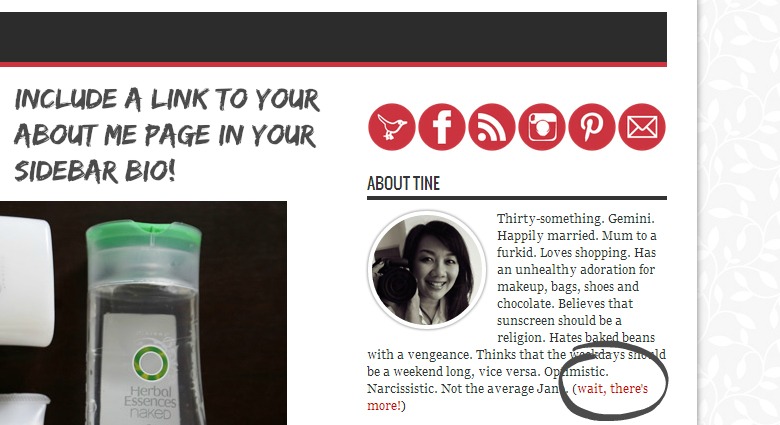 Before I changed the design and layout of the blog, my bio was actually at the footer of the website. This was a big mistake on my part because it should have been the first thing you see on my sidebar. When I launched the current design that you're seeing now, I made damn sure that the bio is now the first item on my sidebar. Ads and so on go below it.
What to include in your About Me page
There are many ways to write an About Me page. Some say that you should keep it short and to the point (like a résumé). Some say you should write a good story about yourself even if it's going to be paragraphs long. As you can see, mine isn't short. It's paragraphs long and I like it because it says it all about me.
Regardless of how long or short you want your About Me page to be, here's what a good one should at least have:
Your name. Stating the obvious here but you'll be surprised how many blogs don't actually have the author's name in their introduction.
A photo of yourself. If you prefer to remain anonymous, maybe put a picture of your pet. Or a picture of a silhouette of you where we can't see your face but we can still see you (love this idea!). Either way, do put a picture to make it somewhat more personal.
Where you're from. At the very least, tell us which country you're from.
What the blog is about
Why you started the blog
Who your blog is for. Who's your target audience?
How can people reach you? Where can they find you? Put in your email address, Twitter, Facebook, Instagram, Tumblr, Pinterest, etc links on the About Me page.
Your accolades. If you've won an award for Best Writer, Best Blogger, etc, show it off!
Your mentions. Personally, I don't put my press mentions in my About Me page because I want to keep it as personal as possible but it's there to see on my website footer.
A few titles and links of your top favourite posts just to get the new reader started.
That's your About Me page. It can be as light-hearted or as poignant as you want it to be. It's the best place to tell people what your blog is all about.
What to include in your sidebar bio
This is what I call the 140-character Twitter equivalent of your About Me page. It doesn't have to be within 140 characters of course but it's good to keep it short and that you allow people to click on your About Me page to find out more about you. Be funny, be witty, be relevant. Again, if you do show pictures of yourself on the blog, have a small photo of you in your sidebar bio would be helpful too.
Take some time to draft out a good About Me page. When you've sorted that out, a quick bio in the sidebar would be a piece of cake.
After all, it's all about you! 🙂
What's your About Me page like? Was it easy or hard to write? Do you have a sidebar bio? Do you think it's necessary to have one if you already have an About Me page?
Bloggie Wednesdays
is a series of articles just on blogging. They contain tips, how-tos, discussions about anything and everything you need to know about blogging and how we can be better bloggers. If you have any suggestions, tips and tricks about blogging you would like to share with us, or if you have any questions you would like me to address, please let us know in the comments.