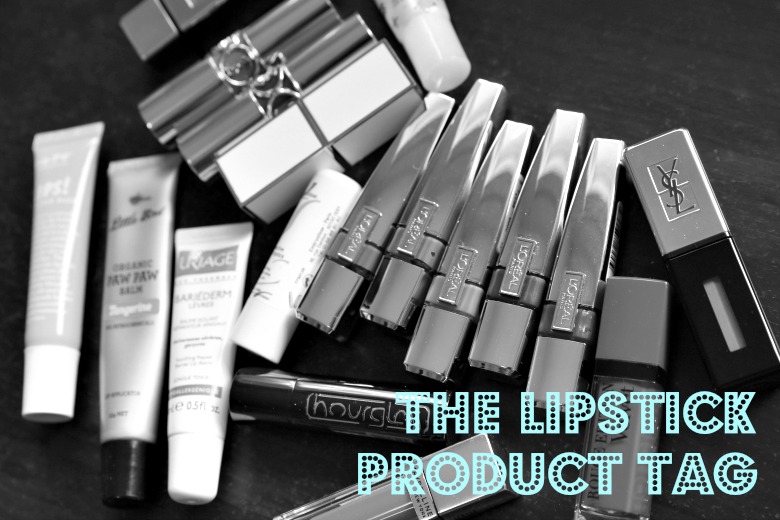 The first time I saw the Lip Product Addict Tag was the video by my favourite beauty YouTubers Essiebutton and Amelia Liana. This tag was their creation and it's no wonder because they're such big lippie addicts (let's just say lots of enabling have happened). Since I do a Read My Lips post almost every weekend, I thought I'd give this tag a go too!
I don't do tags often but it looks quite fun. Plus I do have quite the stash of lip products. 😉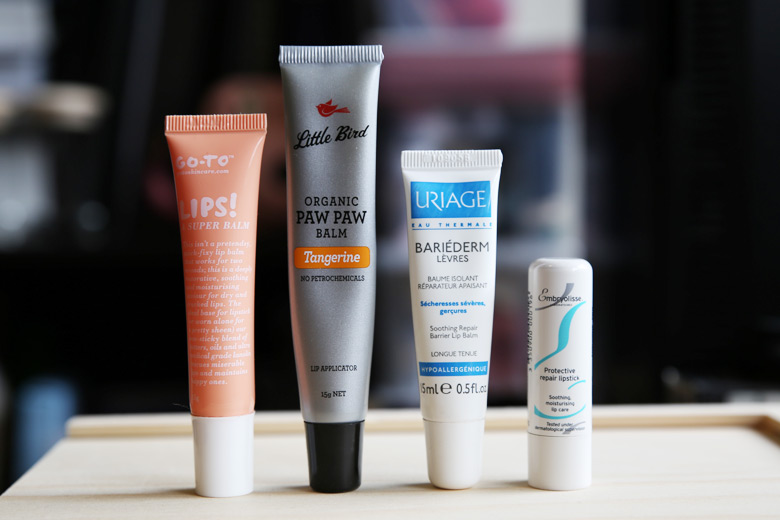 1. Favourite balm/lip treatment
Oh sure, start with the toughest question, why don't you? I can't decide on just ONE lipbalm so I'll list a few of my favourites that I use on a daily basis. It's the Uriage Bariederm Soothing Lip Balm, Embryolisse Soothing, Protecting & Repair Lip Balm, Go-to Skincare Lips! and Little Bird Organic Paw Paw Balm. I use the Uriage one when I travel on planes, keep the Embryolisse lip balm in my bag, use the Go-to Lips! at home just before applying lip colour and the Little Bird paw paw balm just before bed.
2. Best eye-catching red
I've tried a number of bright red lipsticks over the years and to date, the best eye-catching red in my opinion is still the very first red lipstick I've used, and that's Revlon's Colorburst lipstick in True Red. It's a stunning blue-toned red that makes your teeth look really white. I don't actually have it any more as it has expired and I can't replace it either because it's been sadly discontinued. So as an alternative that is also a very eye-catching red, we have the Hourglass Femme Rouge Velvet Crème Lipstick in Raven. Gorgeous!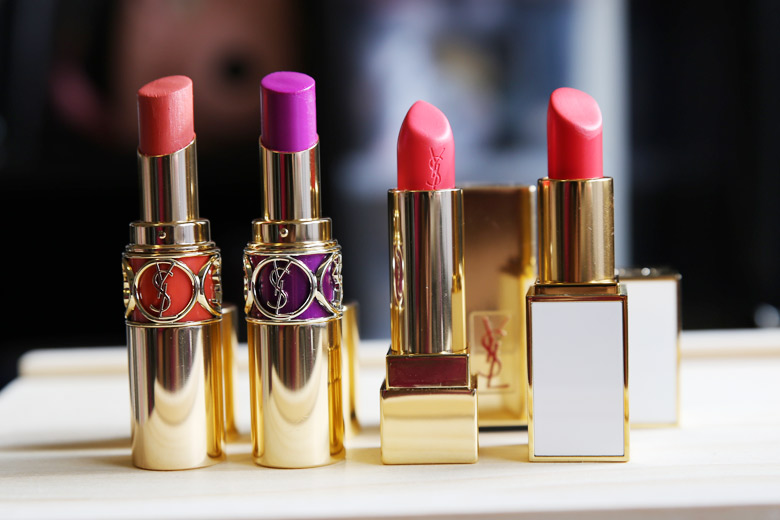 3. Best luxury and best drugstore lip product
Best luxury: Best luxury lip product for me goes to YSL Rouge Volupte Shine and Pur Couture lipsticks. They're very creamy and come in a wide variety of shades. Packaging wins bonus points from me too! Next in line would be Tom Ford's lipsticks. I struggled to decide which one was better but in the end, the spot goes to YSL. As for Chanel, oops sorry, they didn't make the list at all. 😛
Best drugstore: This is based on the lippies I use the most and after going through my stash of drugstore lippies, I have to give the spot to L'Oreal's Shine Caresse lipglosses. Even though I've been using Maybelline's Colour Elixir lipgloss in Fuchsia Flourish a lot lately, it's the L'Oreal Shine Caresses that have been seeing a lot more love from me for at least the last 6 months. I have 5 of them that I use on a regular basis. To me, it's the best drugstore lip product and I prefer it to the YSL Glossy Stain.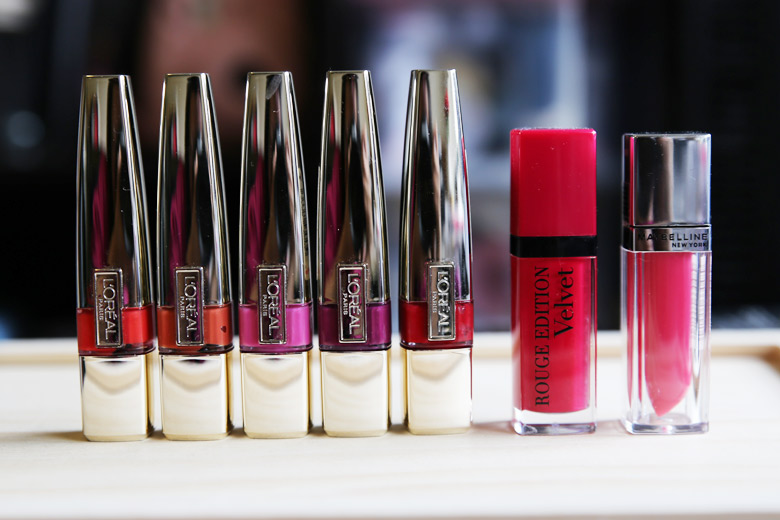 4. Best MAC lipstick
Is it absolutely blasphemous in the beauty blogging community to say that I don't really like MAC lipsticks? I have a few MAC lipsticks and while the colours are pretty, I'm not a fan of the formula and scent. I'm afraid I can't answer this question because MAC and I, we're just acquaintances. Not friends.
5. The most disappointing lip product
I've tried a lot of disappointing lip products over the years but the most recent one would have to be Ettusais' Deep Moist Lip Essence. It was in my May/June Miss List and rightly so because it's awful. It's very sticky and not at all moisturising. It's like applying glue on my lips. Yuck.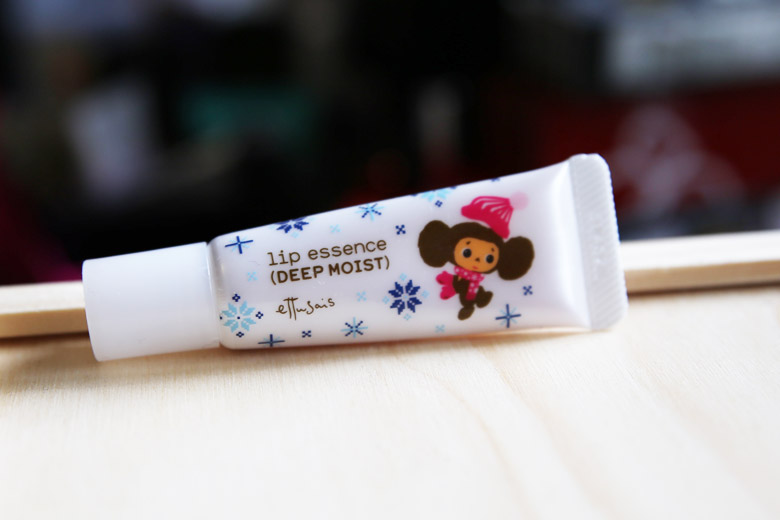 6. Lipliner – yes or no?
No for me. I have a whole heap of lipbalms, lipsticks, lipglosses and lip lacquers but I only have ONE lipliner that I probably only use, erm, once a year? I know I should use it with my bright red lipsticks but I guess I'm just too lazy to add that extra step. 😛
7. The best lipgloss
I don't have one lipgloss but I do have a couple of lipgloss ranges because every shade is good. That would be the one mentioned in #3 and that's L'Oreal's Shine Caresse lipglosses. I'm going to add another lipgloss range to the list and that's the Bourjois Rouge Edition Velvet matte lipglosses. So pretty!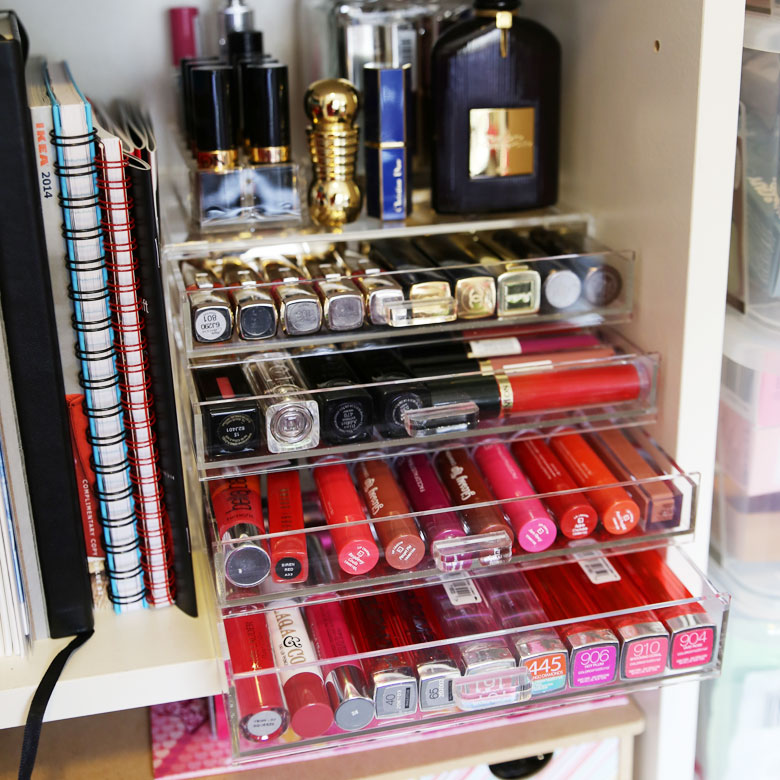 8. Something extra
I'm wondering what to include in Something Extra because it really could be about anything about lip products. Hmm … ah okay, I got it. If you're looking for clear acrylic containers for your lip products, there are a few I'd recommend. You can buy stackable drawers from MUJI to form a pretty makeup set. Makeup Box also has very good acrylic storage solutions but they're quite pricey. Priceline doesn't sell acrylic drawers but they do have very good quality makeup caddies that have individual lipstick holders that aren't as expensive as Makeup Box's. If you're looking for bigger clear drawers to not only house your lippies but also other pieces of makeup at low prices, check out the Keji 4 Drawer Desktop File at Officeworks. It's quite a good size for less than AU$20.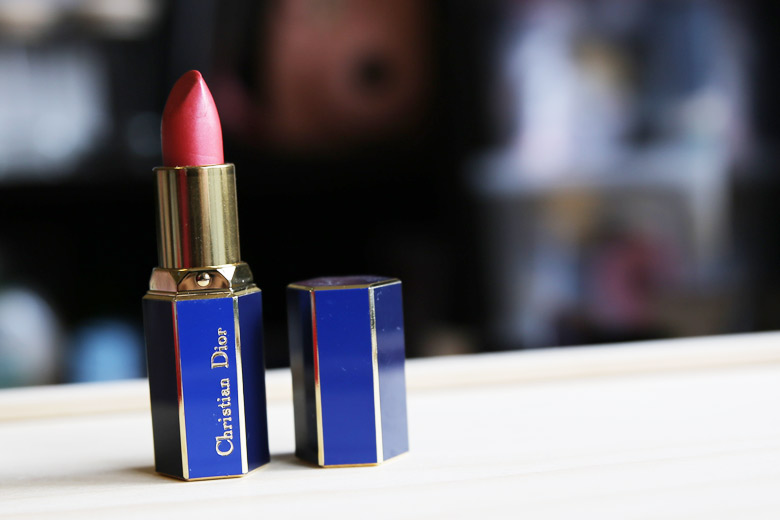 I've added yet another extra which isn't part of the tag. This is the oldest lipstick I own. Dior doesn't have the words Christian Dior on their lipsticks any more. I can't remember when I got this and even though it's long expired, I couldn't bring myself to throw it away. Isn't the packaging lovely?
It's funny though, how much lipglosses there are in the tag. I actually prefer wearing lipsticks but when it came to actual favourites, there were lipglosses that I favour over lipsticks. Hmm.
Anyway, I hope you've enjoyed my take of the Lip Product Addict Tag. I now tag Norlin, LeGeeque, Ling, Celina and Jess to do this. Oh and I tag all of you lip product addicts too!
Ready? Go! 😀
Shop the post!