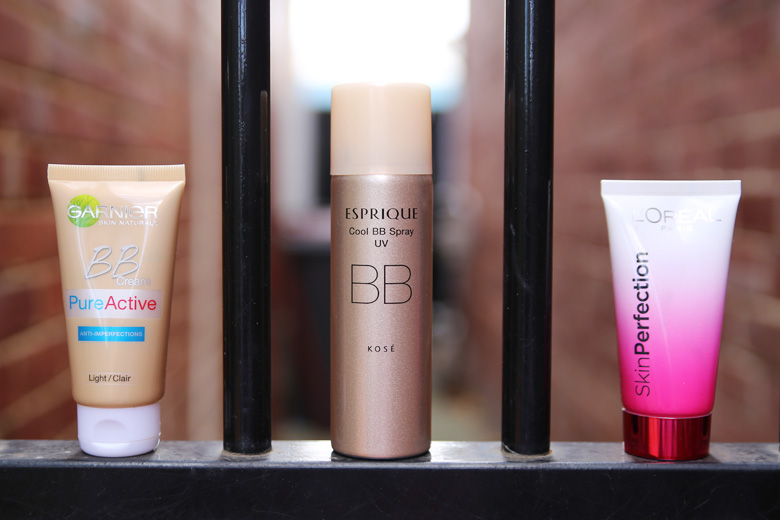 Happy Monday, folks! I hope you've had a fab weekend. Melbourne was freezing!
Welcome to another segment of BB Creamology! I thought I'd be running out of BB creams to write about by now but it looks like that's not happening any time soon. Beauty companies aren't getting off the BB bandwagon just yet even though there are multiple-alphabet creams popping up left, right and centre. Well, if they aren't, I guess I won't either. 😛
Today, I've got 3 more BB creams to share with you. Instead of the usual medium coverage BB creams I normally talk about, these are light coverage BB creams, even the Japanese one. I'm not usually a fan of light-coverage BB creams because a lot of them are mostly tinted moisturisers to me but there's one that tickled my fancy.
And I can bet you won't be able to guess which one I liked best out of the three. 😉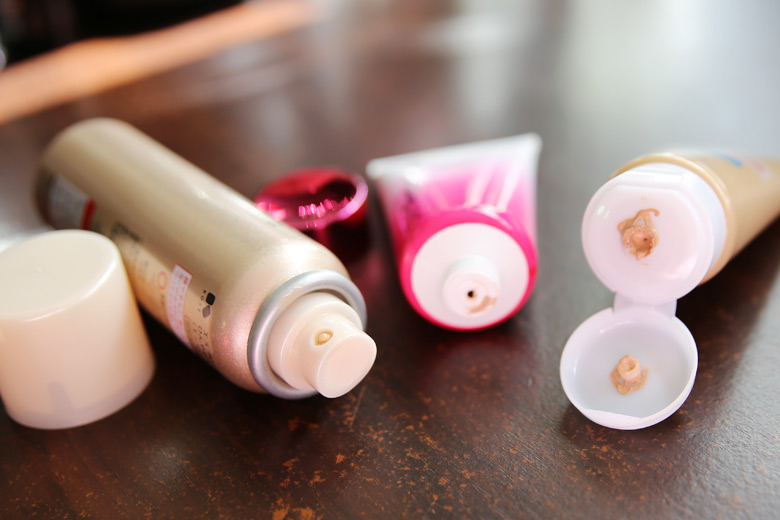 Let's get started!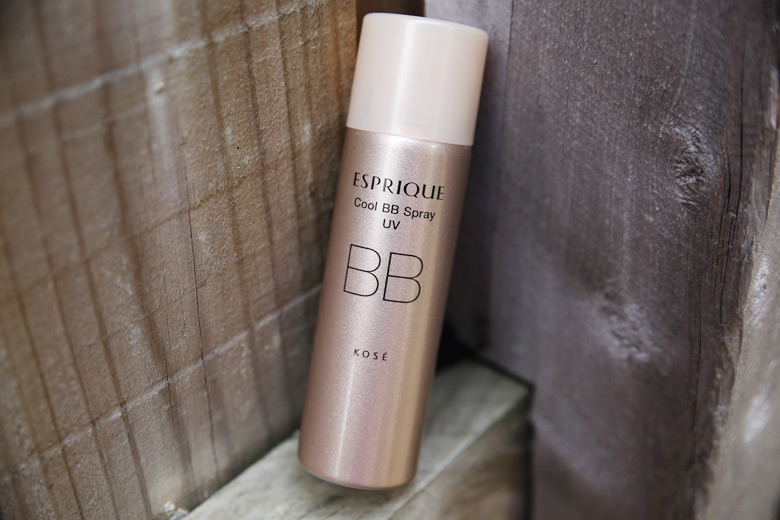 Shade: As the description is in Japanese, I can't tell what shade this is. When I bought this in Japan, it was only available in one shade. I'd say it's similar to a Beige with warm undertones.
Texture: Very light (like liquid sprayed from a highly-pressurised can).
Fragrance: Smells like alcohol.
Wet-To-Dry Time: Very quick to dry due to the alcohol content in the spray and leaves a matte finish on the skin.
Coverage: Light, buildable to maximum medium coverage
Sun Protection Factor: SPF30 PA++
Price: I can't remember how much I paid for this. The frustrating part is, Googling doesn't help either! I don't think it cost more than AU$30. Thanks to a lovely reader who updated me on the price, this is 2100 yen minus tax. That's approximately AU$22.00.
Availability: At the time of writing, this is currently only available in Japan (I got mine from Matsumoto Kiyoshi). I haven't been able to find this on eBay nor Amazon. Esprique is available at Ichibankao and Imomoko; however at the time of writing, this item is not available in those webstores.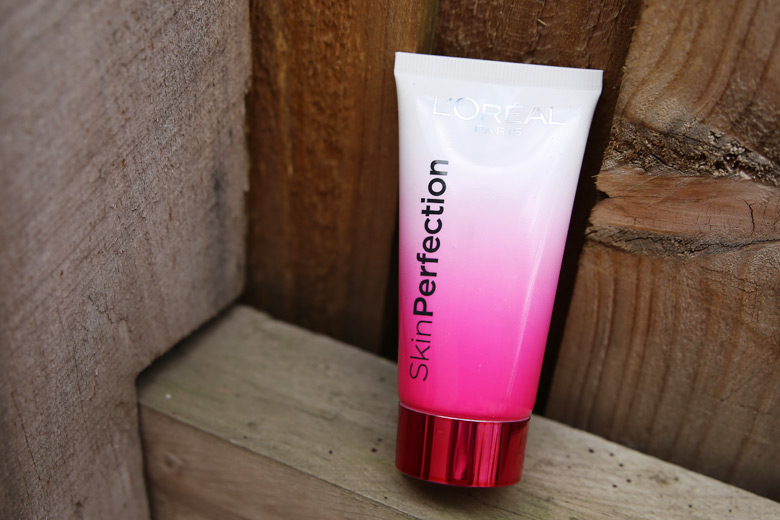 Shade: Fair (with cool undertones). Also available in Medium.
Texture: Thick and creamy
Fragrance: There's barely any detectable fragrance.
Wet-To-Dry Time: Takes a while to dry and leaves a dewy finish on the skin.
Coverage: Light
Sun Protection Factor: SPF15
Price: AU$24.99 for 50ml
Availability: Selected major pharmacies and supermarkets nationwide.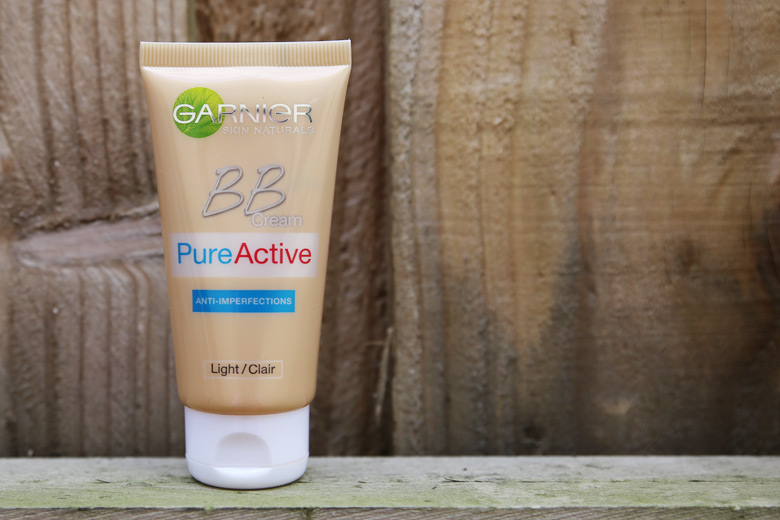 Shade: Light (with cool undertones). Also available in Medium.
Texture: Light and creamy
Fragrance: Floral scent
Wet-To-Dry Time: Takes a while to dry and leaves a satin finish on the skin.
Coverage: Light to Medium
Sun Protection Factor: SPF15
Price: AU$13.99 for 50ml
Availability: Selected major pharmacies and supermarkets nationwide.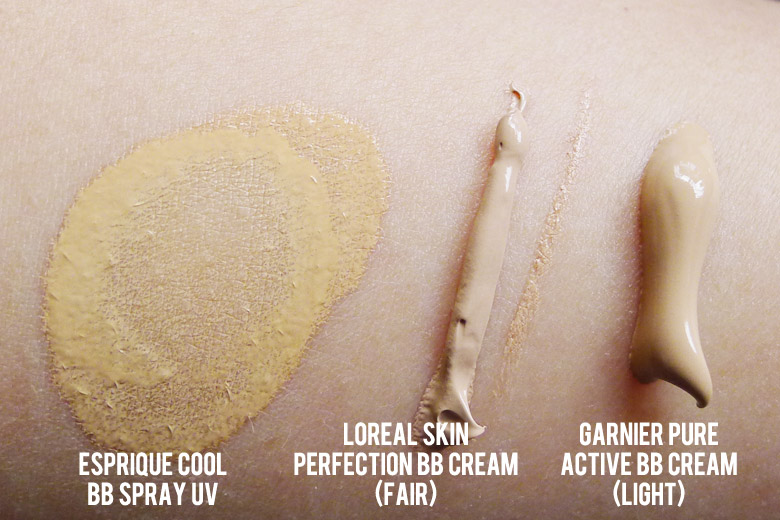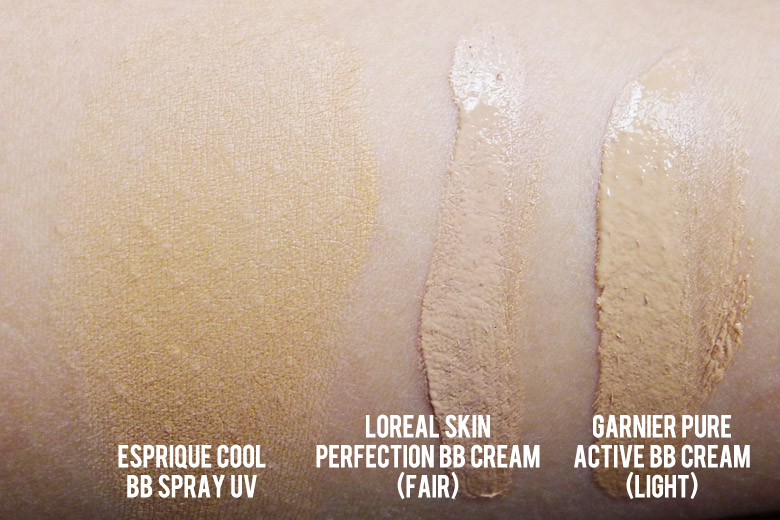 Conclusion:
I picked up the Esprique Cool BB Spray in Japan on a whim. The type of spray reminded me of the Diorskin Airflash Spray Foundation and I thought it would be fun to try out. The instructions are very clear; this BB spray cannot be sprayed directly on the skin. Understandably so because it will sting the hell out of your skin if it's sprayed directly on the skin (even a quick spray on my arm at a 2cm proximity stung). The BB spray comes with a flat sponge but I decided to use up my packet of makeup wedge sponges first.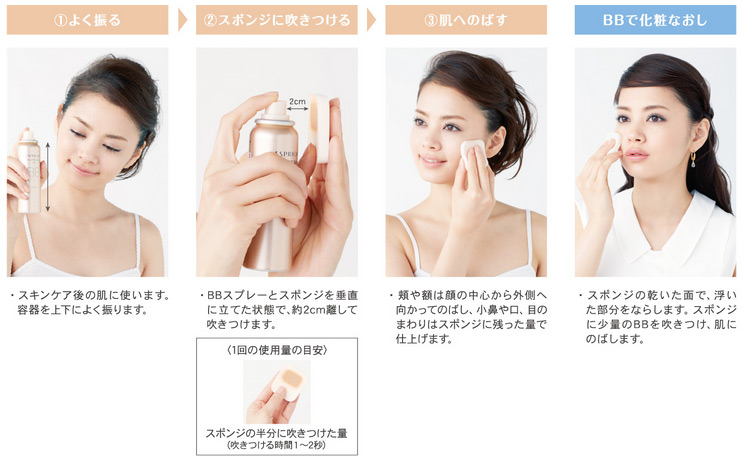 After spraying on the sponge and using the sponge on the skin, it feels very cold. It's probably a mistake using this in winter in my cold bedroom because yowza! It's freezing! It would have been great using this in the hot summer because this claims to make the skin feel 5 degrees Celsius cooler. I'm not sure about the actual temperature drop accuracy but it sure feels very cold on the skin. Coverage is pretty light but buildable when you add more layers with the sponge because the amount of product sprayed is actually only very little. It looks very natural on the skin. The result is my skin but much better, which is lovely. The only thing I don't like about it is it smells really strong of alcohol. Really, really strong. As much as I like how it looks on my skin, the smell is far too strong to bear even if I wait for the alcohol to dissipate from the sponge first. It's a cool (geddit?) concept though. I'll give this a go again in the stinkin' hot summer.
L'Oreal's Skin Perfection BB Cream is … how could I put this delicately? Oh I give up. It's pretty meh. I wouldn't call this a BB cream when it's more of a tinted moisturiser. It reminds me of a lot of Western BB creams that aren't really BB creams but tinted moisturisers. The texture is thick but the coverage is a bit too minimal for my liking. Plus it makes my skin look slightly greasy after a couple of hours. I reckon those with dry skin would prefer this BB cream as it's quite rich and hydrating. Sadly, it just isn't for me.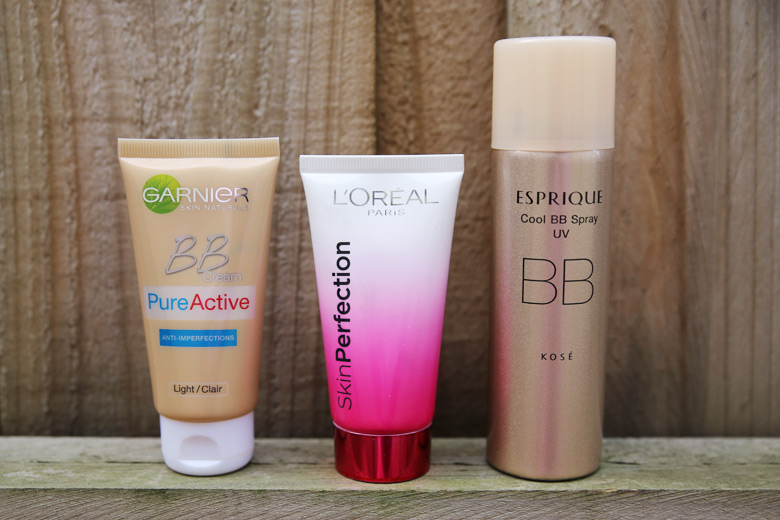 The most surprising find of the three is the Garnier Pure Active BB cream. I expected it to be just like the original Garnier BB cream or even like the L'Oreal Skin Perfection but it's actually more like the Garnier BB cream for oily to combination skin (the one that comes in a skinny tube). The texture is light and creamy, which is exactly like the oily-combination skin BB cream. Coverage is also similarly light to at most, a light-medium. The difference between the Pure Active and the oily-combo skin BB creams is that the former contains 2% salicylic acid targeted towards blemish-prone skin. As I like the oily-combo version of the BB cream, I like the Pure Active one too. Coverage is not that good though so I save this for good skin days only.
It's funny how I find myself preferring the Garnier to the Esprique BB spray because I really thought the Esprique one would be a total standout here. Even though I really like how the Esprique BB spray looks on my skin, I can't overlook the strong alcohol scent. Even though the coverage is light, the Garnier Pure Active wins this episode of BB Creamology! 🙂
Have you tried any of these BB creams? Have you used any BB creams or foundations similar to the Diorskin Airflash?
This post contains several affiliate links. By purchasing something via these links (at no extra cost to you), you're supporting Beautyholics Anonymous, which I highly appreciate.