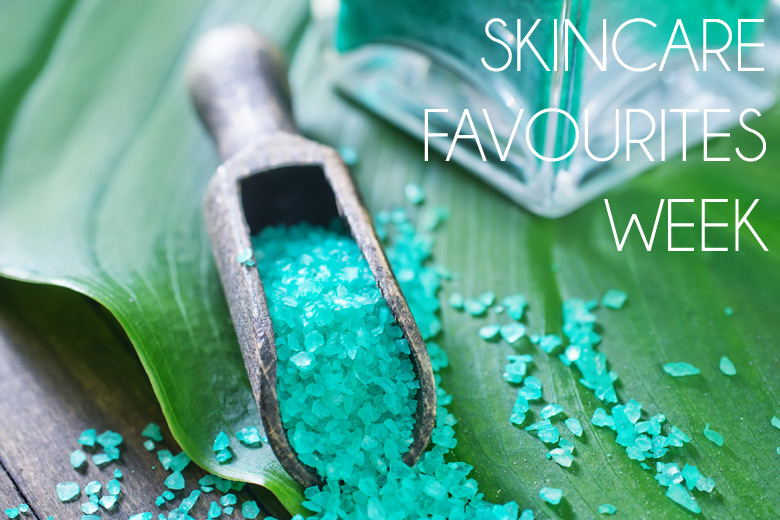 I must say, I love a good scrub. I don't use it often, only 2-3 times a week tops but when I do, I take my own sweet time with it. A gentle massage of the skin, a quick splash of water to rinse and my skin is soft and smooth again. Ahhh …
I call scrubs or physical exfoliators my "face sandpaper". Once in a while, I just have to "sandpaper" this face to get rid of the build-up of dead skin cells. These days, there are plenty of chemical exfoliants out there e.g. exfoliating serums that contain lactic or glycolic acid that do the same job anyway. It's less abrasive on the skin too. Personally, I still love a good scrub so even though I use chemical exfoliators, it's pretty damn hard to pull me away from grainy scrubs. 😛
Over the years I've tried a good number of physical and chemical exfoliators and I've come up with my top 10 list of scrub-a-dub-dubs. Some are recent discoveries (especially the chemical exfoliators) and some are classic favourites. Usually after scrubbing my face, I squeeze a little bit of scrub or use any leftovers and massage my hands with it as well. Smooth skin FTW!
Let's get started! Again, these come in no particular order.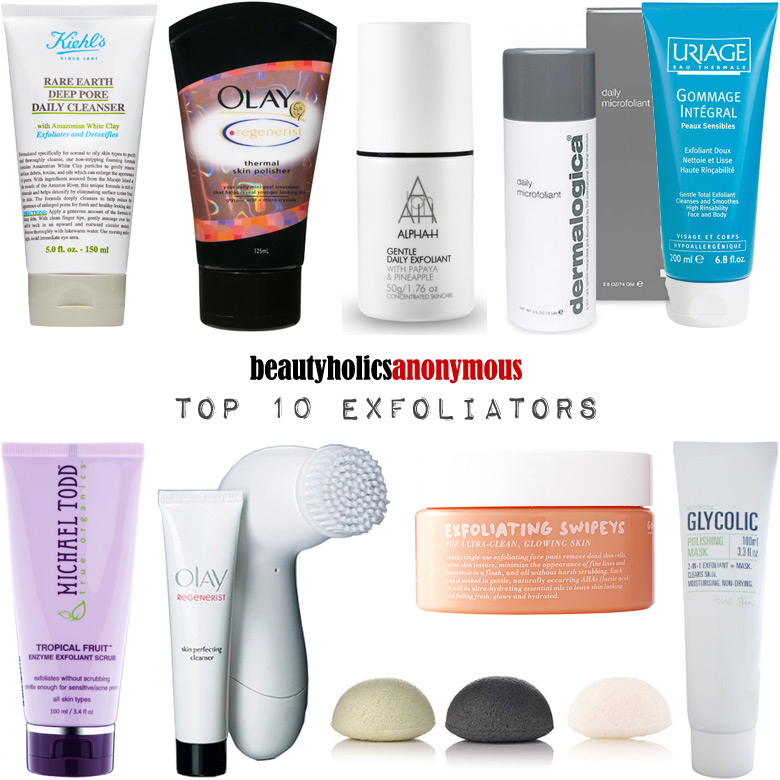 Go To Skincare Exfoliating Swipeys
Next to the lip balm, this is my favourite product from Zoe Foster-Blake's brand. It contains 50 exfoliating cotton pads filled with delicious citrus oils and lactic acid. I use this once a week in lieu of physical scrubs (the latter I save for another part of the week). It leaves the skin smooth and soft. It's similar to Radical Skincare's Age Defying Exfoliating Pads but at almost half the price. It smells like mandarin oranges too, which you know is right up my alley.
Olay Regenerist Specialty Cleanser
You'll notice that I didn't mention the Clarisonic in my top 10 list of exfoliators and that's because I find it too harsh for my skin. As far as mechanical cleansing brushes go, the one that works for me and that isn't harsh on my skin is the Olay Regenerist Specialty Cleanser. It's also a heck lot cheaper (about 10% of the price of the Clarisonic). Replacement brushes are very cheap too. It also comes in a handy size which is perfect for travelling. (review here)
Konjac Sponge
Even though the Olay cleansing brush is a very good one, to be honest I still prefer the good ol' Konjac sponge to cleanse and exfoliate my skin. It's very soft and gentle on the skin, is friendly on the environment and is also suitable to be used on babies. I'm currently using the one by Ecotools which I got from iHerb. Konjac sponges also come infused with different types of clay (green and pink) but I still prefer the original sponge. (review here)
Michael Todd Tropical Fruit Facial Polish
When I jumped on the Michael Todd Organics bandwagon, the product I enjoyed the most was the Tropical Fruit Facial Polish. It contains a double whammy of exfoliators: physical minute scrubby bits and fruit enzymes (papaya and pineapple). My skin feels fantastic after using this. Its citrus fragrance is also a huge plus point in my books. (review here)
Alpha-H Gentle Daily Exfoliant
This is quite an extraordinary scrub. It's white gritty powder that you mix a bit of water with before massaging your skin with the formed paste. The result is smooth and soft skin. It doesn't irritate the skin at all which is why this can be used daily. (review here)
Dermalogica Daily Microfoliant
This is very similar to the Alpha-H Gentle Daily Exfoliant. Unlike the Alpha-H, this powder is slightly grittier to the touch but it exfoliates the skin in the same way. Personally, I prefer the Alpha-H exfoliant to this one but the Dermalogica Daily Microfoliant is a very good exfoliator nevertheless. As this is grittier to the touch, I prefer using this every alternate day.
Olay Regenerist Thermal Skin Polisher
This goes on very warm on the skin and when you massage the skin, it cools back down. The scrubby bits are extremely tiny and is non-abrasive on the skin at all. This was recommended by LeGeeque many years ago and even so, this is something I repurchase every now and then when it's on sale.
Endota Glycolic Polishing Mask
This isn't just a good scrub, it's a great mask as well. As the name suggests, it contains glycolic acid to give the skin a good exfoliating. Having said that, it isn't harsh on the skin at all. It doesn't irritate my skin and even clears congestion. As a mask, I find that it's quite similar to the popular-but-very-overpriced Glamglow Youthmud Tinglexfoliate mask yet this delivers better results on the skin. It's cheaper too. (review here)
Uriage Gommage Integral Gentle Total Exfoliant
Another great product by Uriage! This has non-abrasive microbeads that exfoliates the skin well without irritating it. What's great about this scrub is that it isn't just for the face; it can also be used on the body. As far as facial scrubs go, this is more economical than most scrubs. (review here)
Kiehl's Rare Earth Deep Pore Daily Cleanser
Even though this is meant to be a daily cleanser, personally I feel it's a tad too harsh on the skin to be used every day. However, as a deep-cleansing scrub to be used 2-3 times a week? Oh most definitely a good thing. The grains are minute and aren't at all abrasive. If you have oily to combination skin, you'll like this one. It doesn't just deep cleanse, it leaves the skin feeling soft and smooth without any harshness on the skin (only if it isn't used daily).
There you have it, my top 10 exfoliators. Please do bear in mind that while these are my favourites, I don't use all of them in a week. I like to switch it up every now and then. If I really were to use all of this in a week, I'll have no skin left!
I must admit that I've been reaching for the good ol' Konjac sponge more than anything else lately just because I can use it on a daily basis whereas I can't with the rest. Having said that, to be honest, a simple wash cloth can be used to exfoliate the skin as well but between you and me, where's the fun in that? 😉
What's your favourite exfoliator, chemical and/or physical? Do you love a good scrub like I do too?
Catch up on Skincare Favourites Week!
Shop the post!
The Shop The Post! section contains affiliate links. By purchasing something via these links (at no extra cost to you), you're supporting Beautyholics Anonymous, which I highly appreciate.