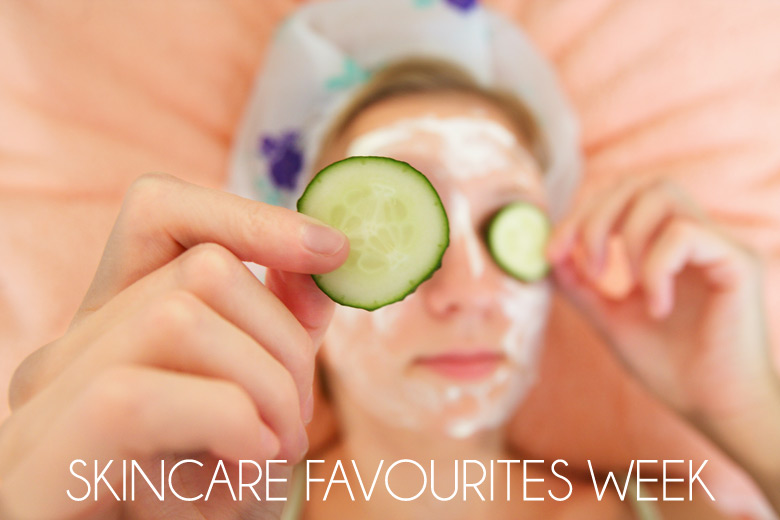 Happy Friday folks! Hope you've had a good week and are looking forward to the weekend. I know I am. It's been one heck of a trying week, all right. You know the ones where it seems like nothing goes right but everything goes wrong? Yeah, I had one of those.
Anyway, enough about me. Let's get on with Skincare Favourites Week! Today I'm talking about eye creams. Ahh the all important step in one's skincare routine. The one that is highly questioned by one Paula Begoun as a redundant step and that beauty companies are trying to pull the wool over consumers' eyes by telling them that they need one when the eye cream ingredients are no different from serums and moisturisers. For me, I believe I need one and that's all there is to it. When it comes to eye creams, I tell beauty brands to please, take my money. My eyes need 'em. 😛
Long time readers will notice that I seldom review eye creams. I'm often asked for suggestions on good eye creams but I don't often write about them. I don't know why but I do find eye cream reviews difficult to write. You've seen close up shots of my eyes and you'll notice that I have a significant amount of fine lines under them. Ah, age and bad experiences, gotta love them for gifting me with those lines, eh?
So far, I've only tried 2 eye creams that visibly softened and reduced the appearance of those dreaded fine lines. Having said that, the rest of the eye creams I'm about to share with you here aren't bad either. They do the rest of the job for me and that's to moisturise the undereye area without irritating my eyes, and reduce puffiness and dark circles. I'm not expecting miracles here so for me, these are considered good eye creams. None of these eye creams gave me the dreaded millia, which is a very good thing.
Here they are in no particular order.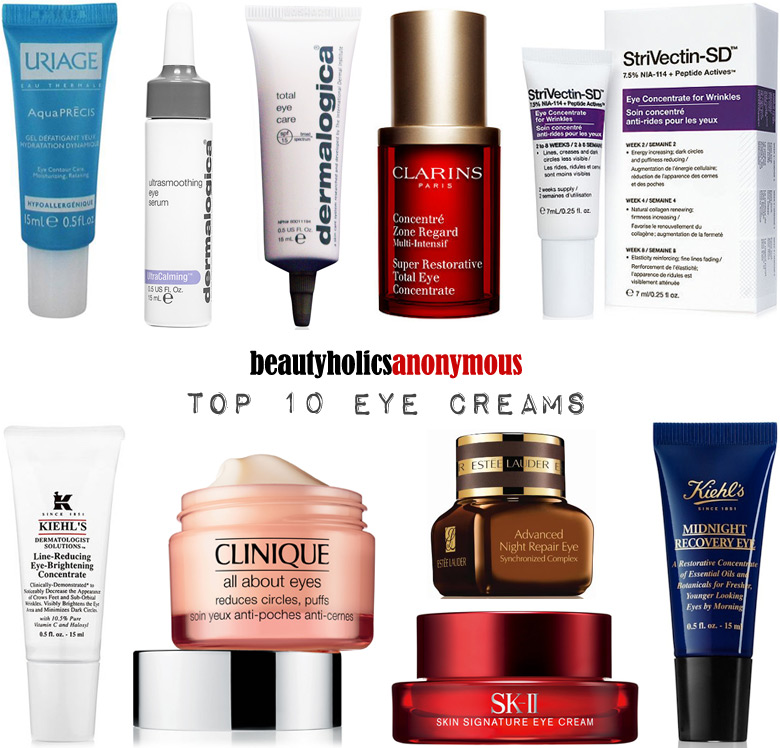 Kiehl's Midnight Recovery Eye
I got this a few years ago right after I realised how much I liked the Midnight Recovery Concentrate. It smells just as good and relaxing as the MRC but instead of an oil, it comes in a lightweight cream. I didn't notice any significant changes with the undereye area other than softening of lines and a well-hydrated area. It was good enough for me. Plus did I mention how good it smells? 🙂
Estee Lauder Advanced Night Repair Eye Synchronized Complex II
I'm a big fan of the brown bottle serum so naturally I had to try out the eye cream too (get them in exclusive travel sets from the airport if you can as you'll save a lot of money compared to buying them individually). It didn't disappoint. It reduced my eyebags, made the dark circles less prominent and kept the delicate skin well moisturised. I've since purchased another jar of this. I'm currently trialling the eye serum version of the ANR and so far, so good!
SK-II Skin Signature Eye Cream
I love this eye cream. It didn't only do what eye creams are supposed to do (reduce eyebags, reduce appearance of fine lines, yadah yadah yadah) but it also softened the area. It's weird to say that, I know, because hello, isn't the area delicate enough? It truly is what I experienced! This doesn't just work well as an eye cream. I've used this on the skin above my upper lip when the lips are very dry and the upper lips are cracked (think perpertual red lip liner and swollen lips) and it works well in calming the redness and pain down. It doesn't go directly on my lips, of course; it's just on the area above the lips. Multitasking product? It's a win in my books. (review here)
Kiehl's Line-Reducing Eye-Brightening Concentrate
I recently raved about this and while I've finished the entire tube of eye cream, I still thing this is the bomb. It gave me similar results to the undereye area as the SK-II Skin Signature Eye Cream did but at a more affordable price. I'm currently trialing another eye cream at the moment but if that one doesn't work, I'm getting another tube of this.
Dermalogica Ultrasmoothing Eye Serum
You'll notice that I tend to save certain products to use just for travelling. This is my travelling eye serum. My eyes tend to get very dry and itchy when I'm on the plane and due to weather and temperature changes, the inner corners of my eyes get really irritated. It's like allergy season all over again. Eye drops may work on my eyes but the itchiness on the undereye area doesn't quit. This is the only eye cream I use that can actually soothe the irritation around my eyes. It stops me from needing to rub my eyes and the delicate skin raw. It doesn't do much else other than keeping the area moisturised and calmed, and when I'm away from home with bloody itchy eyes, this is truly all I need. (review here)
Uriage AquaPrecis Eye Contour Care
I love the gentle marine scent of this eye cream. You can tell that I'm in love with the whole AquaPrecis range from Uriage because I've been raving about most of the products in the range. This is a basic eye cream and while it doesn't erase fine lines (no other eye cream does, by the way), it does soften the look of fine lines, keep the area hydrated and is great to use under concealer. I don't like rich eye creams that make it difficult for me to apply and blend concealer under the eye area. This one works just swell. (review here)
Dermalogica Total Eye Care SPF15
One needs SPF on the skin and one easily neglected part of our face for sunscreen is the undereye area. Most if not all sunscreens will tell you to avoid the eye area when applying the sunscreen on the face. This eye cream by Dermalogica is specifically formulated with SPF for the delicate area. It's even tinted so it works like a mini undereye concealer as well. As it's tinted and contains SPF, I'll only use this during the day.
Clinique All About Eyes
Put this in the fridge prior to use, especially during the hot summer months and you'll almost instantly have shrunken eye bags. This gel feels absolutely fantastic on the undereye area when it's cold (the gel, I mean). To be honest, this eye cream doesn't really do much other than reduce puffiness under the eyes but when that's a major concern for you, you'd take whatever you can get, right? I did and it's definitely good enough for me.
Strivectin-SD Eye Concentrate for Wrinkles
This is one of the very few eye creams that I've used that actually reduces the fine lines on my undereye area. There really is a visible difference when I used this. As I have a lot of fine lines under my eyes, it's quite noticeable when you start to see less visible lines on the skin. It's not cheap but it's certainly one of the best eye creams I've ever used.
Clarins Super Restorative Total Eye Concentrate
This is a decent eye cream by Clarins that has made the top 10 list too. It helps in reducing puffiness and dark circles under the eyes and keeps the area well hydrated. You only need very little of this each time and a bottle can last you for months. (review here)
I don't switch eye creams often, which is why this list took me the longest to compile. I'm the kind who loves to switch up her cleansers, moisturisers, serums, sunscreens, scrubs, masks … heck, the whole shebang but I'll just stick to one eye cream and use it all up before I move on to another. Weird, huh? 🙂
What's your #1 eye cream? The one that has given you the most significant results?
Catch up on Skincare Favourites Week!
Shop the post!
The Shop The Post! section contains affiliate links. By purchasing something via these links (at no extra cost to you), you're supporting Beautyholics Anonymous, which I highly appreciate.