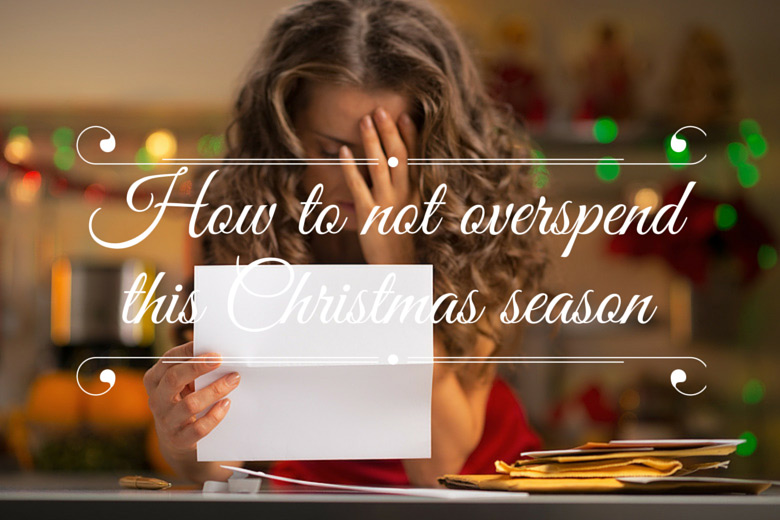 How ironic it is that I'm writing about how not to overspend this holiday season when I've been showing you an entire week of gift ideas for Christmas. You see, there's a reason on why I do gift guides. Other than showing you a bit of eye candy, it also shows price categories that can help you budget your expenditure for presents this holiday season.
That's right. I brought up the B word. Budget.
This brings me to the first of 5 tips on how to not overspend this Christmas season. It's not just for this year but for the ones after that as well.
Set a budget and stick to it
Whether you like it or not, it's highly important to set a budget when it comes to buying presents for loved ones (and even yourself). Unless you're (pardon my French but I do use this phrase frequently) crapping money out of your wazoo, you don't have an infinite amount of money to spend. The worst thing that can happen is go into credit card debt for Christmas and struggle to pay it off long after the festivities are over.
Buy just one present for one person
You may be surprised to hear this but growing up, Christmas time means that there's only one present per person. In fact, we'll consider ourself mighty lucky if we ended up with two presents per person. My brother and I each get a Christmas gift from my parents and the two of us pool our resources to get them a present each. That's it. Tim's family doesn't even have the tradition of gift-giving during Christmas. To him, it's a day of church, reflection and probably a meal with the extended family.
When I moved to Australia, I found out about the tradition of stocking fillers. This means more presents. I watched YouTube videos to find out that people even buy multiple gifts for just one person! I'd admit, I found it mind-boggling and highly indulgent. If you've saved money just for Christmas, by all means go ahead and splurge on your loved ones but if finances are tight, it's a good idea to limit one gift to one person. Perhaps just do stocking fillers and add a few less expensive gifts into one stocking instead of doing that AND buying a big (read: expensive) present as well.
Set a cap on gift exchanges
I love gift exchanges and look forward to them each year. When Tim and I got married, I continued the tradition of gift exchanging with him much to his reluctance (again, it isn't something he's used to at all). Instead of spending a lot of money on gifts, I set a cap of $20-$30 per person and we have to get each other gifts within that price range. One year, I got him a bucket of car-cleaning tools and he got me a chef's knife and a garlic peeler. It doesn't sound very romantic but boy, did the two of us get a kick out of discovering what we got each other. The fun and laughter we got out of that was better than spending heaps of money on each other.
Don't be the one who hosts all the festive dinners
My girlfriends and I started a tradition where we have Christmas dinners at each other's homes. From Christmas eve to Boxing Day, each family will hold a Christmas dinner at respective homes and we'll have three days of glorious feasting. Instead of one person doing all the holiday meals, it's a good idea to have each person hosting the meal.
This way, each family doesn't have to spend a lot of money hosting dinners for all three days. Leftovers are minimal and the fridge won't be bursting with food that you may struggle to finish within the next few days.
If you're a blogger, limit your Christmas giveaways
If you're a blogger and would like to run Christmas giveaways on your blog to celebrate the holiday season with your readers, I recommend limiting the amount of gifts that you'll be out of pocket for. If you're collaborating with brands for sponsored gifts, request that they not only provide the gifts but to provide delivery of the prizes to the winners too. Last year, I spend a whopping $300 on postage alone to deliver prizes to giveaway winners. I didn't realise the extend of the postage damage when I ran the week of giveaways last year because a number of them were won by readers outside of Australia.
I'm not saying that you shouldn't run giveaways during the holiday season. By all means treat your readers! Heck even I'll be running one as well very soon because 'tis the season and all that. Just be aware of the number of prizes that you may have to send yourself especially if you make your giveaways available to international readers (most brands/PRs don't handle international postage as those are more expensive).
Do enjoy the holiday season but enjoy it responsibly. Just like drinking, spend wisely and responsibly. Like I said, going into credit card debt in the season of giving and then having to pay that debt off several months later after that is not the way. There are plenty of ways to give without spending a great deal of money.
Do you have any tips on how not to overspend during the holiday season? Do you set budgets for your Christmas giftings too?