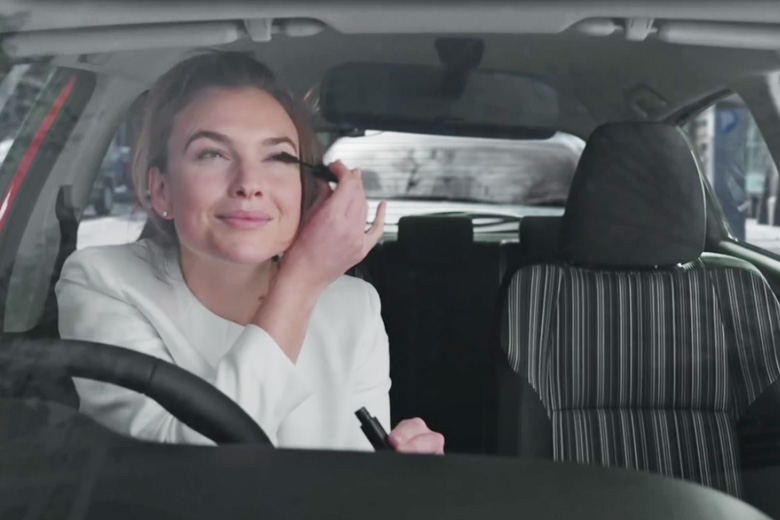 Not exactly public transport but you get the gist
Every now and then I'd read a tweet or two on Twitter and they would be on observations on women applying makeup on the train or bus. More often than not, those tweets would go along the lines of "euuwww why didn't she apply her makeup at home instead of doing it on the train/bus??"
This made me wonder … does it bother you when women apply makeup in public? Specifically on public transportation?
When I was working and living in Japan years ago, I saw plenty of Japanese women walk onto trains bare-faced and walk out with full-on makeup. It was absolutely fascinating to watch these office ladies perform their makeup routine on very shaky trains, especially when applying mascara. I'd seen my fair share of Japanese ladies work their magic on crowded trains and never once have I ever seen them make a mistake. You think applying liquid eyeliner is hard? These women applied them expertly when the trains were moving and shaking, and voila! Perfectly drawn-on winged liner.
I can't even apply lipstick or lipgloss when the car/train/bus is moving let alone eye makeup and these women do 'em so well. Over here, I've seen a lot of women apply makeup when I'm taking the train to the city and I still find it very interesting to watch. Whenever I see great makeup application at work, I often wanted to ask "how are you able to do that flawless winged liner when the train is shaking so much?!"
Perhaps it's not decorous for a woman to be applying makeup in public but it has never bothered me. In fact, I'll be that fascinated on-looker sitting across from you who are applying eye shadow on your eyes. Heck, I'll even be the one who asks you where that gorgeous eyeshadow came from. 😉
What about you? Does it bother you to watch people apply makeup in public? Do you apply makeup in public? Are you that annoying person who can expertly apply mascara without mistakes on a moving train?