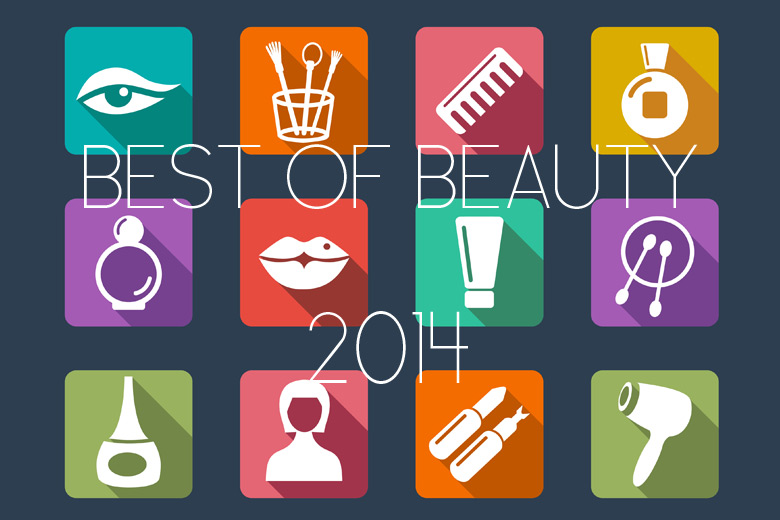 Just like that *snap*, we're almost reaching the end of 2014. I know people say this too damn often but for me, 2014 flew by so quickly. I've had a whole lot of highs and lows, and when it comes to beauty, I've tried a lot of new things and re-discovered old forgotten gems. I've also tried some pretty crappy products but let's end the it on a high note, eh? 🙂
I started doing monthly favourites again this year and what better time than now to wrap up the best of 2014?
SKINCARE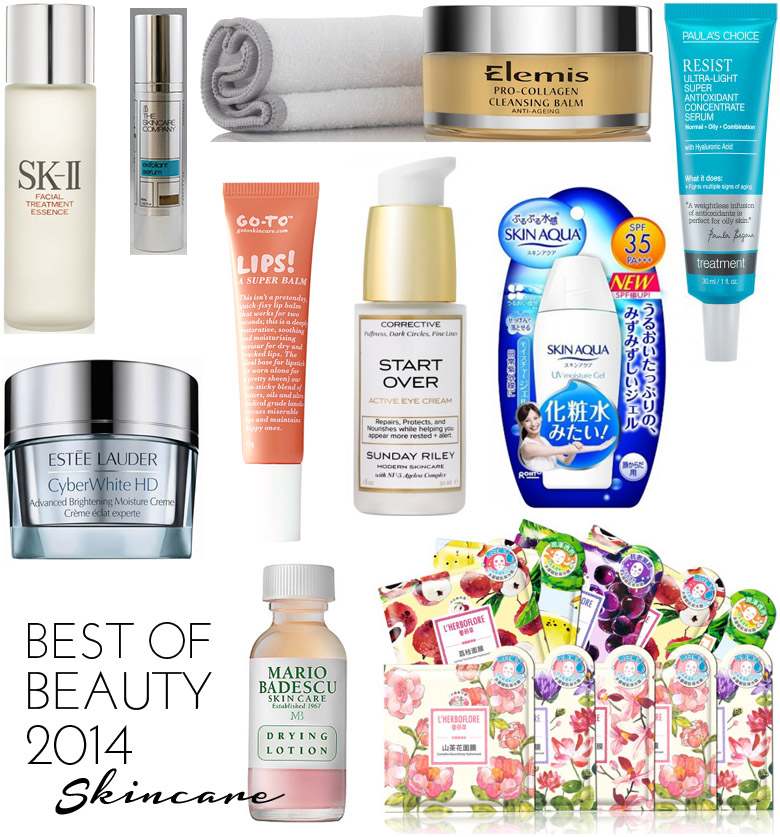 Cleanser: Elemis Pro-Collagen Cleansing Balm
I love how good this smells and works on my skin. 2014 is the year of cleansing balms for me and Elemis is a firm favourite of the lot. Clinique's Take The Day Off Cleansing Balm comes at number two.
Toner/Lotion: SKII Facial Treatment Essence
SKII's smelly water wins again this year. I tried a number of toners and lotions by Estee Lauder and Dior and the Facial Treatment Essence still wins in my books.
Serums: The Skincare Company Exfoliant Serum and Paula's Choice RESIST Ultra Light Super Antioxidant Concentrate Serum
I was racking my brains on choosing just one best serum of the year but I couldn't because I managed to try a number of good ones. This year I'm taking my hat off to The Skincare Company's Exfoliant Serum because of how effective it is in producing very quick results on my skin. Paula's Choice's RESIST Antioxidant Serum was a delightful discovery and I've since repurchased a second tube. If I can add one more to the list, then I'd say the La Roche-Posay's Redermic R is pretty damn good too for a retinol serum.
Eye Cream: Sunday Riley Start Over Active Eye Cream
I've only tried 2-3 eye creams this year and the one that stood out the most was the one from Sunday Riley. It works a treat in keeping the area well moisturised and de-puffed. I've been using it for over 2 months now and I barely used 10%. I have a feeling that by this time next year, I could still be using the same eye cream!
Moisturiser: Estee Lauder CyberWhite HD Advanced Brightening Moisture Creme
A lovely luxurious moisturiser that can be used during the day and night. What's not to love? I scraped every bit of cream from the jar and left nothing behind. That's my sign of a great product if I've to make sure not a single drop is wasted.
Mask: L'Herboflore facial sheet masks
I adore facial sheet masks by L'Herboflore and it stinks that it's not easily available for all because I'm sure you'll love them as much as I do.
Sunscreen: Skin Aqua UV Moisture Gel
I actually couldn't decide between this or the Biore UV Aqua Rich because both are equally very good. I decided to give the title to Skin Aqua this year because Biore won last year's title of best sunscreen. Yes, I know, my selection criteria is so professional. 😛
Pimple Treatment: Mario Badescu Drying Lotion
It's strange that I'd tout this as a favourite because from the day I bought and used this, I've tried my hardest to avoid it unless absolutely necessary because of how strong it smells. The problem is, in terms of efficacy, this wins hands down. I can use other pimple gels and while they'd work in several days, the Drying Lotion dries pimples up in just 1-2 days. I seem to be breaking out a lot more this year than the previous ones so I have to hand the title of this year's best pimple treatment to Mario Badescu's Drying Lotion because as much as I hate the smell, this works really well.
Lip balm: Go To Skincare Lips!
I love this lipbalm and use it under lip colour. Smells really good too!
MAKEUP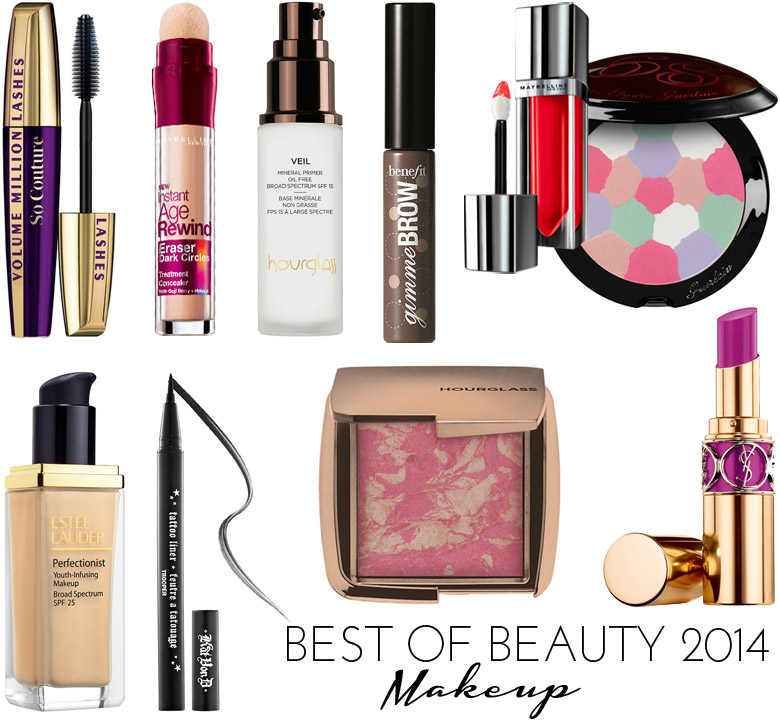 Foundation: Estee Lauder Perfectionist Youth-Infusing Makeup
I was actually deciding between the By Terry Cover Expert Perfecting Fluid Foundation Ultra Correcting Coverage and this foundation but in the end, the Perfectionist won only because I cannot stand By Terry's scent. Having said that, that foundation is beautiful and looks pretty damn good on my skin.
Primer: Hourglass Veil Mineral Primer
This wins again this year because even though I've tried a number of primers this year, I haven't been able to discover one that is better than the Hourglass Veil Mineral Primer. This makes my foundation last for ages and it makes it look good too.
Concealer: Maybelline Instant Age Rewind Eraser Dark Circles
This was a rediscovery this year. I discounted it when I first tried it in 2012 purely because of the unhygienic sponge tip. I decided to give it a second chance, purchased a fresh tube, chucked the sponge tip and voila! A great concealer at such a good price (I got mine at 50% off at Chemist Warehouse).
Highlighter: By Terry Touch Expert Advanced Ultra-Radiance Active Concealer
A close second would be Estee Lauder's Double Wear Brush-On Glow BB. Actually sometimes I can't even tell the difference between the two. Okay for this, it's both. Tied. Fair enough? 😛
Lipgloss: Maybelline Colour Sensational Colour Elixirs
Believe it or not, I left the "lips" categories to the very end because I really had no idea which lippie stood out the most for me this year. There were so many good ones! In the end, I decided on Maybelline's Colour Elixirs because they're really good lipglosses and not very expensive too.
Lipstick: YSL Rouge Volupte Shine in #19 Fuchsia in Rage
Of all the lipsticks I've tried this year, the YSL Rouge Volupte Shine in #19 was the best in my books. It's not the usual colour I'd wear on a daily basis but the #19 works perfectly. I can't wait to try other shades; YSL's Rouge Volupte Shine lipsticks are fab.
Face Powder: Guerlain Crazy Meteorites Radiance Powder
This was a gift from a dear friend who is also crazy about Guerlain's Meteorites and I absolutely love it. I've been meaning to get a compact version of the Meteorites for ages but had never gotten around to it because the compacts are so damn expensive. So thank you, dear friend.
Blush: Hourglass Ambient Lighting Blush in Luminous Flush
I had to go through all of my blushes for this one and it took me a while to decide which was the best for 2014. Even though I've tried many gorgeous blushes this year, I have to say that the Ambient Lighting Blush by Hourglass in Luminous Flush wins 'em all this year. It's so beautiful without even trying. If you do get an Ambient Lighting Blush, here's a tip: get the one with the best marbling of the blush-y bits. All Ambient Lighting Blushes are different; if you don't check before buying, you may end up with one that has more Ambient Lighting Powder but less blush, if you know what I mean.
Eyebrow Product: Benefit Gimme Brow
This has won two times in a row and it's no wonder why. It's by far the best tinted brow gel I've used. A close second would be Hourglass' Arch, which is a great eyebrow pencil. The Gimme Brow won on the sake of convenience.
Eyeshadow: LORAC Pro eyeshadow palette
This was tough for me to decide because I was actually going to say Maybelline's Colour Tattoo in Bad to the Bronze again. The LORAC Pro palette won on variety of shades and it's just as good and easy to use as Maybelline's Colour Tattoo.
Mascara: L'Oreal Volume Million Lashes So Couture
This is the best mascara I've tried all year. In fact, I can even say that it has trumped my favourite mascara of all, which is Australis' Voluptulash. This holds a curl (very important for our poker straight Asian lashes) and doesn't smudge after many, many hours of wear. The original Volume Million Lashes mascara is meh but the So Couture? So good!
Eyeliner: Kat Von D Tattoo Liner
What a discovery this liquid eyeliner was. A friend got this for me from Sephora US and the fine tip makes it very easy to use. I don't think I've made mistakes with this one and goodness knows I almost always make mistakes with liquid eyeliners. One thing I realised though: I must have eyeshadow primer on prior to applying this. With primer, this doesn't fade nor smudge after even 16 hours of wear. Once I left primer out and this faded by 80% after just 2 hours.
BODY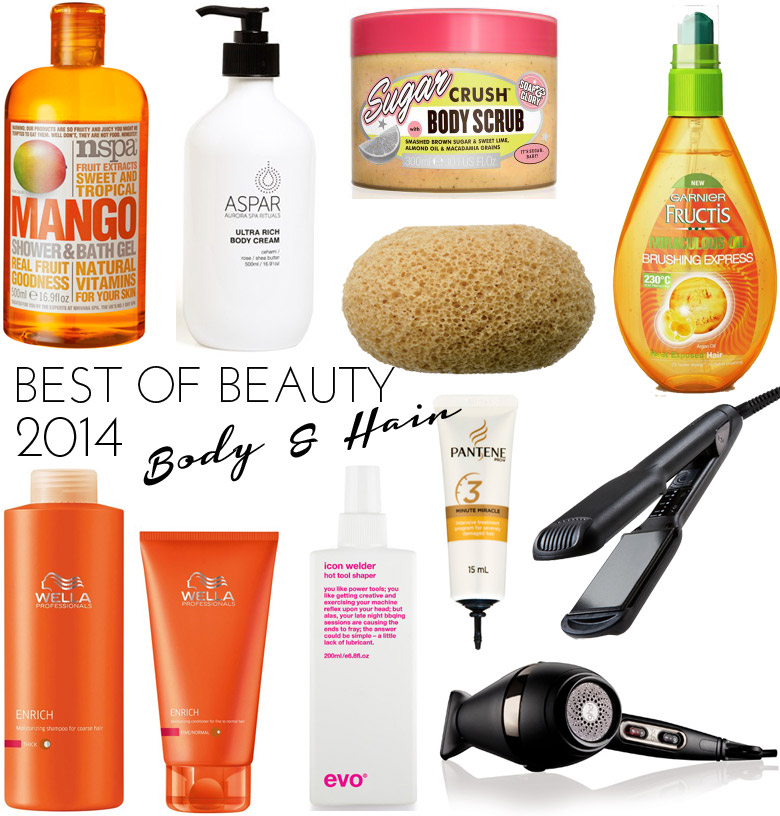 Body Wash: nSpa Mango Shower Gel
I raved so much about this when I discovered it at my local Coles supermarket. It's comparable to The Body Shop's mango shower gel at a much, much lower price. I have a feeling I'm the one who's depleting the stock at my local Coles. I'm currently on my 4th 500ml bottle now.
Body Scrub: Soap and Glory Sugar Crush
I've forgotten how delicious this body scrub was. I was doing a spot of spring-cleaning several months ago and stumbled upon this body scrub that I used about a quarter of. I decided to give it a go again and left it on my shower shelf and ahhh it's so good! Smells really delicious too.
Body Lotion: Aurora Spa Rituals Ultra Rich Body Cream
This is my luxe body cream and I love it. I save this mainly to use in the evenings after my shower. It sinks in very quickly. The texture and scent are oh so luxurious. If you love the scent of roses but not the strong kind, you will love this body lotion.
Body Puff: The Body Shop Large Drench Sponge
I've always used a mesh sponge in the shower but when I saw the Drench Sponge at The Body Shop, I thought I'd give it a go. Love it. I chucked my grotty mesh sponge immediately. This sponge hardens when it's dry and unused and softens back up when drenched in water.
HAIR
Shampoo and Conditioner: Wella Enrich for Dry Hair
I've been using Wella's Enrich hair products on and off the past couple of years and this year, I'm giving the title of best shampoo and conditioner to them. They make my hair feel good, look good and smell good. At the end of the day, that's what we want in our shampoos and conditioners, isn't it?
Hair Mask: Pantene 3 Minute Miracle Treatment
Still the best hair mask I've ever used. Whenever I see this sold at supermarkets for 50% off, I sweep the shelves. Most if not all will be in my shopping basket. Okay maybe I'll leave one. Don't be selfish and all that, y'know? 😛
Hair Serum: Garnier Fructis Miraculous Oil Brushing Express
I've been contemplating between this and my argan oil and in the end, this Garnier Fructis Miraculous Oil won. It smells deliciously of apples and it isn't heavy on my hair at all.
Hair Heat-Protecting Serum: EVO Icon Welder Hot Tool Shaper
This won last year and I'm giving the title to it again this year. This isn't weigh my hair down at all, smells good and gives good heat protection on my hair. Plus the description is funny and given that I will read the back of a cereal box when eating cereal, my heat-protecting serum is no different.
Hair Tools: ghd Air hairdryer and Cloud Nine Wide Iron
Best hair tools I've used, hands down. Spent a fortune on them but worth every cent. I even use the ghd Air to blow-dry my dog after I've given her a bath. Tsk tsk that lucky pooch. And if you have thick and coarse hair like mine, the Cloud Nine Wide Iron is a life/hair/time saver.
FRAGRANCE
Fragrances: Acqua di Parma Blu Mediterraneo Arancia di Capri and Jo Malone Wood Sage and Sea Salt
I've been wearing a lot more fragrances this year and the ones that stood out the most for me were these beautiful perfumes. They're both very different yet incredibly appealing.
I hope you've enjoyed my recap of my favourite beauty products and discoveries in 2014. There will be a lot in here that I'll still be using in 2015 so don't be surprised if you see some of them again then.
Here's to more fabulous discoveries in 2015!
What's your favourite beauty product of 2014? If you like, feel free to list everything down like I did here in the comments (I'd love to read them!) but if you don't have the time, I'd love to know one beauty product that really stood out for you this year.