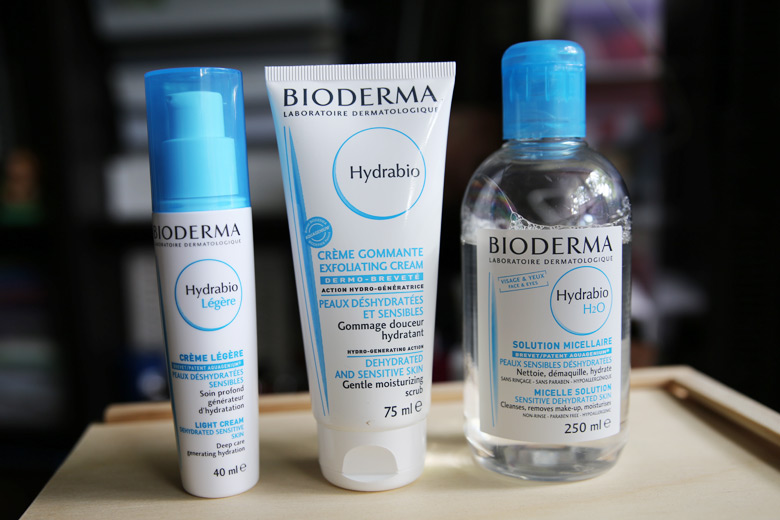 I first heard of the Hydrabio range last year when popular makeup artist Lisa Eldridge posted a picture of her Parisian pharmacy shopping haul on Instagram that contained a lot of Hydrabio products, especially the micellar water. As usual, it took a while for the range to finally be available in Australia and thankfully, it now is.
A couple of months ago, I was given the opportunity to try out skincare products from the Hydrabio range. I was pretty selective in the items I'd like to give a go and I decided on the Exfoliating Cream, the micellar water and the Light Cream. The Hydrabio range also contains an Intense Moisturising Serum, a Moisturising Toning Lotion and a rich moisturising cream.
This is a simple facial scrub with minute artificial beads that comes in a rich white cream. I use this as my physical exfoliant twice a week. It isn't harsh on my skin (gently does it, of course) and the result is smooth and soft skin. I didn't find this a spectacular product but it's not a bad one at all and it does what it's supposed to.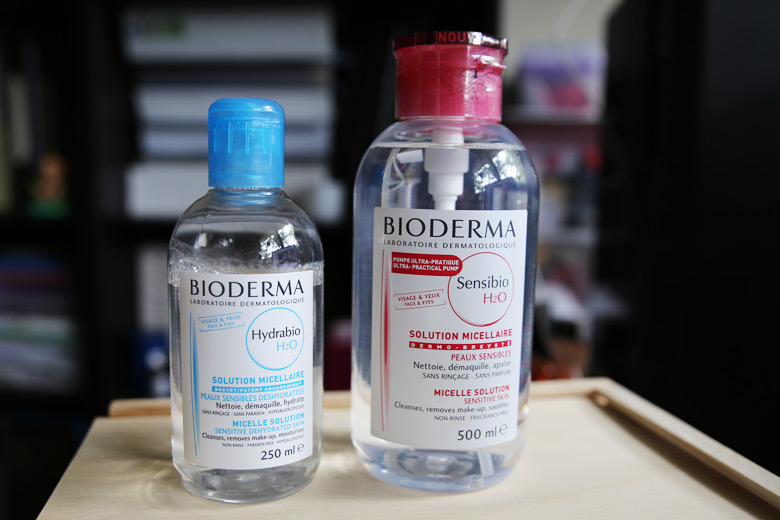 This is a micellar makeup removing water which is similar to the very popular Sensibio H2O. The major differences between the Hydrabio H2O and the Sensibio H2O is that the former contains glycerin, which makes up the "hydrating" feature of the Hydrabio H2O (glycerin is a humectant) and that the Hydrabio contains fragrance. To be honest, I didn't experience any differences between the two. My skin didn't feel any more moisturised than when using the Sensibio H2O. If you have dry skin and don't have any aversion towards fragranced skincare, perhaps you'd like to give the Hydrabio H2O a go instead of the Sensibio H2O. They're equally priced and you get that extra bit of moisturisation. Personally, I didn't see nor feel any differences between the two.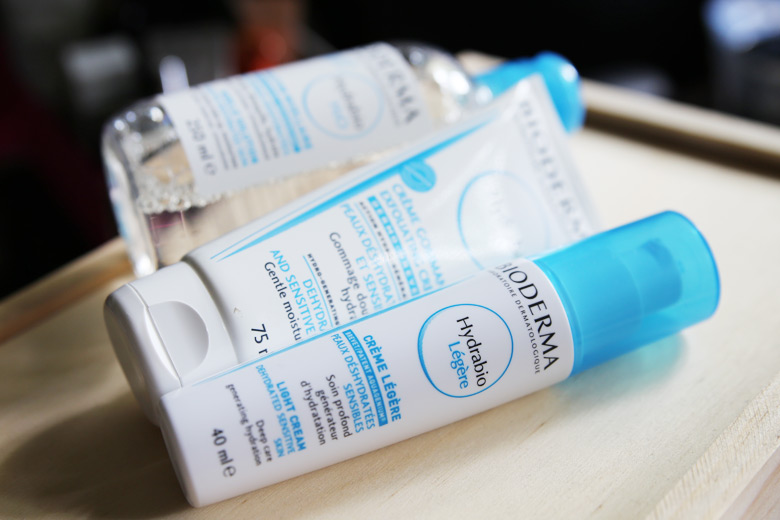 In my opinion, this is the star product out of the three that I've mentioned today. I really like this moisturiser. It also comes in a richer cream but I opted for the Light Cream instead as I have combination skin. I've been using this moisturiser for a couple of months before switching to trial another brand and range of skincare. Unfortunately, my skin didn't agree with that new range of skincare and it broke out in dry patches and pimples. In other words, my skin looked and felt pretty darn shitty. I switched back to the Light Cream and it calmed my angry skin right down. When I was using the moisturiser before switching skincare products, it hydrated and moisturised my skin well without leaving it greasy. It's non-comedogenic and also has a subtle yet lovely and fresh aquatic scent that I'm particularly drawn to.
Even though I didn't try the rest of the range out, I thought what I used were pretty good. Like I said, I didn't experience any differences between the Hydrabio and Sensibio H20s but if you do have dry skin, it might do your skin good to have that extra bit of hydration (again, if you're all right with fragranced skincare) with the Hydrabio version instead of the Sensibio. I find the scrub very similar to Uriage's Gommage Integral scrub, but less, er, blue.
My favourite of the lot is the light cream and I reckon combination to oily skin folks would like this too. It's a no-nonsense and decent moisturiser for the skin that I'm more than happy to use in summer.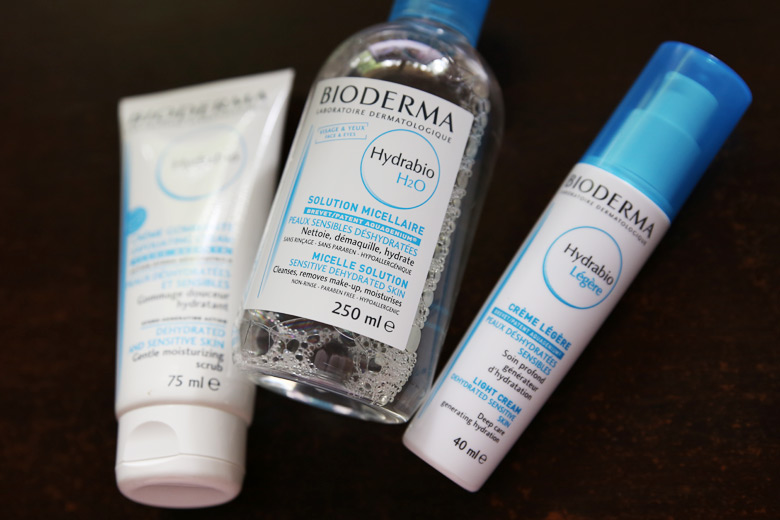 The only gripe I have with the range is the addition of fragrance. Just like the Sensibio, the Hydrabio is targeted towards dehydrated and sensitive skin. I would have liked it sans parfum but still maintain the addition of glycerin. I was told that the added fragrance to the range is a hypoallergenic one and that it would not irritate the skin. I don't have sensitive skin but if you do and your skin is particularly sensitive, I'd still take that claim with a pinch of salt and proceed with caution.
Bioderma products are available at selected pharmacies nationwide.
Have you tried any of the products in the Hydrabio range? Did they work for you? If you've tried both the Hydrabio and Sensibio H2Os, did you notice any difference between the two?
These products were provided for editorial consideration. This post contains several affiliate links. By purchasing something via these affiliate links (at no extra cost to you), you're supporting Beautyholics Anonymous, which I highly appreciate. For more information, please read our
disclosure policy
.