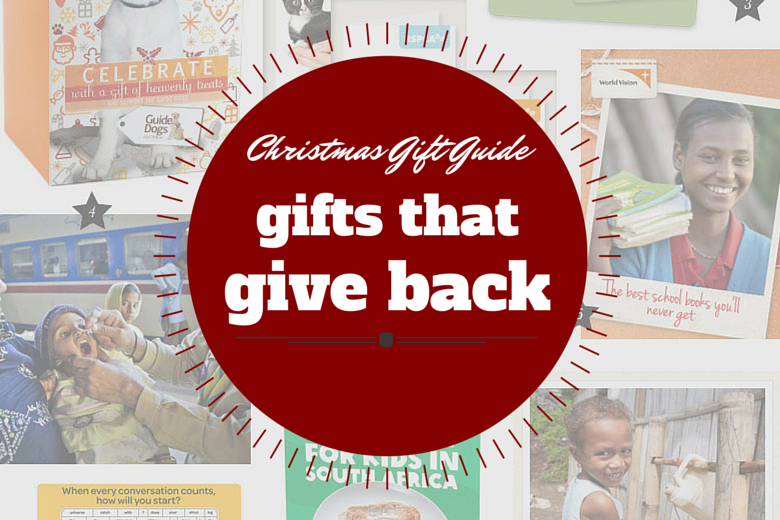 We've come to the last day of Tine's Christmas Gift Guide for 2014 and the lucky last category belongs to gifts that give back. We're incredibly blessed to have so much that we often take the essential needs of life for granted. These gifts help give something back to the community and to the people who need them more than we do.
I haven't divided them into price categories this time as a lot of the gifts range from affordable to the very expensive ones. However, I've added annotations to each gift, which would hopefully explain what the gifts are about.
Let's get started!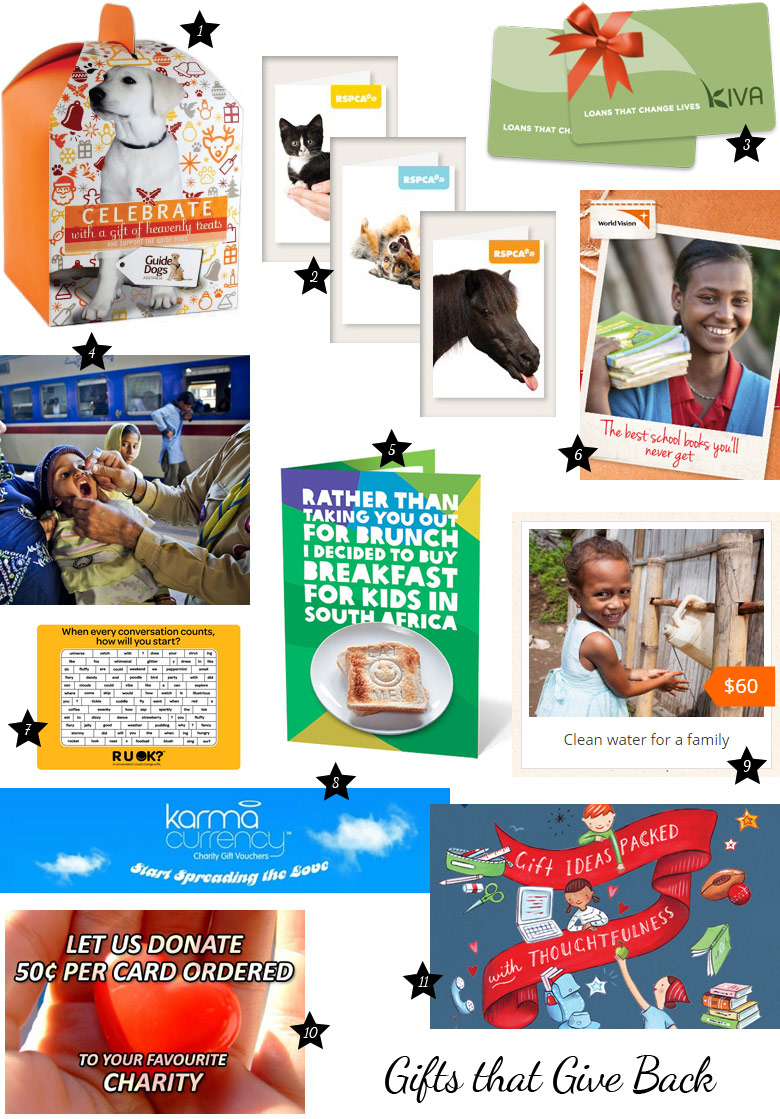 1. Guide Dogs Victoria's Christmas Hamper (AU$29.95)
Give your loyal pooch a bit of pampering this Christmas with this lovely hamper of shampoo, conditioner and treats. These products are also used by Guide Dogs Victoria for their gorgeous Labradors.
2. RSCPA Personalised Greeting Card and Donation (from AU$22.00)
As you know, I adopted Janey from the RSCPA so this is one that's close to my heart. If it wasn't for the kind donations to the centre and giving it the opportunity to expand, goodness knows where Janey would end up. These are lovely personalised cards that you can give to your loved ones while helping the RSPCA to continue their great work.
3. KIVA gift cards (from AU$25.00)
I'm a supporter of KIVA and has been since 2011. KIVA helps empower small business owners around the world (especially in third world and developing countries) with a $25 loan. Once the business is up and running, that loan will be repaid back to you. You can choose to keep the repayments or invest in another entrepreneur.
4. Gift of protection of 200 polio vaccines for children with UNICEF (AU$40.00)
Millions of children around the world remain unvaccinated against preventable diseases like polio. This gift helps provide lifetime protection so children can grow up free of polio.
5. Oxfam charity gifts (from AU$10.00)
Oxfam does great gifts all year round so for Christmas, why not pick something up from Oxfam that gives something back? These cute personalised charity cards are not only humourous but they help give transform lives of people living in poverty as well by providing education, clean water and other life-changing essentials that we take for granted.
6. School books for a child at World Vision (AU$25.00)
Help a child who's living in poverty out to change his/her life. Here I've chosen a gift of school books but you can choose things like school pencils, school lunches, toys, etc for them. Help give them the things we so often take for granted.
7. R U OK Magnetic Words (AUS5.00)
I love playing with magnetic words and this Magnetic Words set from R U OK can help start a much-needed conversation that can very well change a person's life.
8. Charity gift voucher from the Karma Currency Foundation (from AU$3.80)
Send a charity gift voucher to let family and friends choose from hundreds of charities and projects. There's so much you can help out with.
9. CARE Australia's life changing gifts (from AU$10.00)
Like Oxfam, CARE Australia also does gifts to help transform lives of people living in poverty. When you buy a CARE gift, you'll receive a gift card which you can give to someone special. In doing that, you'll help a community out of poverty.
10. Charity Christmas Cards (from 47 cents per card depending on the volume)
This is a great idea if you're looking to send Christmas cards this season. For each card purchased, there will be a donation to the charity of your choice. The donation is as large as 50 cents per card. Here are some of the supported charities: National Breast Cancer Foundation, Beyond Blue, Starlight Children's Foundation Australia, Royal Institute for Deaf and Blind Children (RIDBC), CanTeen, RSPCA and many more.
11. Help a child receive critical out-of-school learning support with The Smith Family (from AU$15.00)
The Joyspreader Charity Gifts from The Smith Family helps disadvantaged children by funding educational programs and personal support that help students make the most of their education and their future.
I hope you've enjoyed the week of Christmas gift ideas and that it has given you an idea what you might want to get for your loved ones this holiday season.
Regular posts will resume next week. Till then, have a lovely weekend, everyone!