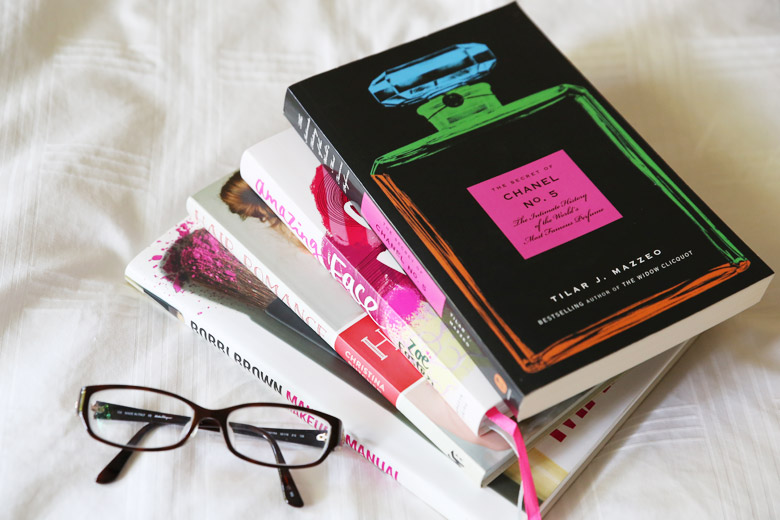 As a beauty blogger, it's no secret that I don't only love to blog about beauty, I also enjoy reading beauty blogs. Not only that, I also enjoy reading beauty books. It's easy to consume content online very quickly but for me, when it comes to books, I tend to take my time instead of just skimming the pages like I would on a website.
I've read a number of beauty books over the years and when I did a major book purge last year (I donated about 90% of my books to the local library), I kept some of my favourites, which include a few beauty books. I'd like to share some of the beauty books I enjoy reading and that I'd love to recommend to you. Most of the books below are physical books (paperback and hardback) and a couple of them are Kindle versions.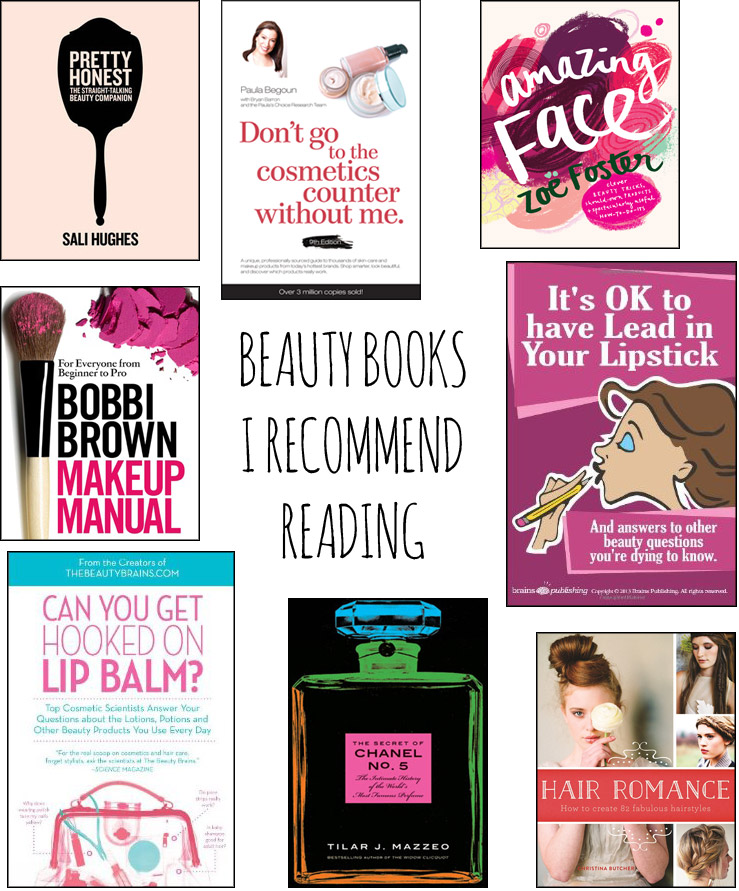 Pretty Honest by Sali Hughes
Sali Hughes is a journalist and broadcaster (TV and radio), and her book Pretty Honest gives her very funny yet honest views on the many aspects of beauty. She draws on her over 20 years of experience, wisdom and advice to show real women how to make the most out of makeup's physically and emotionally transformative powers. I have a Kindle version of this book but I'll be getting the hardback copy because this is one book worth having on my beauty bookshelf. It looks like Alexa Chung's IT but with a whole, whole lot more substance (apologies if you're a fan of the book IT but I really couldn't stand it at all).
It's Okay To Have Lead In Your Lipstick by Perry Romanowski and Randy Schueller (The Beauty Brains)
I'm a big fan of The Beauty Brains blog and enjoy their podcasts even more (they even gave a shoutout to Beautyholics Anonymous in one of their episodes!). I bought the Kindle version of the book and it's a very interesting read. The book is written in the tone of their blog posts and podcasts where a reader would pose a question and they'd answer it. These are often beauty-related questions and Perry and Randy would delve into the lists of ingredients and give them their cosmetic scientists' views. The only thing I don't like about the book is that it should have gone through thorough proof-reading because I caught a number of spelling and grammatical mistakes. However, the meat of the book remains a captivating read.
Don't Go To The Cosmetics Counter Without Me by Paula Begoun
I read and reviewed an older edition of this book years ago and to this day, I still find it a fascinating read. While I believe that she has double standards when it comes to products that aren't hers and has a conflict of interest in reviewing beauty products (she always favours her products to other brands'), I don't doubt the fact that she is knowledgable when it comes to beauty products and their ingredients. To be honest, I only enjoy the first quarter or so of the book because the rest of it are reviews on beauty products from different brands, which I'm not terribly keen on. I recommend reading that first quarter of the book and skip the rest of the product reviews (don't skip the brand introductions though; they're very informative).
The Secret of Chanel No 5 by Tilar J. Mazzeo
Want to know how one of the world's most famous perfume was created? You may think it's just a perfume but the story behind it is very interesting. Mazzeo talks about the life of Coco Chanel, the rose plantations and jasmine fields where the perfume begins and how it arguably became the most conneted consumer luxury product of the 20th and 21st century. Perfume aficionados and Chanel fans will love this one.
Can You Get Hooked On Lipbalm by the Creators of The Beauty Brains
This was the first book by The Beauty Brains and their second book is pretty much a continuation of this book with their answers to readers' questions. Perry (at the time this book was published, he was the public face of The Beauty Brains) and his group of cosmetic scientists wrote about how cosmetics products work, what advertising claims actually mean and how to make smarter buying decisions when it comes to beauty products. Just like their second book, I highly recommend this one too.
Bobbi Brown Makeup Manual by Bobbi Brown
As much as I enjoy makeup tutorials on beauty blogs, there's something about makeup manuals on a coffee table hardback that somewhat bring those tutorials to life. Bobbi Brown's Makeup Manual does not disappoint. She brings her many years of makeup artist experience into one complete volume, from skincare basics, choosing the right shades and colours of makeup, brushes and so much more. I was very lucky to receive a complimentary copy of this years ago and to date is still one of the best beauty books I own.
Amazing Face by Zoe Foster
If you've read Zoe Foster-Blake's (she wasn't married when her book was published) blog, her novels and/or articles in magazines and newspapers, you'll know that she's very witty and funny. Amazing Face is a top-to-toe beauty book where she talks about skincare, makeup, haircare, body care and so on. While I wouldn't agree 100% with some of her views, this book had me nodding at a lot of parts and laughing out loud at others because it's very personable. The book was written as though she's talking to you. I had the pleasure of meeting her at her book signing in 2011 and I'd recommend this book to any one who loves beauty, any time.
Hair Romance by Christina Butcher
If you love experimenting with hair styles, this book is for you. I'm terribly dull when it comes to hair styles and have zero skills when it comes to hair styling so I'll have to admit that I couldn't do most of the hair styles that were mentioned in the book (mainly because I now have short hair and again, zero hair skills. I really mean ZERO). But this doesn't undermine the book at all because it's very well written and illustrated. At the time of writing, the book has shot up to The New York Times' bestseller list and you know that's a very cool thing. And no, I'm not just including this because the author is my friend and an inspiration to me. 😉
If you have a Kindle, some of these books are available in the Kindle version on Amazon. What you can do is download a free sample of the book just to see if they hook you from the beginning (at least, that's how I usually decide on what books to buy).
I hope you've enjoyed this post. If you're into beauty blogs, I reckon you'll like these books too. If you'd also like me to share some of my recommendations for fashion/style books and what I have on my bookshelf, let me know in the comments and I'll whip something up for you.
Do you read beauty books too? Are there any that you'd recommend? I'm always looking for more to fill my shelf up!
This post contains several affiliate links. By purchasing something via these affiliate links (at no extra cost to you), you're supporting Beautyholics Anonymous, which I highly appreciate. For more information, please read our
disclosure policy
.