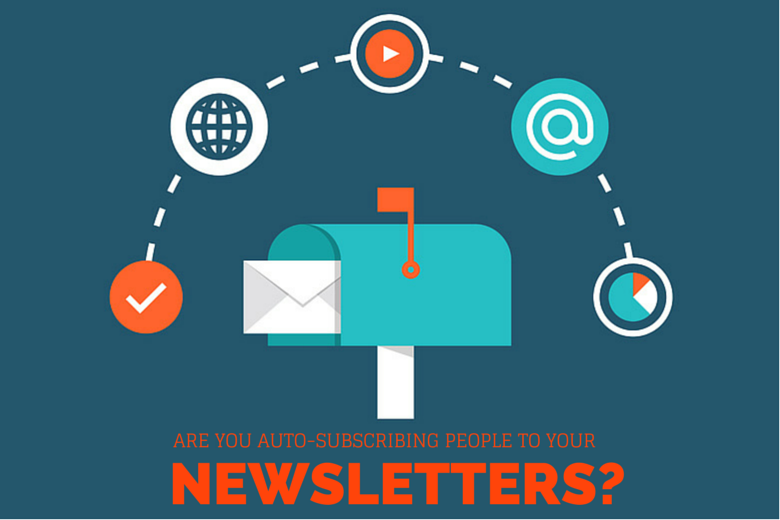 © bloomua
Have you noticed that you've been getting email newsletters from companies that you didn't even know existed? I'm not talking about random spam emails on SEO and web development but legit newsletters from the retail sector? They could be small companies (usually with something to sell) that you've never heard of and yet, you're somehow subscribed to their newsletter without you actually signing up.
Magic? Hardly. They were auto-subscribing people to their email list. In my books, it's spam. And it's certainly not cool.
This is one of the most annoying aspect that can come of email list-building. I've also noticed a rise in the number of bloggers doing that in the past year or so. I've never heard of these bloggers yet I found myself "subscribed" to their newletters. When I clicked on the Unsubscribe link, I noticed that, most of the time, the names of the email lists are "Beauty Bloggers" or "Bloggers". The bloggers in question have automatically added my email address to their mailing list without my permission. I certainly didn't opt for their newsletters. To risk sounding conceited, I've never even heard of them.
It's not difficult to get email addresses from PR databases or even Googling blogs to find email addresses to be inserted into mailing lists. If the newsletters are infrequent, chances are a lot of people wouldn't even notice that they have not signed up for the email list in the first place. While there will be people unsubscribing from the newsletter that they didn't sign up for as soon as they received the first one, most people would simply delete that email and move on. The problem is, they don't realise that their email address is still on that email list, that database.
Auto-subscribing people to email lists is considered as spam. Permission was not given to the brand/company/blog when they added email addresses to their database. In Australia, we have the Spam Act 2003 that prohibits the sending of unsolicited commercial electronic messages (known as spam) with an Australian link. A message has an Australian link if it originates or was commissioned in Australia, or originates overseas but was sent to an address accessed in Australia. If you're an Australian retailer, marketer or blogger, please be aware of this.
If you're a blogger and you're building your email list, please do not auto-subscribe your readers to your newsletter. Give your readers options and rewards for signing up (these are called "lead magnets") but let it be their choice to do so. Give them incentives for signing up if you like. Try offering a free download, free ebook, important information … anything! Most importantly, give your readers the choice to sign up for your newsletter. You may have very loyal readers whom you think would be all right for you to automatically add their email addresses to your mailing list but when you do it without their permission, you can lose those readers just like that. *snap*
Don't let this discourage you from builing your email list. Like I said before, give your readers a reason to want to subscribe to your newsletters. List-building takes time but it's worth it. Don't risk losing your readers (and who knows, potential customers for any products you may make and sell in future) by making this mistake.
What are your thoughts about auto-subscription of newsletters? Are you all right with it or does it annoy you?
Source: ACMA
Bloggie Wednesdays
is a series of articles just on blogging. They contain tips, how-tos, discussions about anything and everything you need to know about blogging and how we can be better bloggers. If you have any suggestions, tips and tricks about blogging you would like to share with us, or if you have any questions you would like me to address, please let us know in the comments.