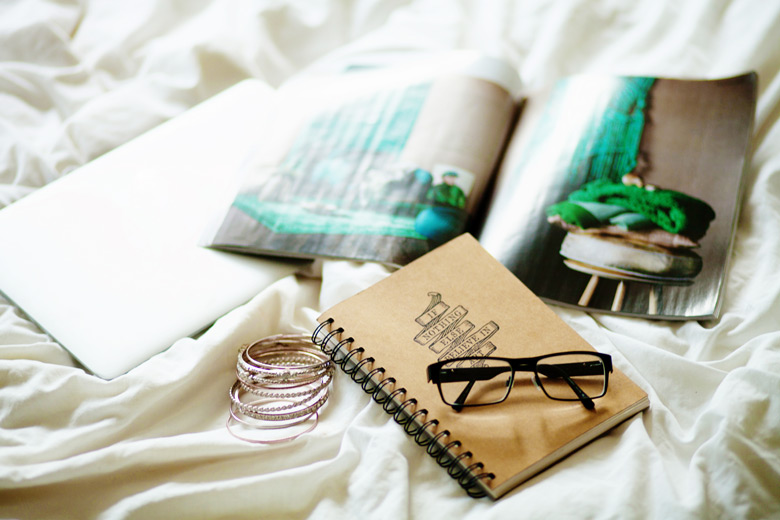 I've stopped making new year resolutions because I know me. They don't work. There I'll be, incredibly gung-ho about making new resolutions for the first month of the year and come February, most of them would be forgotten. The resolutions I made for 2014? I achieved none of them. None! It's terrible and there's no one to blame but myself for not following through with what I set out to do.
So this year, instead of making new year resolutions, I've set some goals for myself that I'm to achieve by the end of 2015. The reason I'm telling you this is that I have to be accountable to someone (goals are just empty promises if they're not held accountable) and that someone is you. Yep, that's right, I'm accountable to you. So if I haven't achieved what I'd set out to do, you are to hold me accountable. I'm going to have to figure something out as to what I have to do for you if I end up not meeting my goals but I'll come up with something. 🙂
All right, let's get started with the goals for 2015!
1. Launch 2 eBooks
I've been meaning to write at least one more book and I actually started writing it almost 2 years ago but as usual, the procrastinating bug bit me hard on the bottom and I ended up dilly-dallying and came up with half-written and rather half-arsed work. This year, I'm determined to finish up that eBook that I've been working on for so long. As for the second book, I've actually completed it and will be launching it very soon. I'm very excited about it!
2. Swim at least once a week
Believe it or not, I haven't swam since I came to Australia in February 2008. I used to swim a lot when I was living in Malaysia and I remembered really enjoying it. I'm no swimming athlete by any means; heck, the most I can do is a simple breaststroke but I've missed it tremendously. I hadn't had the chance to do proper swimming here because 1) Tim isn't fan and 2) I'd need to drive to the nearest indoor swimming pool. Now that I finally have a car, I'm going to haul myself to that swimming pool and get some swimming done. You know how I've made my mind up? I bought swimming goggles. There's no going back now. 😛
3. Learn something new every day
When I say learn something new, I don't mean reading a whole new book every single day or studying textbooks. It could be learning something new about myself, learning something new while I'm blogging (e.g. pick up a new skill in Photoshop), learn something new about the world and so on. I noticed that I've been terribly behind even on current affairs, which is shocking because I used to be quite up-to-date with them. This has to stop. My brain is surely capable of learning something new every day and that's what I'll be doing.
4. Letting go of the bulk of my beading supplies
Long-time readers will know that up to 2012, I ran a small online jewellery website where I sell my very own handmade jewellery and accessories called Sweet Contemplation Accessories. Due to personal reasons, I decided to close it down albeit with a heavy heart. As much as I'd love to keep all of my beading material, I just don't have the space for keeping things that I'm not using at all. If you're interested in beading and would like to get some good-quality beading supplies at very reasonable prices, please let me know. I'd love to give you dibs before Gumtree. 🙂
5. Declutter, declutter, declutter!
The reason I'm unable to stay focused a lot of the time is due to the clutter around me. I know, it's such first world problems to have, and I'm blessed to be able to have such a problem of simply having too much stuff. I'm a highly sentimental person; I keep every card, every letter, every note and even gifts I've been given and living in a small space, this poses a problem. As I'm not able to let go of items with sentimental value, this means that my own things will need to go, which really, I don't have a problem with. A couple of months ago, I donated 90% of my books to my local libary and saved a heck lot of space. I'll be donating more this year and selling some on eBay as well.
6. Start the 52 Week Money Challenge for 2015
This Sunday will mark the full year of my 2014's 52 Week Money Challenge. I'll do a separate blog post on it very soon but just quickly, it's basically a year-long challenge where you put aside the amount of money that is the number of the week (e.g. 20th week of the year, $20 is saved, 21st week will be $21 and so on). It's a fantastic challenge to do and I can't wait to start a fresh one in 2015.
7. Read 50 books
In early 2014, I set myself a small goal of reading 20 books a year. I used to read a whole lot but I've slowed way down ever since I came to Australia. Books are a lot more expensive here compared to Malaysia, which made it difficult for me to spend on them. My reading improved when I got my Kindle as I started to read more (books on Kindle are a lot more affordable). I found myself hitting my 20th book before mid 2014 and upped my goal to 30 books. By the 3rd quarter of 2014, I hit my 40th book and thought "okay, let's see if we can hit 50 books by the end of 2014". On 31 December, I finished my 58th book. In 2015, I'd like to continue with the 50-book challenge. Who knows, I may be able to surpass that number!
8. Invest in myself
I debated going to the Problogger Event last year for months. First of all, it was a lot of money to spend on two days (if I hadn't researched my flights and accommodation further, I would have spent well over $1000 to attend the conference) and secondly, I was going there on my own. I'm so glad I decided to bite the bullet, invest in myself and went for it because it was possibly the best thing I've done for myself in terms of blogging. Needless to say, unless circumstances change, I shall be attending 2015's and I also intend to take up several classes in photography and possibly writing to improve myself. If I don't invest in myself, no one will. I highly recommend you to invest in yourself too.
I've got a few more smaller, quicker-to-achieve goals but I'll leave it here for now. The first one is definitely my priority for the year (enough of that damn procrastination!) and I plan to achieve the rest too. There are also a few changes I'll be making on Beautyholics Anonymous but I'll save that post for another day. So, now that you know what my goals are, you have my permission to kick me in the butt if I don't meet them!
What are your goals for 2015? What is one thing that you hope to achieve this year? Let us know in the comments and we'll hold each other accountable!