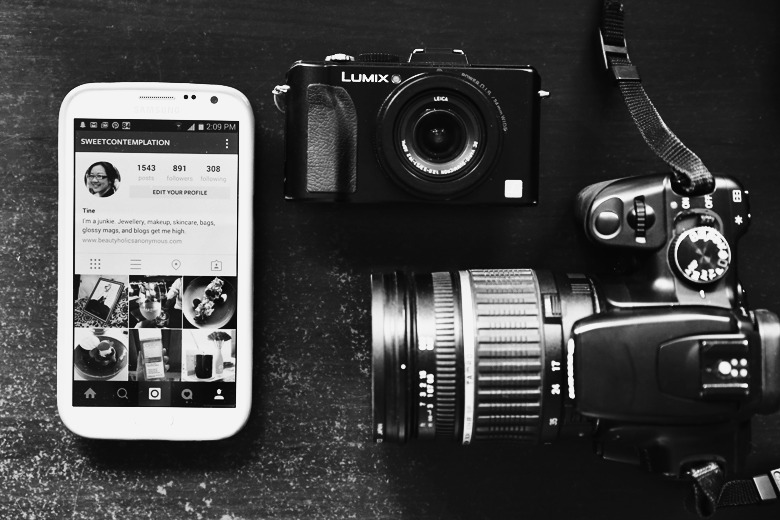 If you're a regular on Instagram, you'd have noticed an increase in high quality images in the past year or so. Images so crisp with immense depth of field that isn't possible to be achieved with a mobile phone's camera, even with the use of photography apps. Images that make you wonder if those are even taken with a mobile phone or an actual standalone camera.
Well, I'm 99% sure those sort of images were taken with a DSLR or a fancy point-and-shoot. For Instagram.
Instagram is a highly visual social media platform. More often than not, you'll consume the images a lot more than the accompanying caption. I've been observing bloggers with massive Instagram followers and the photos they post on Instagram are often really good.
Let's take a few Australian fashion bloggers as an example. If you look at the Instagram accounts of Nicole Warne (Gary Pepper Girl), Margaret Zhang and, closer to home, Connie Cao (K is for Kani), you'll notice that their photographs set incredibly high standards for other bloggers to follow. However, if you look closely, you'll notice that a high percentage of their photographs that are posted on Instagram were taken with a standalone camera, not a mobile phone. I cannot be 100% sure of course given than I don't know them personally but from close observations, that's my conclusion.
Are they wrong for doing so? Ah … this sparks the debate that has been going on ever since Instagram became very popular: should we only use mobile phones for Instagram? Are those who use DSLRs to capture great shots and post them on Instagram cheating?
When I started using Instagram regularly, I believed that Instagram should only be about photos that are captured with our phone. After all, that's what Instagram was about: to capture moments at an instant with our phones and post them on the social media platform. As the years went on, that platform began to change. It's no longer about capturing personal moments. It became a platform for brand creation and promotion. It even became a portfolio for many entrepreneurs and business owners.
Even though a lot of smart phones can capture images as beautifully as a lot of cameras, there are styles of photography phones cannot emulate even with the help of apps. Hence we turn to our standalone cameras instead to create those styles of photography and use those images for Instagram.
Instagram has become such a highly competitive platform for content creators. In order to capture your audience quickly, the photos must be good. It's not impossible, but it would be tough for a blogger to grow her Instagram following if her images are not up to par. Heck, we're even talking about styling and composition for Instagramming products let alone using a fancypants camera! A very new blogger can grow her Instagram following very quickly if her images are beautifully styled, bright and crisp. I've been observing several new bloggers who started from scratch yet grew their Instagram following to significant numbers within less than a year. And yes, I'm talking about the numbers after the great Instagram culling of spam accounts.
Let's go back to the question: are bloggers cheating for using fancypants cameras to capture images for Instagram? Back in the day, I would have said yes. Today, I'd say no. On such a visual platform, you'd want great images to capture and build your audience and if a separate camera (DSLR or not) can create those images that your phone cannot, then so be it. If your phone's camera can capture the style of photos you want beautifully, then by all means use your phone because really, it's so much easier to post those photos on Instagram than it is to use a camera.
I highly admire Chantelle from Fat Mum Slim (of the Photo A Day challenge and Little Moments app fame) because she grew her Instagram following from photos that were captured with her phone. Most of her photos are not DSLR-quality but her style of capturing moments, not just mere images, is amazing. To me, that's what Instagram is about. Unfortunately, I'm not creative in that department and it's still a long, learning process.
Do I cheat in my Instagram photos? Of course I do. I'd be lying if I said I didn't because you can see the difference in my photos right away. My phone alone cannot capture a lot of the images I post so I use my DSLR instead. Do I feel bad about it? No, not really. I want to produce the best content that I can and if some of them need help in the quality department and I have the equipment to do it, I wouldn't waste my time trying to reproduce that sort of quality with my phone, which I know will not be able to give me the results I want. However, if you're able to capture great moments with your phone or you're able to produce great images with it, use the phone!
At the end of the day, that's what Instagram has become, hasn't it? A platform for viewing pretty photos? If you don't know the person behind an Instagram account, would you double tap on a photo that is really beautiful? Would you still double tap if the photo quality was poor?
This is a great debate and if you use Instagram, I'd love to hear your opinion on this. What do you think? Is Instagram for mobile phones only? Is it cheating if one uses a camera that doesn't come with the phone for his/her Instagram photos? Do you use a mixture of phone and camera for your photos on Instagram?
Bloggie Wednesdays
is a series of articles just on blogging. They contain tips, how-tos, discussions about anything and everything you need to know about blogging and how we can be better bloggers. If you have any suggestions, tips and tricks about blogging you would like to share with us, or if you have any questions you would like me to address, please let us know in the comments.