Note from Tine: When it came to deciding on who to ask to do a Bloggie Wednesday guest post, I immediately thought of Yishan. Even though she no longer blogs at Beauty Swatch, which was a successful beauty blog, she has a great amount of knowledge when it comes to blogging. She's now blogging about photography and is a photographer herself.
Apologies for the rather abundant photos of myself on this post. I commissioned Yishan to do my headshots for me and as she came up with the topic of her top tips for great headshots for your blog, she used my photos as her examples. I'm honoured and quite red in the face at the same time. 🙂
Headshots aren't just useful for your blog; they're very useful for your LinkedIn profile as well. Yishan did a great job with my headshots and I can't recommend her enough.
Enjoy the post!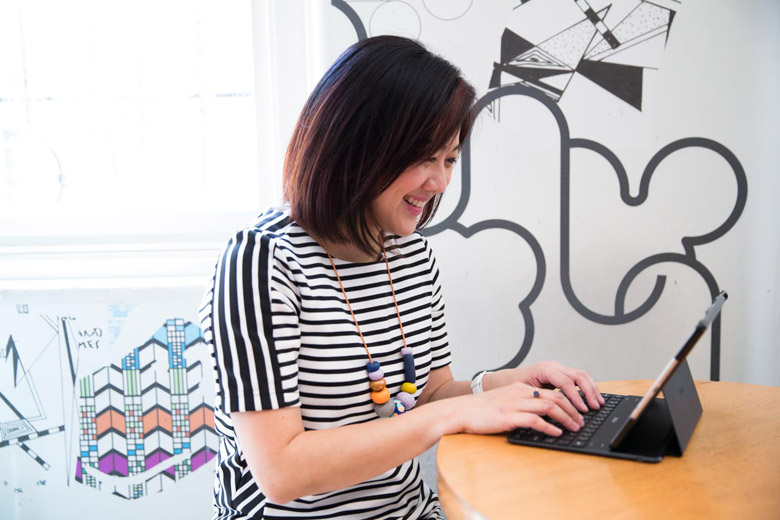 Hands up if you've avoided booking a photographer for your profile headshot, and either tried to do it yourself or get a friend/partner/relative to help?
Your current headshot for your blog probably helps your readers, PR companies and future employers put a face to your name, but the question is how well does it reflect your personal brand?
If the main reasons that are holding you back from getting a headshot done professionally done is the anxiety about posing or looking good in front of the camera, get a cup of tea ready before reading on, for I'm about to share in depth all the tips that I provide to my clients on everything from posing, beauty and outfit ideas for a successful headshot.
When Tine reached out to me, she was after a professional photo that could be versatile for different purposes, be it Beautyholics Anonymous or other freelance opportunities. Her brief was that the look had to be "quintessentially Melbourne", stylish, relaxed with natural lighting and a look that was versatile to suit various freelance opportunities, as opposed to a corporate look.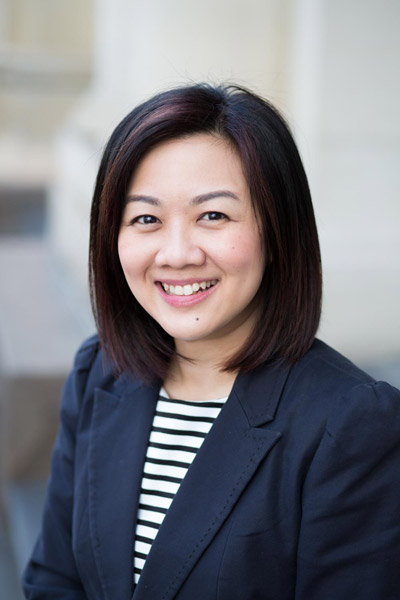 What to wear
In the lead up to the day, we discussed at great length on Whatsapp on what to wear, jewellery etc. Sensing that Tine had multiple outfits in mind, I suggested that she bring a couple of jackets and accessories, and it took a bit of trial and error and taking a sneak peek at the results on camera to decide on a combination that worked. In hindsight, Tine wished she had brought an extra necklace to mix things up, and she ended up borrowing my Emily Green beaded necklace in the café shot above, haha!
Choose clothing with solid classic colour. Avoid stark white unless it's under a jacket.
Choose a well-tailored outfit with sleeves at least to the elbow.
Avoid prints & patterns that can become dated quickly. Thin stripes are okay.
Keep jewellery simple unless it's part of your signature look. Earrings shouldn't dangle more than an inch from your earlobe.
For women, no cleavage, scarves or turtlenecks. The latter tends to make people look like they have no neck in the photos.
For men, choose a non-white shirt if possible. Shirts look best when layered with a jacket or sweater to layer the look.
If you still can't decide to wear, discuss with your photographer on whether it's possible to bring different accessories or outfits depending on the location of the photo shoot. Shooting indoors in one location allows time for outfit changes (eg. a previous client tried on 4 dresses since the shoot was in her house!), whereas it may not be practical to switch anything more than jackets and accessories for outdoor shoots.
Beauty tips
Avoid colouring your hair right before the shoot, as freshly coloured hair can look unnatural on camera.
Keep your makeup to a level that brings out your features in a subtle way without making it look like you're wearing lots of makeup.
Avoid caking on heavy foundation. Skin blemishes, pimples and some wrinkles can be retouched.
Drink plenty of water for a few days and make sure you get enough sleep to make your skin hydrated and look refreshed.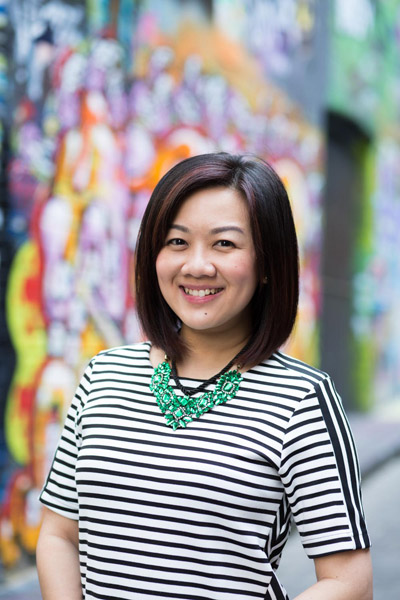 Posing Tips
A good profile head shot depicts a relaxed, confident you that looks natural, and communicates something about your style, personality and personal brand.
Smiling constantly can feel awkward and tiring after a while, and there's nothing worse than a smile that looks propped up. Take a break between shots to relax your cheek muscles & loosen up your shoulders.
With Tine's photo shoot, I found that once she was warmed up, her relaxed and natural smile was what I call "the money shot" that made her look approachable, and like someone you'd trust. We nicknamed it her "trust me smile", and once Tine was familiar with this pose, she switched it on thereafter and the rest of the photo shoot was a breeze.
When it comes to arm posing, placing your arms by your side looks relaxed but can add bulk to your frame if you're self-conscious about it. It wasn't really an issue for Tine when she wore her navy blazer, but the stripes on her sleeves made her look wider than necessary. My tip in this situation is to create a slight distance between your arms and torso by bending them slightly, and relax your hands near your abdomen. The key word here is "bend slightly"!! We don't want any chicken arm posing here, as this is meant to be a headshot, not a red carpet or Outfit of The Day shot.
More posing tips
Engage with the camera and bring energy into your eyes.
Relax your face and smile genuinely, otherwise you might end up with a smile that either looks forced or surprised.
Avoid standing straight at the camera.
If you prefer a side angle, keep it subtle and no more than 45 degrees.
Push your forehead & chin forward slightly (not up or down). This tightens the skin on your neck & creates a defining shadow under your chin that gives the illusion of a slimmer face.
Making the most of your photo shoot
As a former blogger at Beauty Swatch, I can relate to a blogger's needs for photography that's unique to your brand and be used for various purposes for your blog. In addition to the headshots, I recommended to Tine that we squeeze in 3 extra shots that she could use in future for her blogging adventures.
(1) A landscape profile shot with a clean background that Tine can overlay with text if needed.
(2) A "blogging in action" in a cafe, because we all know how Tine writes her best blog posts at her local café. The soy latte was actually mine since we thought it looked better than her cappuccino, haha…
(3) A shot of Tine's hands typing on her iPad with everyone's favourite series "Bloggie Wednesdays" in focus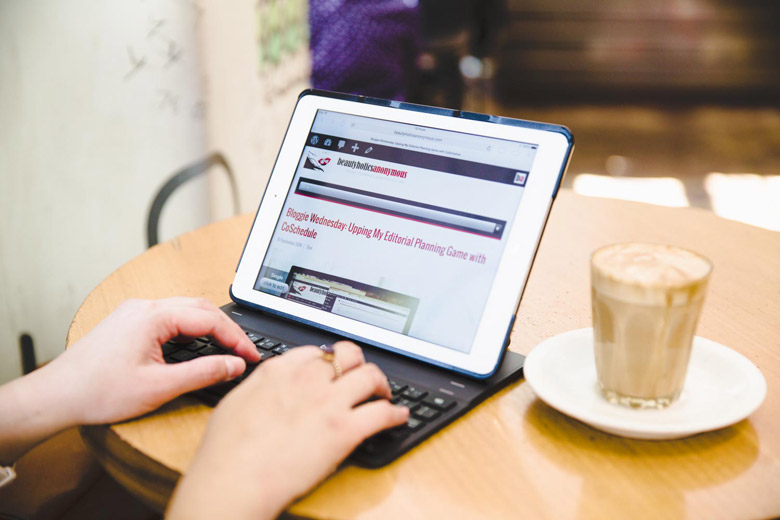 If one of your 2015 New Year Resolutions involves taking your blog to the next level, consider refreshing both your bio and headshot. Because you just never know when you might be called upon for an interview or be invited to collaborate with a brand! Preparing ahead with a great headshot avoids last minute selfies against the wall of your living room.
If you live in Melbourne and like the style of headshot photography you see in this post, check out my portfolio at yishanchan.com.au, or tweet me at @yishanchan (which is also my Instagram).

Yishan is formerly better known as the editor of
Beauty Swatch
, dedicated to helping women find their way through the lipstick jungle. After 5 years of blogging, Yishan has since switched swatching for f-stops and apertures, specialising in portraits and event photography. To view her portfolio visit
http://yishanchan.com.au