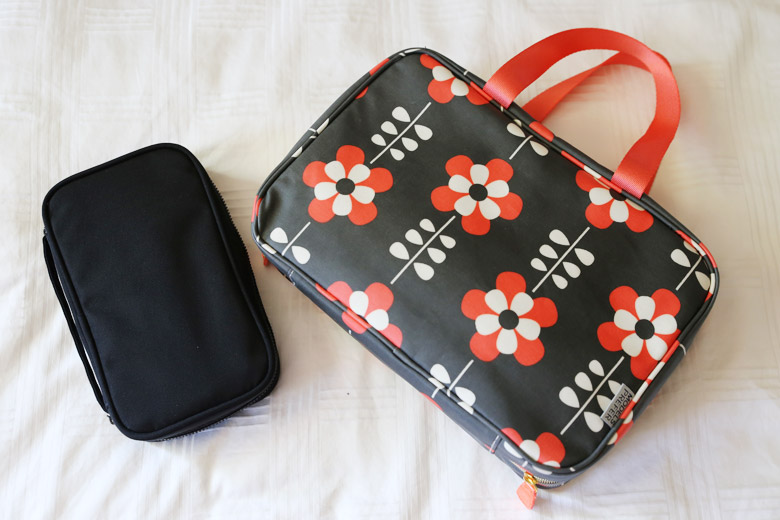 Oh gee. How very eloquent. Beauty thingies indeed, tsk tsk. By beauty thingies, I mean toiletries and makeup. 😛
It has taken me years to sort my travel toiletries out because even though I no longer bring full-sized products with me unless I absolutely have to, the amount of products I end up with still make it seem as though I've overpacked. Yes, I really do use that much products. Yikes!
Having said that, I've learned the incredible usefulness of decanting and even though travel-sized products are more expensive per ml, I still love the smaller packaging and often get sucked in to getting them as I wait in line to pay for my items (clever, sneaky marketing ploy for beauty stores to line the waiting area up with cute travel-sized products. I'm looking at you, Sephora). For me to get all of my skincare, body care and haircare products in one toiletries bag instead of 3 is a vast improvement compared to years ago when I'd literally pack 3 toiletries bag for one short trip. Ugh.
While the whole travel toiletries thing is still a bit of a work-in-progress for me, I'm happy to say I've narrowed my travel makeup to a T. I don't use a lot of makeup when I'm travelling and bring only what I need.
Anyway, after that long, rambling introduction, I thought I'd share with you how I pack my toiletries and makeup for travelling. In other words, my beauty thingies. By the way, these go in my checked-in luggage. I have a separate one for carry-on if I'm on a long-haul flight.
TOILETRIES
Let's talk about toiletries first. This is where your hair, body and skincare items come in. Now I keep plenty of sample sachets of beauty products that were given to me by sales assistants at beauty counters and online stores. I also keep a lot of deluxe samples that are perfect for travelling. However, there are a few things where I draw the line on using beauty samples that I've not used before. When it comes to my skincare, I don't use skincare samples that I've not tried before. This is when I'll decant the products in my current skincare routine to small pots and bottles.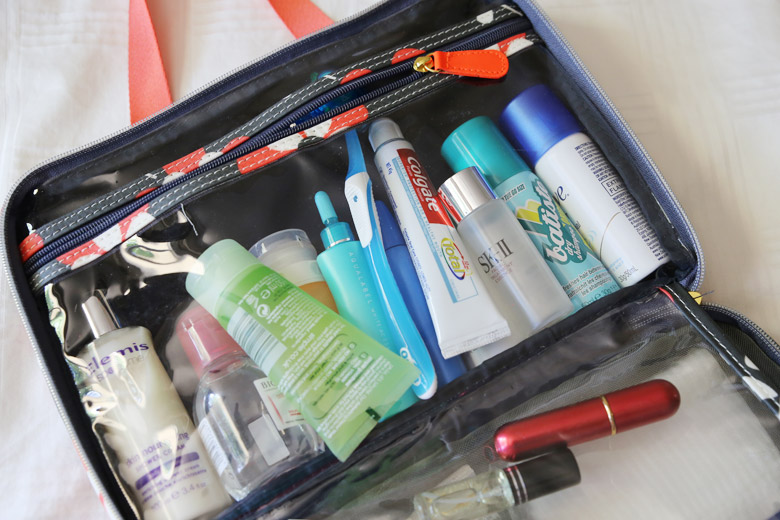 This amount of toiletries still needs to go down!
I've used skincare sample sachets for many of my travels and found out that while they're fantastic to bring along, they don't do much for my skin (by the way, I'm talking about the samples of products I've never tried before). In fact, some of the moisturisers even broke me out. As I get older, my skin doesn't tolerate travelling very well and I tend to get a lot of dry patches on the lower half of my face (something I didn't experience when I was in my 20s). As much as I'd love to bring along sample sachets of products I've actually used, it's often not possible so the next best thing would be to decant the products I'm currently using into travel-sized jars and bottles and bring those with me instead. This way, I can at least be sure that even with the stress of flying and different weather, my skin wouldn't act up so much.
There are plenty of stores where you can buy small jars and bottles for decanting. I'm partial to the ones from MUJI and DAISO. If I'm only going to be away from home for less than a week, I decant eye cream and serum into old contact lens cases (sterilised first, of course) as they take up so little room.
As for body wash, I'd bring a small bottle with me (usually 50ml or less) and a small body sponge. I'm a bit of a body wash snob as I don't like using the ones provided by hotels unless they're of known brands. You'd be surprised how far that 50ml can stretch when used with a body sponge. You use far less product and you get to use the body wash you like. Usually by the time the holiday is over, I'd chuck the body sponge and won't bring it back with me. If I'm going to be away for over a week, I won't bother bringing body wash with me and would just buy a bottle of shower gel at my destination. I'd bring sample sachets of body lotion with me and use those instead of a jar of body butter.
When it comes to hair care, it's sample sachets for me all the way. I'm not a fan of lugging shampoos and conditioners with me so I'd save as many sample sachets of those as possible from magazines and gifts with purchase. As long as the samples come from reputable brands, my hair doesn't usually go nuts with different types of shampoos and conditioners. Having said that, I'll bring a small tube of the current leave-in hair conditioner/serum I'm using to make sure my hair doesn't get too crazy from travelling.
MAKEUP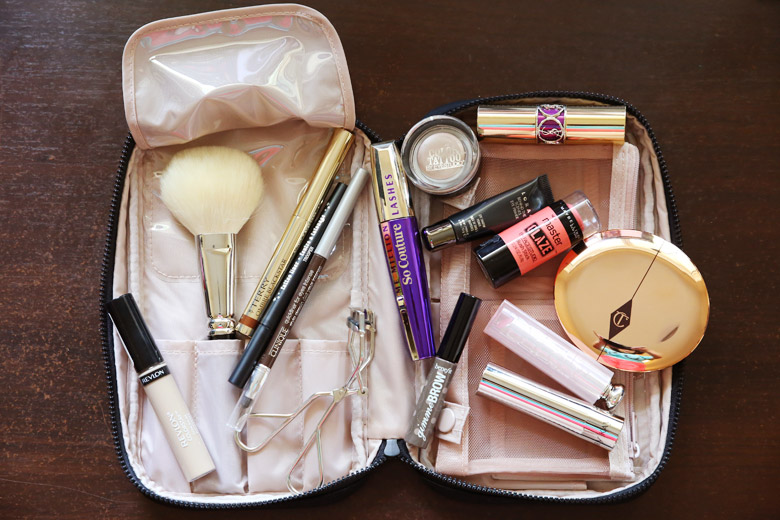 Right, I've talked a lot about toiletries; let's head on to makeup. I don't know about you but it baffles me greatly how much makeup people bring with them when travelling. Unless the purpose of my travelling is to attend a wedding, a conference or any sort of event that requires me to look my Sunday best, I usually bring a minimal amount of makeup with me. My eyeshadow palettes stay behind. I have pared down a makeup routine that's quick and easy without my needing a lot of products.
Here's a typical example of the makeup I'd bring with me when I'm travelling:
Base makeup: Liquid foundation decanted into contact lens cases. Often times I'd battle between bringing foundation A and foundation B (y'know, for the times when you'll need different finishes and/or coverage). Instead of bringing TWO bottles of foundation, I'd decant what I need into a contact lens case. Voila! Dilemma solved. I'd also bring a pressed translucent powder to set my makeup. A small tube of concealer.
Eyes: Tinted eyebrow gel or an eyebrow pencil. I don't bother with eyebrow kits. An eyeshadow primer, because I cannot wear eyeshadow without a primer. One bronze cream eyeshadow (I love Maybelline's Colour Tattoo in Bad to the Bronze). Two eyeliner pencils, black and brown (this must be smudgeable; brown is for days when I just need a quick eye-lining for the day and black for the evenings when I'd like a more intense smoky eye). One liquid eyeliner. One mascara. All these can be done with my fingers, which means I don't need to bring eyeshadow brushes with me.
Cheeks: One cream blush in a jar or a stick. This way, I don't need to bring a blush brush. I usually bring a universal colour like a peachy-pink so that I can wear cool and warm toned lip colour with it. I don't typically use bronzers so I won't bring that with me.
Lips: One lipbalm. One cool-toned lipstick. One warm-tone lipstick. Maybe one bright lipstick but usually I wouldn't bother unless I know I'll need to amp my makeup for special occasions.
Tools: One fluffy face brush for the pressed powder. Eyelash curler. Done.
You'd be surprised at how polished your makeup can be with just this small amount of makeup. I don't need to bring multiple foundations, eyeshadow palettes, 10 lipsticks, 3 blushes and a whole set of makeup brushes when I'm travelling. Plus, if I'm going to be doing a spot of shopping during my holiday and I know I'd want to hit up, say, Sephora, then I'll be bringing even less makeup with me because I know I'll be buying more at my destination.
Even with my cutting down of toiletries and makeup, my beauty bags can still be pretty heavy so imagine if I'm bringing full-sized products, even if it's just a few. I have to make sure that I'm only bringing the essentials with me as I can buy the rest when I'm at my destination. When I'm done with the products, I leave them behind unless I have at least 50% of the product left.
I hope this gives you an insight into how I pack my beauty essentials for travelling and that it gave you some tips on how to pack for your future travels. It's not ideal, of course, but it suits me very well.
Do you have any tips on packing your beauty essentials? Do share with us in the comments. I'd love to learn a new trick or two!