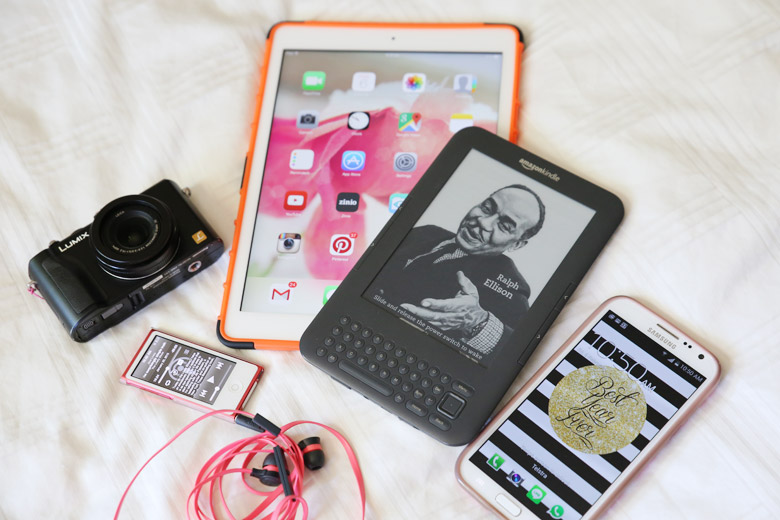 When it comes to packing, the category that gives me a headache is electronics. Back in the day, when we weren't using mobile phones, tablets, digital cameras, laptops, etc but just books and analog cameras, the most we had to worry about were AA batteries and travel adaptors. Now it's cables, cables and more cables!
I'm an electronics junkie when it comes to travelling. I'm that cable chick. Even though I draw the line on bringing my laptop with me (I don't have one of 'em fancy and light Macbook Airs), I bring my iPad, sometimes a Kindle, phone, iPod, camera and Fitbit with me when I travel. This is on top of the beauty appliances I sometimes bring with me e.g. my flat iron (almost a non-negotiable. If you really know my hair, you'll know that my flat iron is a must) and sometimes a hairdryer (if I'm not staying at a hotel or self-serviced apartment).
After a number of holidays overseas and interstate, I've finally learned how to pack my electronics properly without worrying about tangling cables and bringing one too many travel adaptors. If you're like me and you gotta have your electronics with you when you travel, here are some tips for you that I've learned over the years.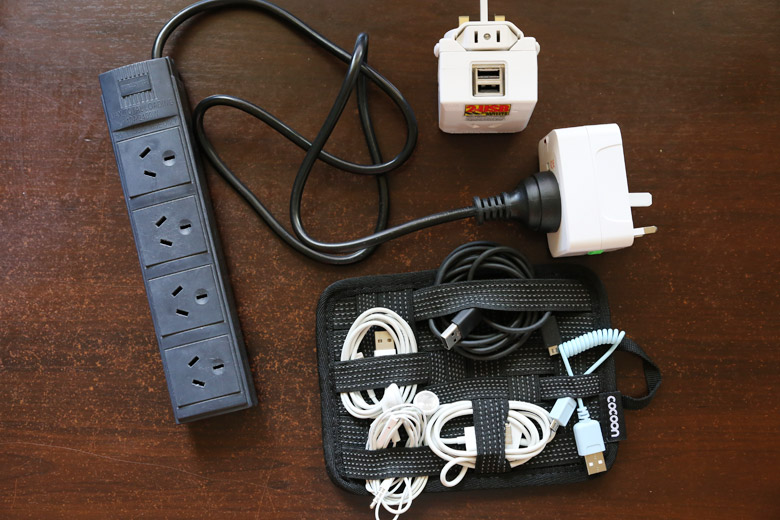 If you're travelling overseas to a country where the power adaptors are different, don't bother bringing 10 travel adaptors. Bring a maximum of two travel adaptors and a powerboard instead. Some hotel rooms have very little power points; all those extra adaptors aren't going to work if there aren't enough power points for you to use them on. If you're not travelling alone, your travel partner will not only love you for it but you'll be able to charge most of your devices on in one location, thus minimising the risk of forgetting to pack your charger home.
If you have iOS devices like an iPad, iPhone and an iPod and you bring those with you when you travel, instead of bringing 3 chargers, just bring one. Chances are you'll be charging your phone daily but not your iPad nor iPod. When you leave your hotel room for a spot of sight-seeing, that's a good time to charge your iPad/iPod. You can also get power adaptors that have USB ports that allow you to charge more than one device at a time. However, bear in mind that if you're in countries that supply 110V instead of 240V, you're not going to be able to charge your phone AND iPad at the same time. I learned this when I was in Japan and my iPad wouldn't charge when I was also charging my phone at the same time.
Organising cables are a pain in the backside and when you have to detangle one micro USB cable from an Apple Lightning cable, headphones and goodness-knows-what-other-cables, you'll need a system to organise them. A friend gave me a small Grid-It organiser and it was immensely useful. It does take up a bit of room but it organises cables, devices and anything you want really well. If such an organiser isn't up your alley, try Nite Ize Gear Ties. They're fantastic for keeping cables tidy. If you're on a budget and would prefer a more DIY approach, use rubber bands, velcro strips or ribbons to keep them tangle-free.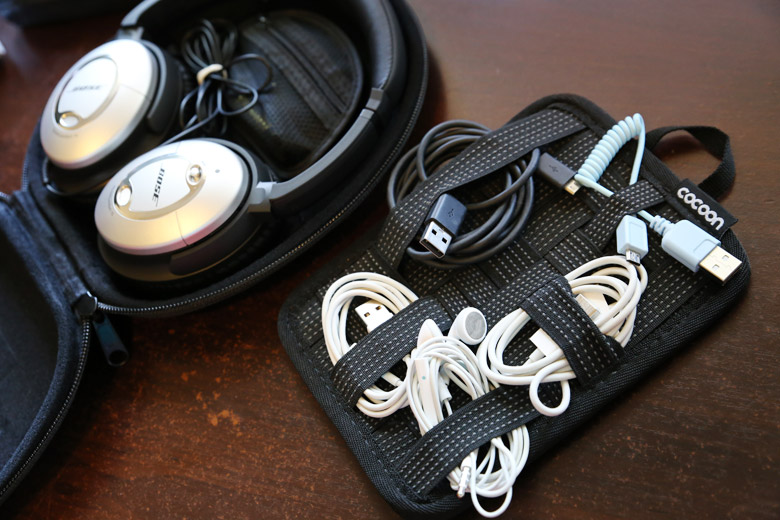 When you're travelling, depending on the nature of your trip, you have to think hard on whether you really need to bring your flat iron, curling iron, hairdryer, Clarisonic, Baby Quasar, etc. Now I've already told you that a flat iron is a non-negotiable for me so I have no choice but to bring it with me when I travel. However, if my destination accommodations have hairdryers (I always check with them prior to the trip), then I won't bring mine. It doesn't matter if they have crappy hairdryers; as long as there's one that can dry my hair, I can live for a few days with a lousy hairdryer. My flat iron is the only beauty appliance I'd bring with me when I'm travelling. A flat iron doesn't just iron your hair; you can use it to curl your hair and you can even use it to do a quick iron of your clothes (if you need to. It works!).
Instead of throwing all of your chargers and cables into your luggage, I highly recommend packing them into a packing cell. I'll elaborate on packing cells in my next post; it's really useful in keeping all of your chargers and cables together. If you don't have a packing cell, keep them in a cosmetic pouch instead. You can even use a ziplock bag if you want but I don't really recommend it because the prongs of the chargers can poke through the plastic bag and damage your clothes.
I hope you find these tips useful. You could even consider cutting down on your electronics and just bring your phone for emergencies and a good book. I don't think I'll be doing that any time soon; I need my gadgets! Sonia from the popular travel channel on YouTube has a great video on how to pack cables and chargers. Do check it out!
Do you have any tips for packing electronics/gadgets for travelling?