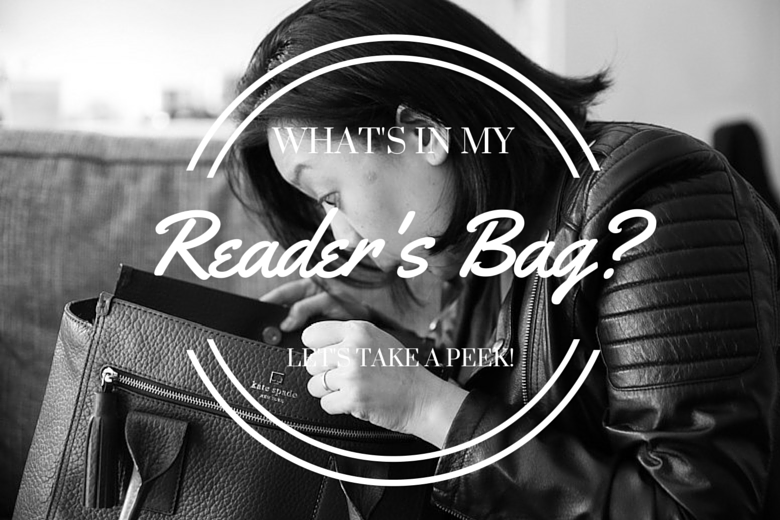 When I was planning my editorial calendar for 2015 late last year, I knew that I wanted to involve my readers more on the blog this year. It was a long thinking process as I wondered how I could showcase my readers in a way that would be interesting to us all. I was doing a bout of cleaning of my bag and its contents and that's when it hit me. Let's take a look in what's in my readers' bags!
I don't know about you but I'm such a voyeur when it comes to seeing what's inside other people's bags. I would actually scour Flickr to satisfy my curiosity as they have tens of thousands of photos and many groups dedicated to "what's in my bag" photos. There are thousands of videos on YouTube on this topic. I can't help it; I'm a real sticky beak when it comes to what people carry with them in their bags.
Since I can't show you what's in my bag every month (I don't switch things out often), I thought I'd reach out to my readers to see if they'd share what's in their bags. Here are 3 lovely readers who willingly shared their bag contents (thank you!) and they answered 3 questions I asked them. 🙂
What's in Allison's bag?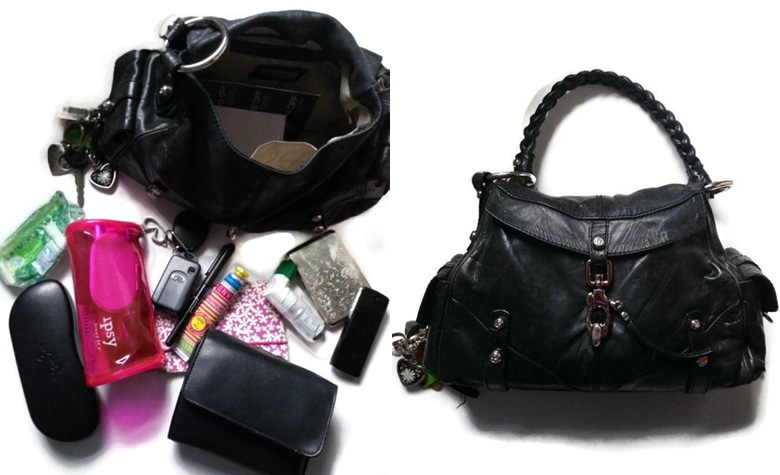 1. What bag are you currently carrying?
My purse is from Francesco Biasio. I've had it for at least 6 years if not longer.
2. Why do you like/love it?
I love it because of the braided strap, the short shoulder strap that's the right size for little ole me, and the outer pockets on either end that hold my cellphone. Also, it holds a lot inside and I carry a ton of stuff, especially makeup with me. I paid full price for this purse, and I'm certainly getting my money's worth. I liked it so much that when the boutique that I bought it at brought in an exact duplicate in white, I snapped that one up too for summer. I know it looks worn, and I should either buy a new purse or start using another of the other bags that I own that I don't use because I love this one so much!
3. What's the most random thing you have in your bag?
Unfortunately, the random thing that I always carried in my purse must have fallen out without my knowing it. It was a single die (as in "dice) that was much lucky charm from Caesar's Palace in Las Vegas. The fact that it's missing must explain all the bad luck I've been having lately. 🙁 Need a new good luck charm!
Allison blogs at Never Say Die Beauty.
What's in Hilary's bag?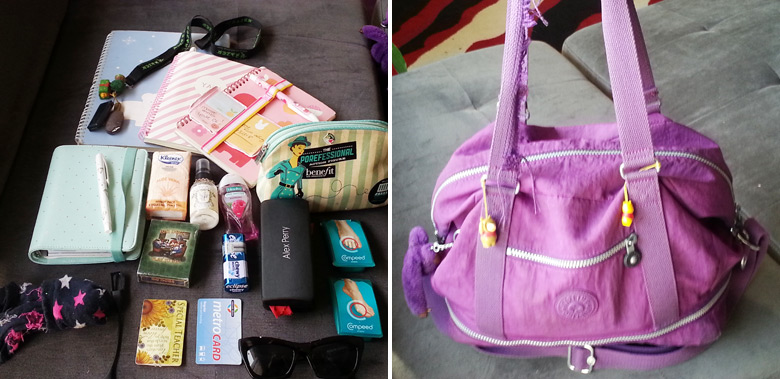 1. What bag are you currently carrying?
A *very old* Kipling Sumida bag in Grape (bright purple).
2. Why do you like/love it?
Love this bag SO SO much. The expandable bottom is great, especially in SA where we don't have bags in supermarkets and I always forget multiple bags, so this just extends so I can get a quick emergency food shop items in, and then zip up the rest of the time so its not like I'm lugging the kitchen sink about. The pockets inside/outside are great for things like bus pass/pens/secret stash items – love a zippy pocket! Also – its very very hard-wearing, or was for the 4-ish years I had it – it went around Oz in a campervan with me, travelled over from the other side of the world and has been used as my very daily handbag/dancebag every single day since, hence not blaming the lining for starting to tear (and make me play 'hunt the item inside the lining' game if I forget and use the inside pockets) or the handle for disintegrating. Sadly (so very sadly) its no longer made, which makes me cry SO MUCH, as its literally fallen apart now I've used it so much. Sad face.
3. What's the most random thing you have in your bag?
Don't know how random it is but possibly *always* a pair of clean socks. Dancer = paranoid about stinky feet and the socks mean it doesn't matter where I am or what shoes I'm currently wearing (as I favour very high heel, thick rubber soled Dr Marten shoes/boots), I can still pop those on and have a dance should there be music and a partner – which happens at the most unexpected times, and I never want to miss a dance opportunity! (when I send the list, you can decide on if there is anything more random 😛 )
Hilary blogs at Send Us Down Under.
What's in Lee's bag?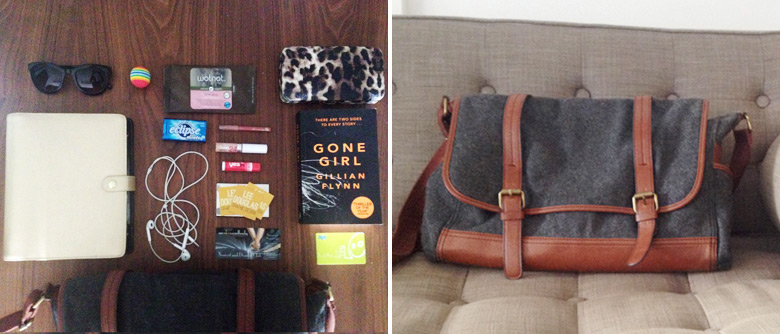 1. What bag are you currently carrying?
The current bag I am carrying is an Aldo mens satchel I got for a triple discount while a friend was shopping for shoes. It's meant to be a laptop bag but I work with an enormous MacBook pro which has its own dedicated Sportsgirl sac if I have to take it with me to a client.
2. Why do you like/love it?
I love it because I've always preferred men's accessories. I'm not a super girly individual, so I like something that is pretty utilitarian. My wardrobe is also mainly black, charcoal, grey and khaki/brown so it goes well with my overall vibe. Its got two dedicated sections (aka stuff I need section and cheeky snack section) and the little side pockets are easy for keys/MYKI/phone. I am always that guy at the MYKI turnstile shuffling through my crap trying to find my card, if I don't use the pocket!
3. What's the most random thing you have in your bag?
A CAT BALL? Minty, our ancient gray tabby, is the ruler of my household and I will frequently find something of hers where it shouldn't be. I had to take her off the couch three times while trying to take a photo of my bag as she assumes she is the most important part of any photo. She also loves the overcoat material of this particular bag so if it's left on the couch or floor she will knock it over to sleep on it!
Check Lee out on Instagram (@bttrs.nd.mnt).
Many thanks to Allison, Hilary and Lee for showing us what's in their bags and for satisfying my weird curiosity of what other people carry in their bags. I love the random things they carry with them. A die, socks and a cat ball! 😛
I hope you've enjoyed this sneaky peek into the bags of 3 BA readers. Keep a lookout for an email from me as I randomly pick 3 more readers to participate in this new series. If you'd love to join in and show us what's in your bag, please let me know in the comments or shoot me an email.
What bag are you currently carrying?