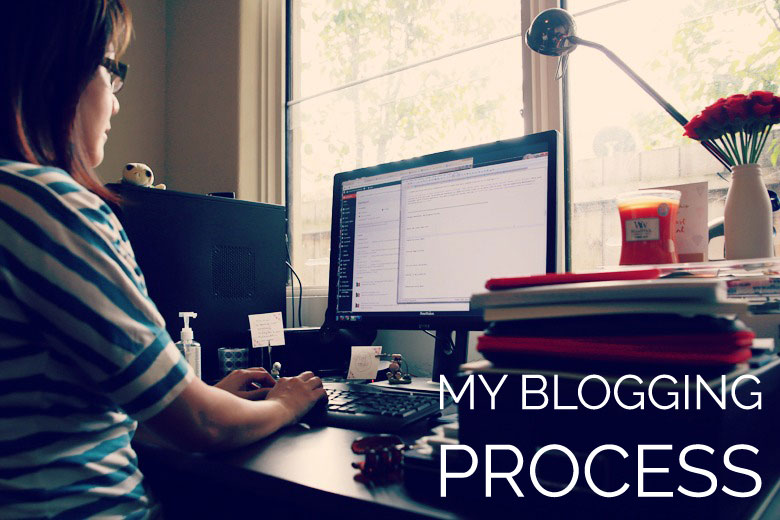 If there's one thing I'm curious about bloggers and want to know more about, it's their blogging process. Each blogger creates content differently and I often wonder how their blog posts come to fruition. How does an idea translate to words? How long does it take for a blogger to come up with a blog post complete with pictures? What's his/her writing process like?
On today's Bloggie Wednesday, I'd like to peel the curtain back a bit and show you what my blogging process is like e.g. how an idea becomes a blog post on BA. It could be very similar to yours or it could be quite different to what you do as well. 🙂
Where the ideas come from
My ideas could come from anywhere. Heck, I got the idea of writing this blog post while sitting on the toilet. Speaking of which, don't underestimate the power of the porcelain throne. It is a place where many great ideas of great leaders were born. At least, I'd like to think so. 😛
I get a lot of my ideas from blogs that I enjoy reading, YouTube videos that I enjoy watching and these days, I'm getting a lot of inspiration from Pinterest. Pinterest is an amazing resource for blog post ideas. As the content is so visual, it's a lot easier for me to consume and be inspired compared to reading chunks of text. Blog post ideas hit me often when I'm out and about too. When I'm shopping, having a meal, on the train … the list goes on. Even though I work from home, I make sure to leave the house on my own at least twice a week to be surrounded by people because that's when I'll get inspiration hits too. Cabin fever stifles creativity.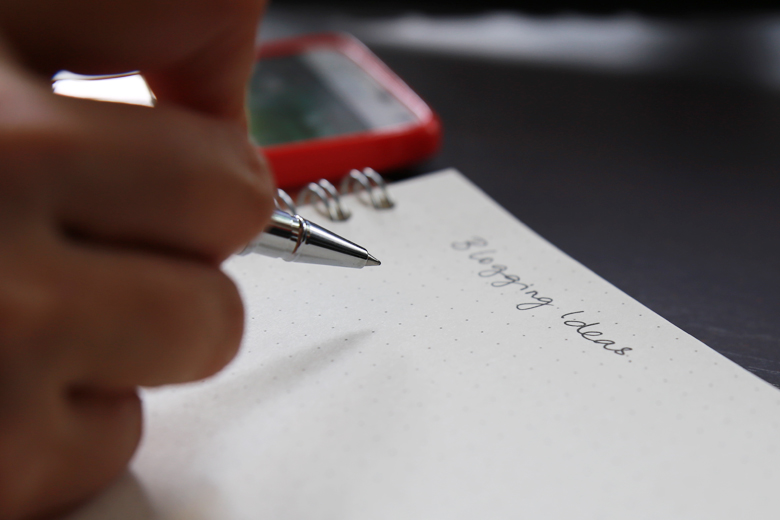 Capturing those ideas
I have a notebook from MUJI that I use to capture ideas for blog posts. When I'm out and about, I usually bring my notebook with me so that I can write those ideas down as soon as possible. Sometimes I write them down so fast to the point where I'm scribbling random words and when I go back to my notebook hours later, I'd be wondering what the heck it was that I was trying to say. That's when I learned to utilise my phone's voice recorder. When I need to brain-dump an idea immediately, instead of writing it down, I'd whip my phone out, turn the voice recording app on and record those ideas. This is far more useful than trying to decipher my godawful scribbles.
When I'm at the computer and an idea strikes me, I'll type it out immediately in point form. I won't bother writing grammatically correct sentences at this point. It's just a brain dump and when the words need to come out, it doesn't matter if my spelling and/or grammar is wrong. As I primarily use a desktop computer, when I'm not at my desk, I'll use the iPad to do a bit of brain-dumping as well. Once I'm done writing on my iPad, I'll email those notes to myself so that I can access them on my desktop or any other computer at any time.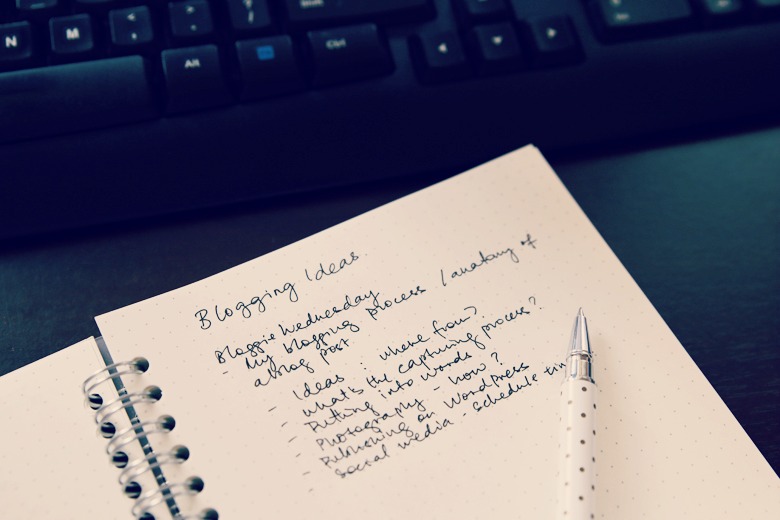 Putting them in words
Once I have my ideas in my notebook, it's time for me to bring those ideas to a proper blog post. This is when I'll edit my words. Notes that were typed in point form will be reconstructed to proper sentences. Notes that were recorded with my phone's voice recorder will be transcribed and edited. The same goes for notes written on my iPad.
Instead of writing directly on WordPress, I use Notepad++ to do all of my writing on the desktop computer. This post was also written on Notepad++. I love that program because I use it for coding work as well. I don't like to write directly on WordPress because I don't want the mistake of accidentally pressing the Publish button when I'm not ready. A lot of bloggers like writing their drafts on word-processing programs like Microsoft Word. Personally, I'm not a fan of using Word for my drafts because when I copy and paste the completed post on WordPress, the "enhanced" version with page breaks, italics and so on are pasted as well. I prefer my text posted as is.
The text file that contain my blog post drafts is saved in my Dropbox folder and each time I save the file, it's automatically updated on Dropbox as well. This allows me to write and make changes anywhere I go.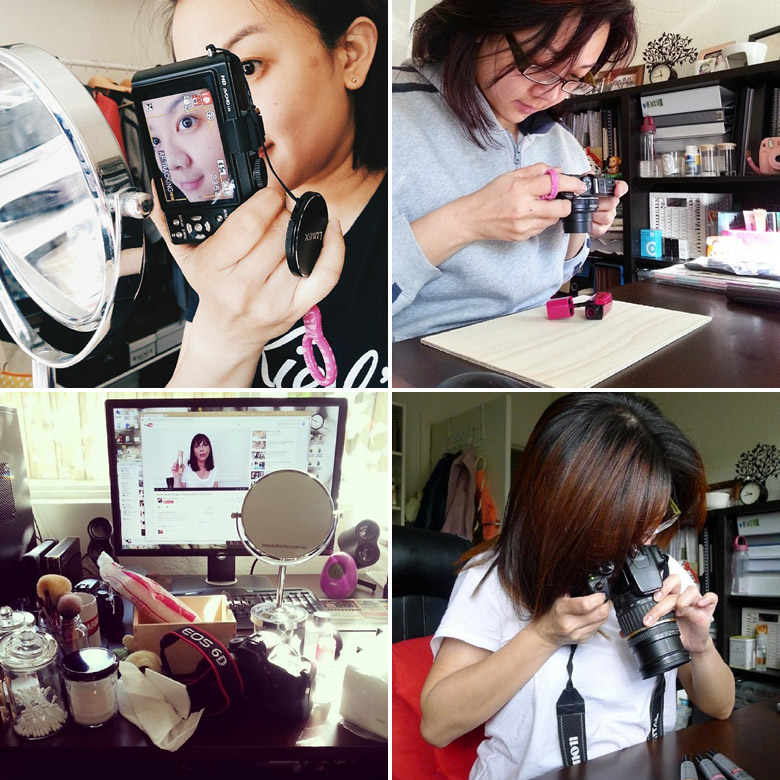 It's all about the photos
On very rare occasions, I'd post a blog post without images but as you know, most of my blog posts have at least one image. As Lewis Carroll famously wrote in Alice and her Adventures in Wonderland, "what is the use of a book without pictures or conversations?", I may not have the conversations but I surely will include pictures as much as I can. So, how do I decide what images to use in my blog posts?
This depends on the context of the blog post. If it's a product review, I'll take photos of the product in different angles and positions (I try not to use stock product images if I can help it). Before I chuck paper boxes that products come with, I photograph the list of ingredients first and leave the writing for later.
If it isn't a product review and if I'm not able to capture the context of the blog post in my own photos, I'll turn to stock images. I use photos from stock photography websites like iStockphoto, Shutterstock, Dollar Photo Club, Canva and Unsplash. These are great websites for stock photos especially Unsplash. I'll try my best to use my own photos as much as possible but when that's not an option, I'll turn to these image websites for help. Sometimes, I'll check Pinterest for styling and composition ideas on similar blog post topics.
Next, the photos are edited with Photoshop and/or Picmonkey. I always edit my photos prior to publishing and I recommend all bloggers do the same. There's nothing wrong with editing your photos to make them look better.
Most of the time, I'd sort the images out first before writing the blog post. When I'm having a particularly unproductive day and my creative juices have run dry, I'd get the photography part done first.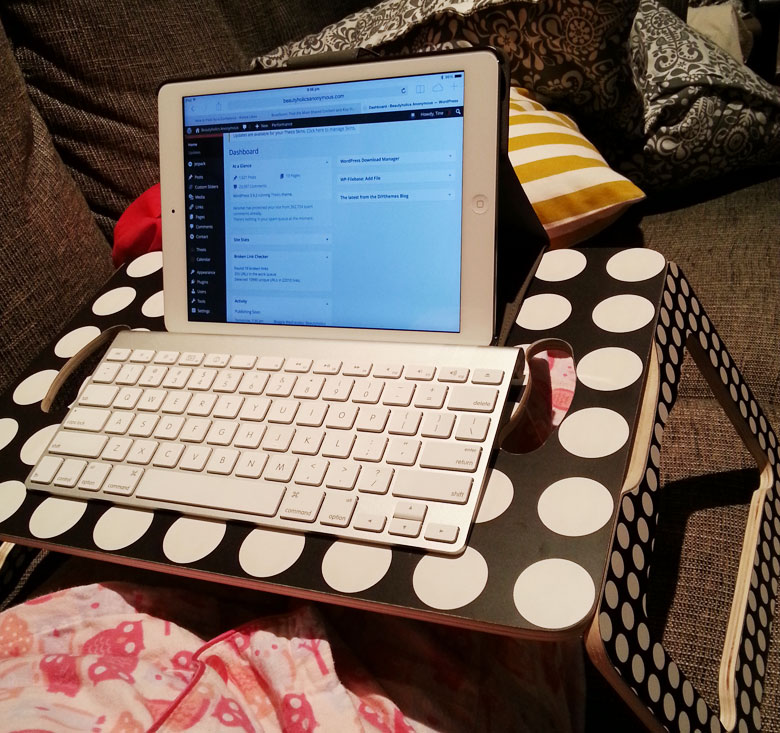 Setting it up to publish
Once I have my photos and blog post draft ready, it's time to transfer them onto WordPress. I simply click on Add New Post, copy and paste the completed draft, insert the necessary photos, check the appropriate category, include the tags, keywords and descriptions, and schedule the post to publish on the certain date and time. I'll check the preview post several times to make sure there are no grammatical or spelling errors (unfortunately, these elude me from time to time).
Scheduling social media
Once the blog post is scheduled to publish, it's time to schedule my social media posts to promote that blog post. I use CoSchedule for this. This is one of the best plugins I have on BA. Right after scheduling my blog post, I'm able to schedule my social media platforms like Twitter and Facebook to promote that blog post on the dates and times that I want. I don't need another app for this; it's all on WordPress. I don't promote my blog post more than 3 times a day.
And that's how a blog post comes to fruition. It sounds rather complicated when it's written down like that but it has become second nature to me. Depending on the subject at hand, a single blog post can take me 15 minutes to 6 hours to write. On average, each blog post takes about an hour to complete, from photography, editing to writing and publishing. Bloggie Wednesday posts often take the longest to produce (this particular post took almost 2 hours).
I hope you've enjoyed a behind-the-scenes look on how blog posts on BA are created. Sometimes I have YouTube videos playing in the background as I'm writing but most of the time, it would be Pandora's Classical music stations keeping my creative juices flowing. I breathe a sigh of relief each time I click on the Schedule/Publish button. I'll move on to the next blog post and the whole process starts again.
If you're a blogger, what's your blogging process like? Is there any part that you find particularly easy or hard to do?
Bloggie Wednesdays
is a series of articles just on blogging. They contain tips, how-tos, discussions about anything and everything you need to know about blogging and how we can be better bloggers. If you have any suggestions, tips and tricks about blogging you would like to share with us, or if you have any questions you would like me to address, please let us know in the comments. This post also contains several affiliate links. By purchasing something via these affiliate links (at no extra cost to you), you're supporting Beautyholics Anonymous, which I highly appreciate. For more information, please read our
disclosure policy
.