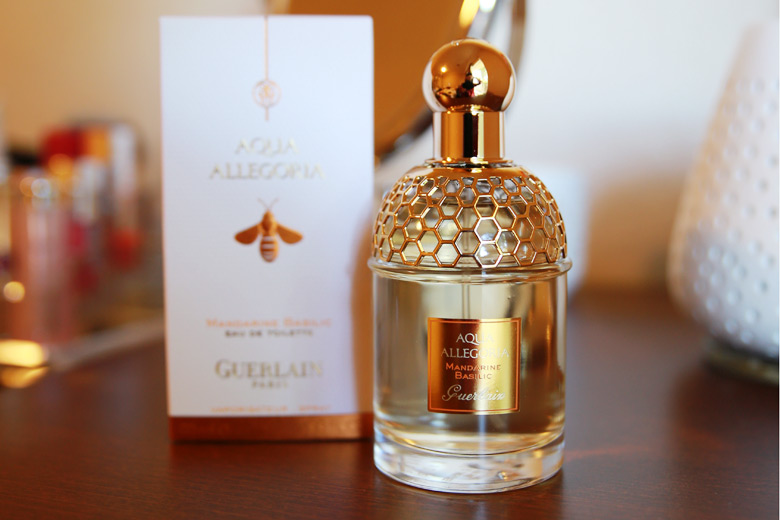 This is not a new scent by Guerlain. In fact, it was launched in 2007 but I only heard about it end of last year. This was introduced by LeGeeque, who picked up a bottle of this at a duty-free store in an airport. She recommended this perfume to me and told me it's right up my alley. Heck, when the word "mandarin" is plastered on any fragrance, you know I'd have to check it out.
First, I went to the David Jones store at the Chadstone Shopping Centre but was told that they don't stock the perfume and suggested that I try the store in the city instead. When I went to the Guerlain counter at David Jones (this wasn't available at MYER either), the sales assistant told me that they only order the Aqua Allegoria perfumes in twice a year, that they're customer orders only and if I wanted to get on the "waiting list", I had to wait till the next order opens in September. I politely declined and left.
All the while, I was thinking "Are you kidding me? You wanna put me on a waiting list for a PERFUME? Oh hell no!". 😛
This wasn't available at Melbourne's International Airport either. So when I came back from Malaysia, I made a quick stop to one of the duty-free stores at KLIA and picked this up easily. No waiting list for me, no sirree!
Oh it's a beautiful perfume all right. If you love citrus scents (especially oranges), you will like this one too. This is an eau de toilette; it's a lot lighter than I envisaged, but it's totally up my alley because I'm not a fan of heavy fragrances. It smells like blood oranges and spice (more orangey than spicy). It doesn't smell like you've doused yourself with orange juice but leaves a beautiful hint of bitter orange on your skin.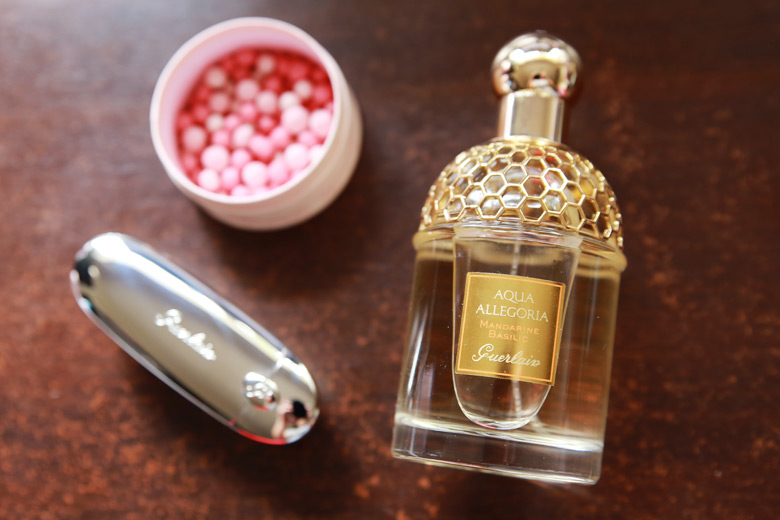 Top notes: Clementine, orange blossom, ivy, green tea, bitter orange
Middle notes: Peony, chamomile, mandarin orange, basil
Base notes: Sandalwood, amber
As I don't categorise my perfumes into warm weather fragrances and cool weather fragrances, I'll be wearing this in summer and winter. I wouldn't really say it's light enough to be a summer scent nor is it heavy enough for the cool weather. Oh what do I know, I wear my fragrances any time of the year. 😛
Needless to say, the packaging for this perfume is top notch. The honeycomb and style of the bottle makes it look quite vintage and finishes with an engraving of a bee on the cap. I love how beautiful this looks on my dresser.
I can't remember the exact amount I paid for the perfume but I'm guessing it's around the RM250 mark (approximately AU$89). According to Paris B, the Aqua Allegoria perfumes are meant to be sold at duty-free stores only, which is why this isn't available on regular Guerlain counters at departmental stores. So, if you're about to travel soon or know anyone who's travelling soon, remember to check the range out!
Have you tried any of the Aqua Allegoria fragrances by Guerlain? If so, which ones are they?