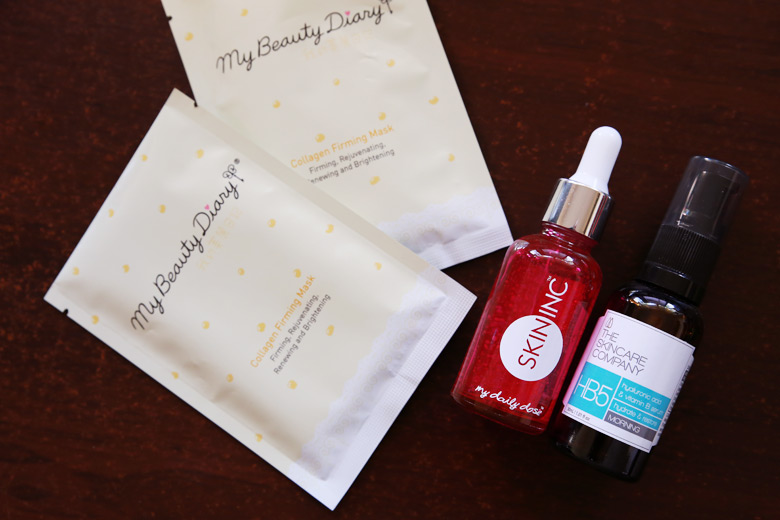 Oh I know, I know. You guys have heard me whinge about my post-holiday skin enough. Yes Tine, it's been almost a month! We know you had shitty post-holiday skin, stressing on the word "HOLIDAY"!
Okay, but if you could just indulge me for just one more post, I'd like to share with you how I sorted my awful skin situation out in just less than 2 weeks. Now for those who are new here who, very gratefully, did not hear me complain about my post-holiday skin, I spent over 2 weeks in Malaysia in February and unfortunately, with all that travelling, my skin took a toll. It became severely dehydrated and at that time, I didn't bring any hydration serums with me. You see, I didn't think I'd need one given that I was going to be in a country that is very humid most of the time. At that time, the serums I had were Paula's Choice Super Antioxidant Concentrate and La Roche-Posay's Redermic R. My moisturiser was also a very light one, which was Uriage's Aqua Precis Refreshing Moisturising Cream Gel. My skin was dry and very tight after each cleanse and my travel skincare at that time barely did anything to help.
By the end of the holiday and when I got home to Melbourne, I had developed dry and peely patches from my jawline to just under my eyes. My skin was scratchy to the touch and resembled nothing short of fine sandpaper. It was very dry and lacklustre. Cleansing my skin used to be something I enjoy doing but I didn't like doing it then because my skin would feel even tighter after that despite using emollient cleansing creams.
That was when I knew I had to do something about my skin and soon too. Less than 2 weeks later, oh the angels sang; my skin was back to normal. My mum could even see the difference on my skin via Facetime. Here's what I did to get my skin from zero to hero.
Get a hydrating facial. Stat.
Now this was a bonus because I certainly didn't book one in when I got back. I was very fortunate to be offered a complimentary facial by Jurlique very soon after I got back. The beauty therapist felt the condition of my skin, winced a little and plied on as much hydrating products on my skin as possible. While it didn't "fix" my skin per se, it definitely helped. If this happens again (touch wood!), I'm booking myself in for a super hydrating facial. Pronto.
Use a hydrating serum. In fact, make that two hydrating serums.
The day I touched down Melbourne Airport, when I went home to take a shower, I immediately started using the Hydra B5 gel by The Skincare Company (Cosmetic Skin Solutions has one that is identical). I also used a customised hydrating SkinInc My Daily Dose serum (I'll do a proper review on that very soon) on top of the Hydra B5 gel. I could almost hear my skin breathe a sigh of relief. This went on daily for over 2 weeks.
Use a facial sheet mask every other day
Facial sheet masks are usually used 1-2 times a week but there's nothing wrong with using it every other day. Heck, if you want to use it every day, go for it! I bought a heap of My Beauty Diary facial sheet masks when I was in Malaysia and I used one every other night. After the mask, I pop on the two serums I mentioned above. My sandapapery skin actually felt boing-boing the next day!
Use minimal base makeup
My regular foundations made my skin look worse so I reverted to light BB creams and tinted moisturisers when I need to have makeup on. When I don't need to leave the house, I'm in my makeup-free zone.
Drink lots of water
My water consumption in Malaysia was quite poor as I gave in to sugary temptations often. While I'm not 100% certain it deteriorated my skin condition, I can say it didn't help it at all. I cut out as much sugary treats as possible when the holiday was over and drank a lot of water. Now that definitely helped.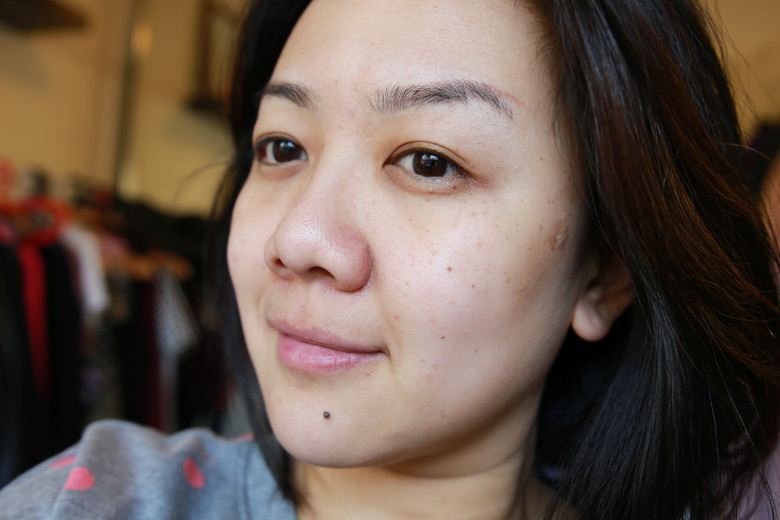 In my current makeup-free zone. Excuse the redness. No filter and all that.
Less than two weeks after I got back to Melbourne, my skin went back to normal. It's now soft and supple again. The luminosity is finally back and it's not looking dull and blah anymore. My skin's a happy camper again and so am I.
Just so you know, there's nothing wrong with the travel skincare I brought with me. I've been using them for quite some time and I've never had any problems with them. My issue had to take flying, travelling and environmental stress into account. My skin couldn't handle it.
As for the overload of hydrating products on my skin, those helped tremendously. I didn't have any facial oils with me at the time so I stuck to hydrating serums and facial sheet masks instead.
If you've been having issues of dehydrated, sandpapery skin like me, start with boosting and restoring hydration to your skin first before tackling issues like radiance or fine lines. When the skin is properly hydrated, soft and supple again, it will be more susceptible to brightening and anti-aging products. Think of it this way: a dry sponge absorbs far, far less water than a damp one. Your skin's like that too.
I hope this helps. If you have any questions, feel free to leave them in the comments below!
Have you had issues with severely dehydrated and sandpapery skin? How did you sort them out?