Note: This is a long and text-heavy post but I feel that it should be as detailed as possible especially if you're thinking of getting eyelash extensions but not sure if you should.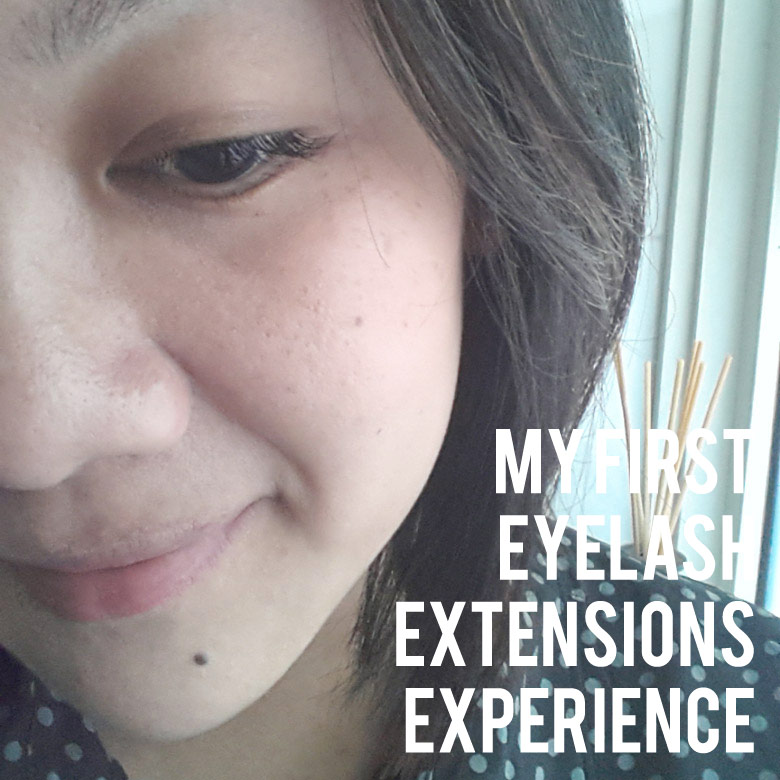 Out of all of the, erm, "cosmetic enhancements" (in quotes because this is obviously not plastic surgery), I never thought I'd give eyelash extensions a go. I have nothing against cosmetic enhancements and believe that every woman has the right to do what she wants with her body. In fact, I must admit that I'm considering Botox to get rid of my deep frown line between my eyes (unfortunately, no amount of lotions and potions can fully get rid of that wretched deep line). But that's neither here nor there, and if I do get it done, you'll be the first to know about it.
I've seen eyelash extensions on some of my friends and I have to admit, they look really good. I never considered eyelash extensions earlier because I've also seen some really bad ones that not only look highly unnatural but ruined their eyelashes as well. After seeing how good and natural they can look when done correctly, I decided that I too would like to see what the fuss is about.
Groupon (a popular group discounts website) has plenty of offers on very cheap eyelash extension treatments. To be honest, those leave a bad taste in my mouth as I don't know what the quality of the lashes are and more importantly, how good/bad the technicians would be. As the false eyelashes have to be attached to your existing eyelashes almost very close to the root, this means that sharp tools are in very close proximity to your eyes. One wrong move and those tools can blind you.
Thankfully, a lovely friend of mine, Shizuka, offered to do it for me. She's been training on eyelash extensions application for a while now and have done it on a good number of people. I've also seen her work on a few friends of mine and they look absolutely fantastic. Shiz was very kind to offer a complimentary session and I happily accepted. By the way, I didn't take her up on her offer because it was free. I've seen her work on other people and knew she'd do a good job on me.
Just a heads up, I didn't wear any makeup for this session so apologies for the oily, tired-looking and spotty skin!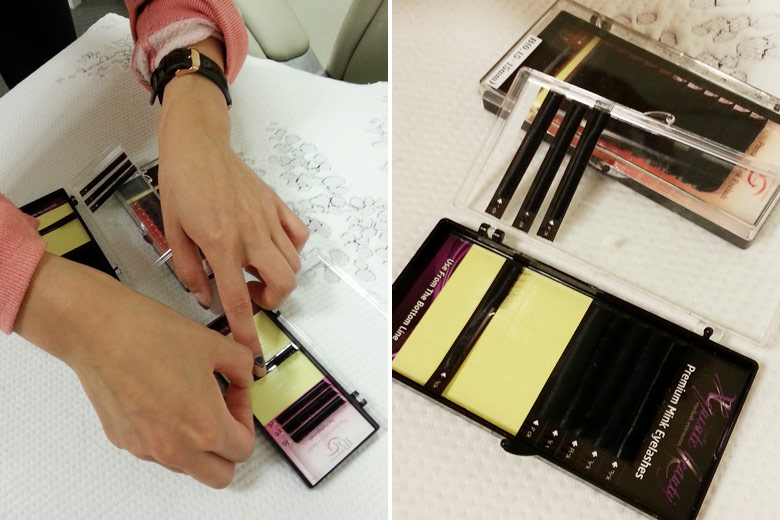 The Process
If you're unsure of what the eyelash extensions application process is, here's how it went for me:
1. I laid horizontally on a beauty bed (the kind you use for facials and massages).
2. Shiz inspected my current eyelashes (short and straight. Typical Asian eyelashes. Pfft.) and told me to close my eyes and keep them closed throughout the entire process. Any sudden movements in opening my eyes can cause the tweezers that she's holding to injure the eyes. If I needed to open my eyes, I had to let her know in advance.
3. We discussed the length of the eyelashes I want. The longer the lashes, the more unnatural it looks so I chose something in between. No point choosing short lashes; heck they're already short enough as it is!
4. Next, Shiz placed below-the-eye mask pads below my eyes. These don't only hydrate the skin below the eyes like a mask would, it also allows her to see and work the eyelashes better against a white background (from the mask) compared to against my skin.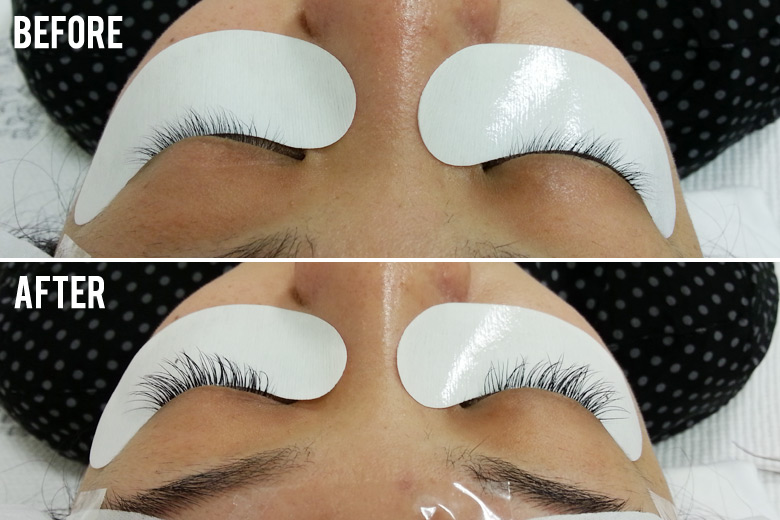 I must say, the application of eyelash extensions is an intensely labourious process. You're not having a band of false eyelashes glued on your existing eyelashes like regular falsies; you're having individual false hair glued to each existing lash. All I had to do was lie down and even fall asleep as Shiz meticulously glued one lash after another to my existing ones. The entire process took at least 1.5 hours.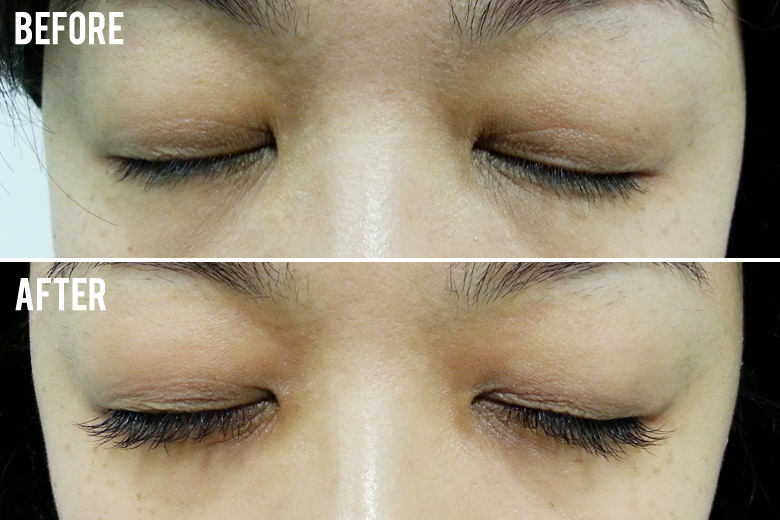 The Results
The results were absolutely amazing. It took a while to get used to long, curly and voluminous eyelashes but when I did, it was like waking up in the morning and half the "makeup" process is already done. I didn't need to wear eye makeup at all yet I'd already appear "made up". So this is what people with naturally long, curly and voluminous lashes look like. Lucky buggers. 😛
I had to adjust a lot of my daily habits to accommodate the eyelash extensions. The main reason I wanted to try eyelash extensions out was to curb my bad habit of rubbing my eyes. This definitely did. I couldn't rub my eyes at all for fear of removing all of the false eyelashes. Having said that, I couldn't hold my face up against the water in the shower; I had to make sure water doesn't hit my face. I have to be careful when wearing clothes with tight collars just so it doesn't affect my eyelashes. I have to be careful when removing makeup lest the makeup remover touches the lashes (I find that Bioderma or any micellar lotions work best for this. Even if you do apply eye makeup with eyelash extensions, don't use oil-based makeup remover).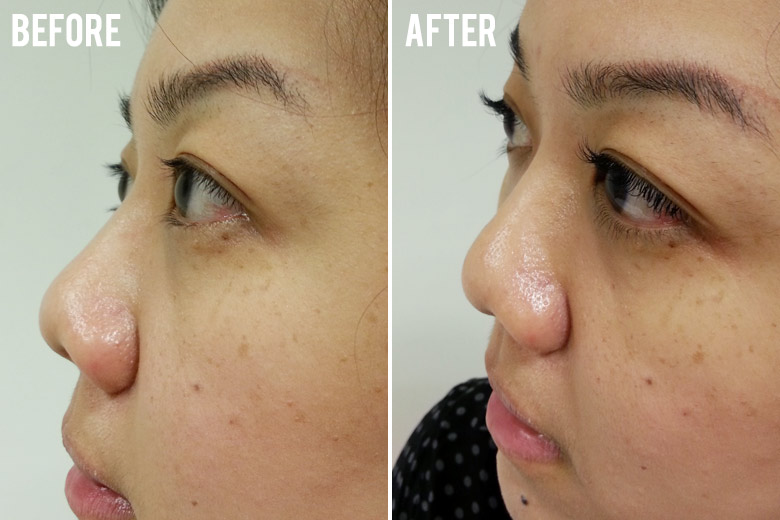 On the whole, my eyelash extensions lasted a lot longer than expected. Two months down the line, I still had at least 50% of the extensions on when they would typically only last 3-4 weeks. If you still have a good amount of extensions left, you don't have to pay for a full application (this is typically more expensive). All you have to do is go for a refill, which costs less.
Are eyelash extensions something I'd do on a regular basis? To be honest, no, not really. As much as I've loved how great it looks on me, the changes I have to make to my habits got in the way. I'm really glad it helped curb my habit of eye-rubbing though but for the rest of my usual habits, I'm afraid I'm not ready to give them up. A stronger factor would be cost of maintenance. Even though I wouldn't need full reapplication of eyelashes and just a top-up, it will be an additional cost to my monthly expenditure that can come up to $600 per year.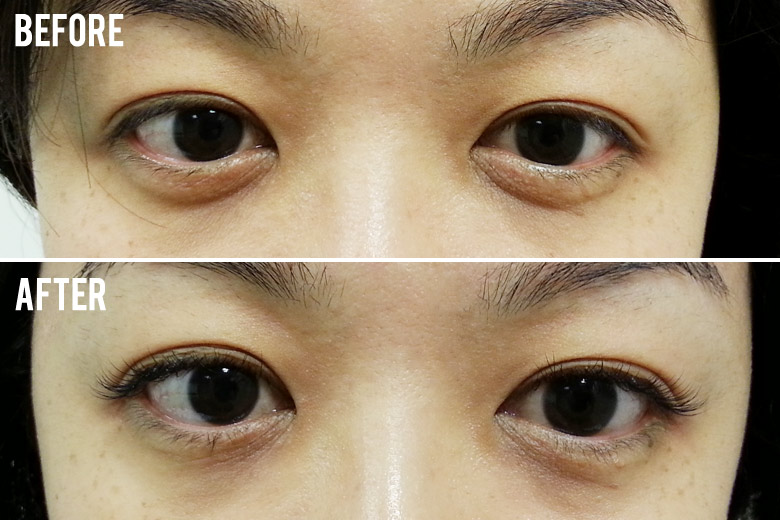 Having said that, I couldn't recommend Shizuka enough. She was extremely kind and gentle throughout the entire process and made sure I was comfortable the whole way. Her application was spot on. The glue and false lashes didn't damage my existing lashes at all. It was so good that a lot of the eyelashes still remained even after 2 months. She's highly meticulous in her work; she will not stop until the lashes look amazing on you.
Now that I know how labourious the eyelash extensions application is, I'm even more skeptical at offers of very cheap eyelash extensions (typically offered by Asian salons). I've seen offers on Groupon that advertises $39 for a full set of eyelash extensions. That's ridiculously cheap for something that is supposed to be a very intensive process. It could just be my assumption and prejudice, of course, given that I haven't given those a go but the old saying goes, "if it's too good to be true, it probably is".
If you haven't had eyelash extensions before but would like to give it a go, I say do it. Give it the old college try. If you have short and stumpy eyelashes like I do, you'll notice a world of difference in your appearance once the extensions are on. Of course, you can achieve all these with falsies but it sure beats having to apply falsies daily. But remember, get it done at a proper salon (check reviews extensively). This is not something you'd want to do on the cheap.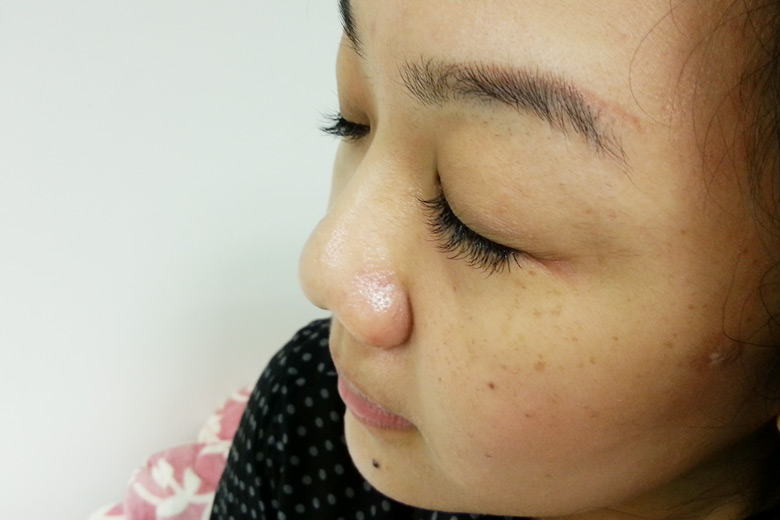 When it's something that's done so close to your eyes, make sure you go for the best that you can afford. If you're based in Melbourne and would like to try eyelash extensions out, do check Shizuka's services out. She may be my friend but hand on heart, she's very good.
Shizuka's Details:
Her rates range from AU$90 to AU$110 for a full set depending on what you're after. Refills range from AU$30 to $AU60 (this depends on the number of weeks the original set of lashes has been applied. Less extensions needed, lower price and so on).
You can find her on Instagram and Facebook. Feel free to message her via any of these social media platforms. If you leave your phone number via private message, she'll text you back. You can also add her on LINE; her username is ssdayo.
Shizuka is generally available on weekends and after 5pm on some Fridays.
Was this a complimentary session: Yes, Shiz kindly offered to do it for me for free. This is not a sponsored post nor am I an affiliate with Lashes by Shiz. Just helping a friend out, plus her service is excellent. I'll be paying for future sessions.
Have you had eyelash extensions before? Did you enjoy having 'em on?